A TOUR OF MEXICO
Online Symphony Concert and Cultural Festival
AVAILABLE NOW ON DEMAND FOR ANYTIME VIEWING, THROUGH SEPTEMBER 30, 2021
We are pleased to announce the next concert festival of our reimagined 2020-2021 Global Sounds. Local Cultures season – A Tour of Mexico! The largest named ancestry in California is Mexican, and California has the largest population of Mexican Americans in the country. It is only fitting that we celebrate this beautifully rich and diverse culture. The A Tour of Mexico festival culminates with our feature concert presentation, spotlighting virtuosic guitarist Jiji Kim and harpist Maria Casale as well as works by Arturo Marquez, Fernando Arroyo Lascurain, Silvestre Revueltas, Manuel Ponce, Gabriela Ortiz, Jose Enrique Gonzalez-Medina and Traditional: El Son de la Negra.
This festival is presented in partnership with the Museum of Ventura County.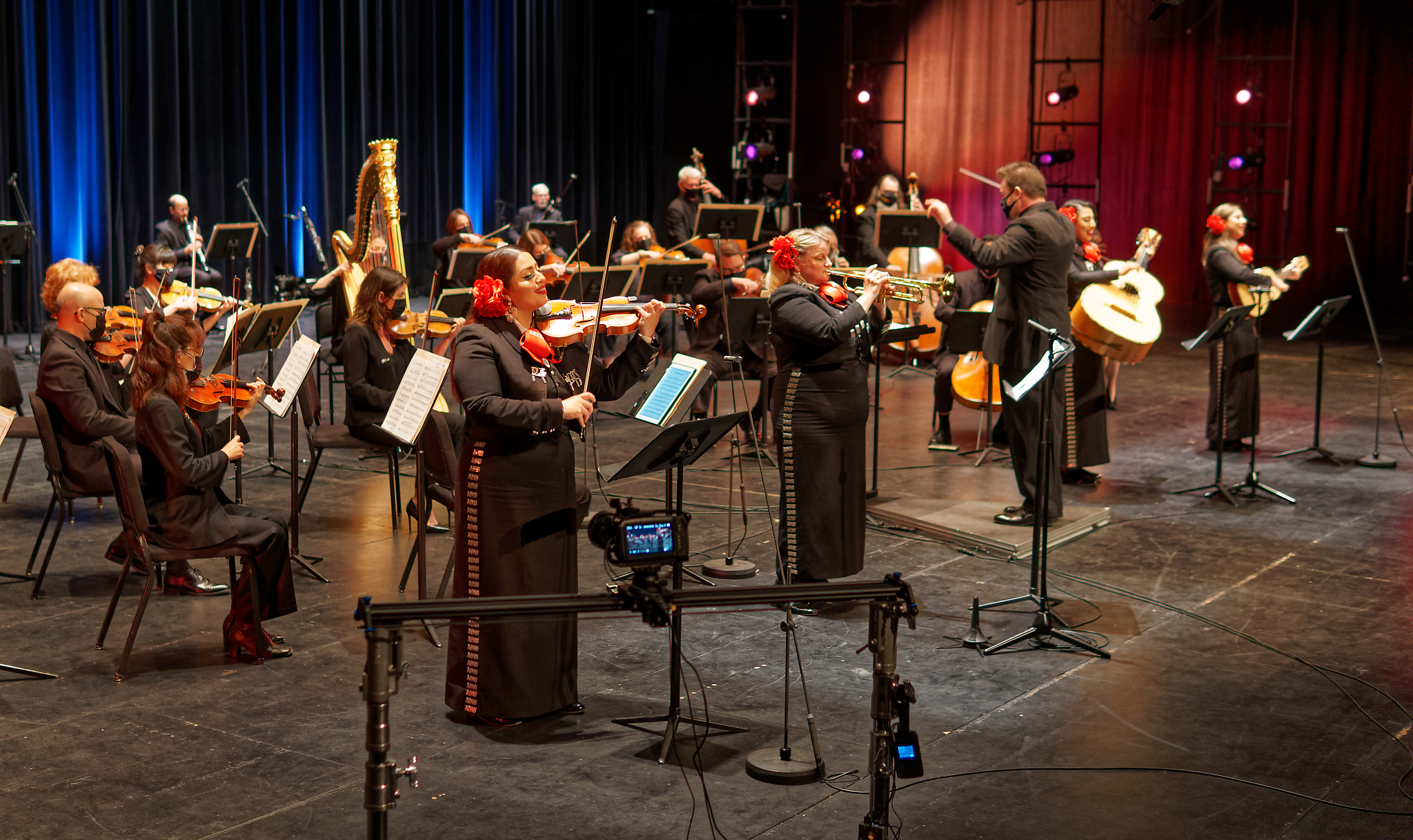 Mariachi Divas
Photo by Eugene Yankevich
Founded in 1999, by musical director and trumpet player Cindy Shea, Mariachi Divas is known for its innovative and eclectic array of music ranging from mariachi classics to jazz and pop. Their music can be characterized as sophisticated, smooth, and refined providing an elegant approach to the mariachi tradition and part of the successful sound in which Mariachi Divas excels.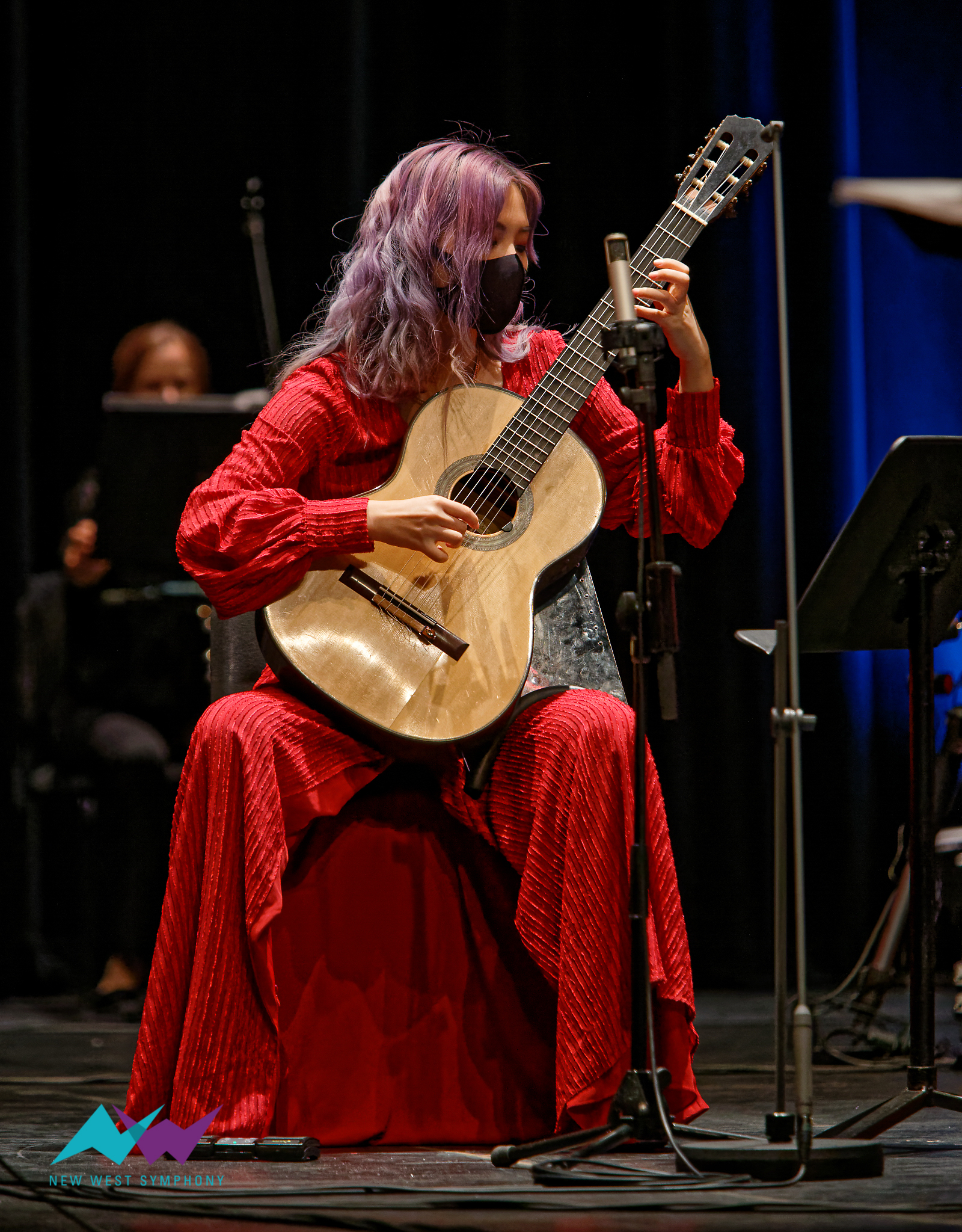 Jiji Kim, Guitarist
Photo by Eugene Yankevich
She is an adventurous artist on both acoustic and electric guitar, playing an extensive range of music from traditional and contemporary classical music to free improvisation. Her impeccable musicianship combined with compelling stage presence and fascinating repertoire earned the Korean guitarist First Prize at the 2016 Concert Artists Guild International Competition. Born in Seoul, South Korea, Jiji (Jiyeon Kim) began playing classical guitar at the age of nine, and was accepted to the Korea National University of Arts at age fourteen.
A Concert Passport, including the concert plus complementary content to enrich your experience, is $25 per household.
An All Access Season Passport to our season of 8 cultural festivals is $160 (a 20% savings).
Along with the symphony concert, Season and Concert Passport holders enjoy access to companion cultural festival programs for further immersion into the music, the artistry, and the culture that inspired our concert.
AVAILABLE NOW ON DEMAND FOR ANYTIME VIEWING, THROUGH SEPTEMBER 30, 2021.
A Tour of Mexico Symphony Concert
Programs Included with Your Concert Passport:
Culture Insights
Culture Insights is an exploration of Southern California's heritage. This includes demonstrations of traditional instruments and performance, and discussions about history, arts and music. Appearances include: Zapotec master weaver Porfirio Gutiérrez; Rocio Marron, Son Jarocho and Mariachi violinist; community leader, Carmen Ramirez; musician and educator, Jorge Andres Herrera; a Danza Azteca performance by Veronica X. Valadez and "Danza Tlaloc Ollin" student group at Cal State Universty Channel Islands under the direction of "Resistencia Mexicayotl Chalchiutlicue"; and leaders from the Museum of Ventura County.
Meet the Artists
Meet The Artists is a longstanding New West Symphony tradition which brings us closer to the guest artists and gives our audience an opportunity to learn about artistic and creative process. Enjoy a combination of biography, performance and insight into an artist's process and talent, such as solo guitarist Jiji Kim andcomposers Fernando Arroyo García Lascurain, José Enrique González-Medina and Gabriela Ortiz.
Questions? Call us at 805.497.5880/866.776.8400
Join us for Tour of Mexico or enjoy all 8 cultural festivals this season! Prices are per-household and include online premieres and on-demand for 'anytime viewing' through September 30, 2021.
THANK YOU TO OUR SPONSORS
GRANDIOSO SEASON SPONSORS
John Hammer
Barbara Barnard Smith Fund for World Musics at Ventura County Community Foundation
CORPORATE SEASON SPONSOR
Home Helpers Home Care
LARGO SEASON SPONSOR
Karen & Dr. Paul Finkel
CRESCENDO SEASON SPONSORS
Susan Burgos
Fern & Dr. Arnold Heyman
ALLEGRO FESTIVAL SPONSORS
Drs. Lucy & Sam Bruttomesso