New West Symphony works year round to bring music education into the lives of young people in our communities, from elementary school through college. Our programs are designed to inspire passion for music through interactive live performances and music education programs that enrich the lives of our young audience members.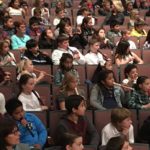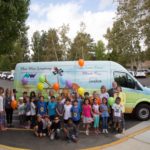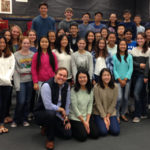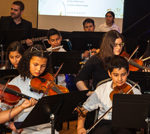 New West Symphony sponsors the following education initiatives:
Symphonic Adventures – Nearly 5,000 third-through-fifth grade classes in Ventura County attend special interactive concerts performed by the professional musicians of the New West Symphony, designed just for them.
Laby Harmony Project of New West Symphony – Laby Harmony Project uses music training to promote the healthy growth and development of children. The program provides high quality tuition-free music instruction to children in grades K-12, currently serving over 160 students in Ventura year-round. By collaborating with students, families, and local partners, and together with our generous supporters, we are building a stronger, healthier, and more musically engaged community.
Low-cost concert tickets for students – Through our Connect! Club and VIP Family Club programs, students age 7-24 have an affordable opportunity to attend world-class classical music performances with the New West Symphony. Students also benefit from backstage visits with New West Symphony guest artists and musicians.
Hear & Now Pre-Concert Talks – Lifelong learning happens prior to each concert with a 30-minute informative discussion, free to ticket holders, about the upcoming music selections, topical history and lives of the composers. Led by famed musicologist, David Ravetch, these entertaining talks enrich the concert experience for all concertgoers of any age!
'Meet The Artist' Talks – Each concert week New West Symphony hosts a 1-hour interview program with guest artists and guest conductors. This intimate question & answer program showcases each artists' insights and background, and often includes a musical performance. 
Quick Bowman Piano Competition – Every year the New West Symphony holds a competition to give youth and young adult pianists an opportunity to perform before local judges, with prizes awarded for top performers in each age group. Created by Henry and LaReine Quick in 1990, the competition culminates in a recital with competition winners performing for the public.
Donations are critical to the ongoing success of these free programs.  Please consider making a donation today.
Make your secure donation today by clicking on the Donate button.
Or call our office at
(805) 497-5800
Many Thanks to Our Music Education Supporters
City of Ventura
Partners in Music Learning, a program of the LA Phil
Smith-Hobson Foundation
City of Camarillo
The Rosalinde and Arthur Gilbert Foundation
Meadowlark Service League
D'Addario Foundation
Limoneira Foundation
Westlake Women's Club