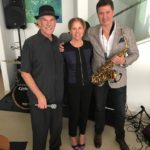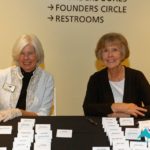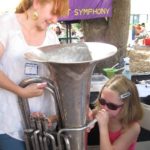 New West Symphony League
Volunteers have been integral to the success of New West Symphony since its creation in 1995 and continue to be instrumental in everything we do. All New West Symphony enthusiasts are invited to join the New West Symphony League,  a group of many dedicated volunteers who have fun and make new friends volunteering in support of the Symphony. There are many ways to be involved, from volunteering 'behind the scenes' and participating in fundraising, to helping with our music education programs such as the Music Van and Symphonic Adventures concerts. The League has nearly 150 members, so it is a great way to meet fellow music-lovers in our community!
The League holds monthly meetings which all members are encouraged to attend. Our Annual Membership Meeting is held in August at which time new officers are installed for the year beginning September 1. Members will receive copies of our informative newsletter Symphony Notes and invitations to all League events, as well as a name badge to wear at League and Symphony events.
League Members also host a series of fun and informative summer activities to support the symphony, known as Pleasure of Your Company.
Annual dues:
Individuals $65
Couples $100
The membership year begins September 1, but individuals may join at any time during the year by paying a pro-rated fee.
Please fill out this Volunteer Opportunities form and email to patcroner@gmail.com in addition to submitting the membership application form. Thanks for your interest in the New West Symphony League!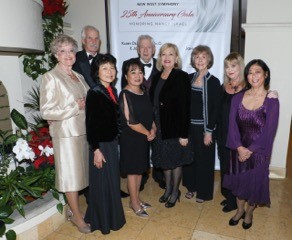 New West Symphony League Cabinet
OFFICERS
Chair
Sheila Schwedes
Chair Elect
Vacant
Vice Chairs Membership
Pat Croner
Marilyn Sutton
Vice Chair Communications
Vacant
Budget Administrator
Nadine Kawaguchi
Immediate Past Chair
Anne Propokovych
Past Chairs
Patricia Clothier, Nancy Israel, Elda Soderquist, Jeanette Walker, Jo-Ann Gordon, Monica Koszela, Hope Rosenfeld, Nancy Israel, Pat Croner, Marilyn Sutton, Linda Wilson, Linda Hamilton, Alda Donohue, Sandee Kane, Leslie Luciani, Denise J. Danne, Ed. D., Anne Propokovych
PROJECT COORDINATORS
Artist Services
Hope Rosenfeld
Website
Marilyn Sutton
Newsletter
Cindy Idell
Parliamentarian
Ernestine Stansbery
Historian
Vacant
Sunshine
Nadine Kawaguchi
Tribute Fund
Beatrice Restifo
Trips and Tours
Stan Sutton
Volunteer Coordinator
Larry Gomberg
Social Media
Vacant