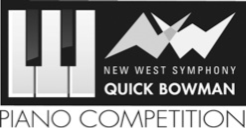 New West Symphony Quick Bowman Piano Competition
Youth ages 7-18 are encouraged to apply! The New West Symphony Quick Bowman Piano Competition will take place on Sunday, December 2, 2018 in Overton Hall on the campus of California Lutheran University, Memorial Parkway, Thousand Oaks, California. Directions >>
Applications will be accepted until November 2, 2018 by 11:59 PDT.
Age Divisions
Applicants will be divided into four age categories. (Judges reserve the right to revise age categories according to applications received):
Division I             Ages 7 – 9
Division II            Ages 10 – 12
Division III           Ages 13 – 15
Division IV           Ages 16 – 18
Cash Prizes Awarded in Each Division
1st Place:  $500
2nd Place:  $300
3rd Place:  $200
Learn more and apply on Acceptd >>
Download printable competition information (PDF) >>
Competition History and Purpose
The Quick Bowman Piano Competition was created by Henry and LaReine Quick in 1990 to give local youth an opportunity to perform before judges and be awarded for their participation in the competition. Inspired by LaReine Quick's love for piano, the competition and recital are held in the memory of Henry and LaReine Quick, and Jesse Bowman.  After a 21 year legacy in Sedona, Arizona, the Quick Bowman Family partnered with the New West Symphony, a professional orchestra that performs in Thousand Oaks and Oxnard, California to hold the New West Symphony Quick Bowman Piano Competition.  Winners will receive cash prizes, recital performances and masterclasses.