Meet the Artists events are generally held the Thursdays before concert weekend for a unique 'behind the scenes' Q&A with our guest artists! You will learn about their musical insights, illustrious careers and fascinating beginnings. Hosted by University Village – Thousand Oaks, this free event begins with a dessert reception.
Reservations are required by calling University Village at 805 241 3300.
Thursdays or Fridays prior to concert weekend (check dates below)
1:00 PM | Dessert Reception
2:00 PM | Meet the Artist Event
Sponsored by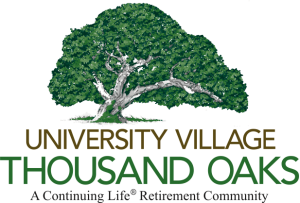 To RSVP, call University Village Thousand Oaks:
805-241-3300
You are invited to our exclusive, complimentary afternoon of conversation and performances with international award-winning guest conductor Enluis Montes Olivar, and Sphinx Competition Junior Division First Place Laureate, guest cellist Ifetayo Ali Landing. Enluis has held the position of Dudamel Fellow with the Los Angeles Philharmonic for two seasons, and exploded onto the conducting scene at age 11 in Venezuela with the El Sistema Orchestra and Choir. Ifetayo was a child prodigy and began playing cello at age 4. She has already performed with dozens of professional orchestras across the United States.
Our special moderator is Claudia Bill-de la Peña. Claudia was recently honored by the City of Thousand Oaks at the conclusion of her 20 years of service as a Thousand Oaks City Councilmember. In addition to her 25-year career as an Emmy® Award-winning news writer in Los Angeles, Claudia has been a New West Symphony subscriber and even conducted the Star Spangled Banner with the New West Symphony.
To RSVP, please call University Village or sign up using the form below by 10:00 AM the day of the event.