About the New West Symphony
The New West Symphony inspires passion for symphonic music through live performances and education initiatives that engage and enrich our diverse audiences.
Did you know the New West Symphony orchestra includes some of the world's most famous and accomplished musicians, led by GRAMMY®-winning music director Michael Christie? Our tenured orchestra members have appeared as soloists with the finest orchestras, are GRAMMY®-nominated artists themselves, and can be heard on almost any film soundtrack you can imagine, from Jurassic Park and Star Wars to La La Land. New West Symphony performs exceptional music, exceptionally close.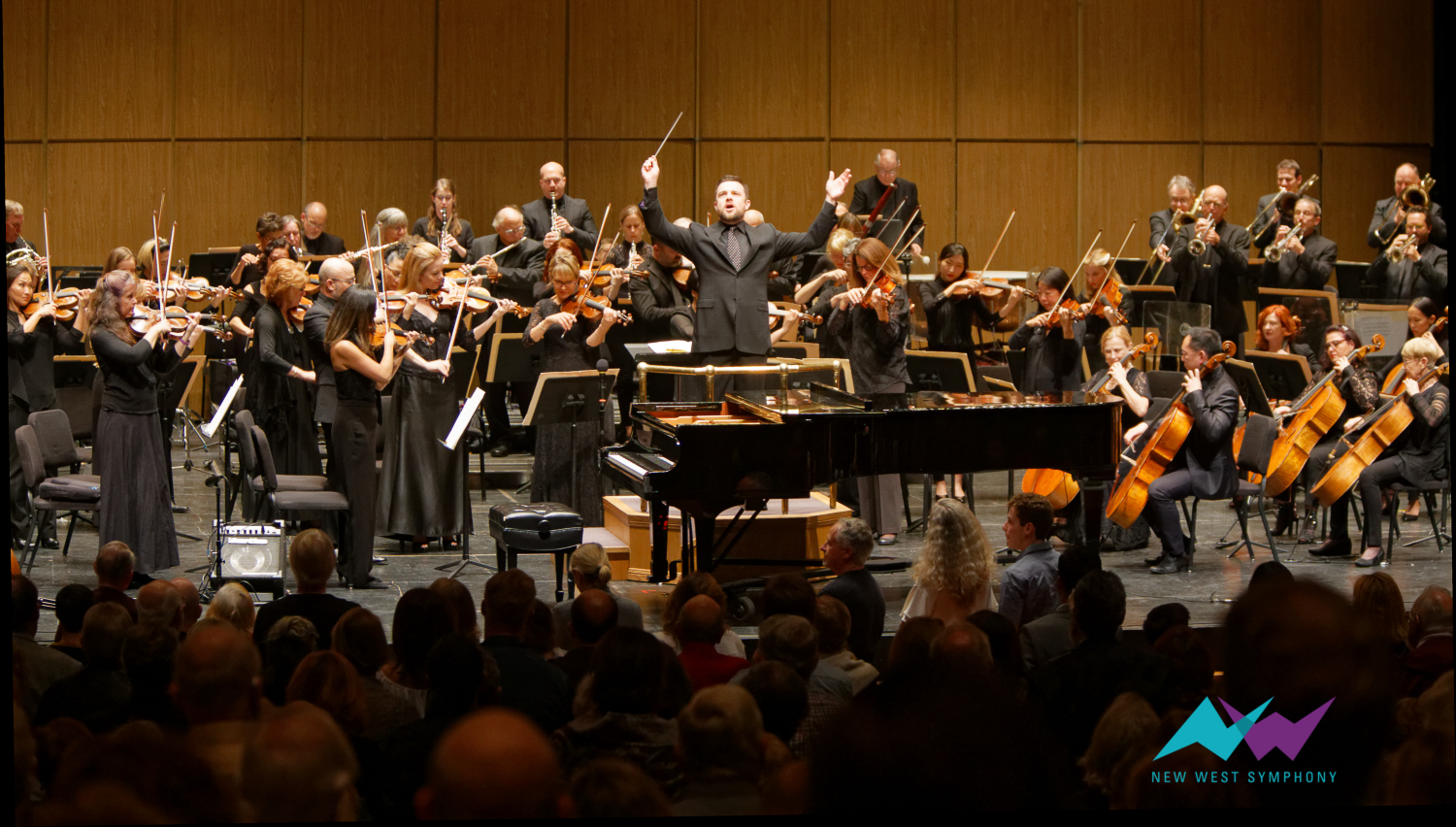 VISION
The New West Symphony is an esteemed performing arts organization that attracts diverse, capacity audiences to experience and celebrate the transformative power of live symphonic music in Ventura and Los Angeles counties. Led by visionary Music Director Maestro Michael Christie, it serves as a growing hub for music appreciation and education sustained by robust financial support and community resources.
VALUES
The New West Symphony's values provide the philosophical approach for everything we do.
We believe in:
Artistic Excellence – We present symphonic music performances with world-class artists.
Inclusiveness – We make music performances accessible to all in our communities.
Tradition – We are committed to presenting a broad and diverse classical repetoire.
Innovation – We strive to be on the forefront of the industry's best practices.
Financial Sustainability – We operate in fiscally prudent ways to ensure our long-term financial stability.
Community – We engage in outreach and collaborations to enable us to be an integral part of the communities we serve.
Founded in 1995, the New West Symphony is a professional orchestra that draws its players from the rich talent pool of professional Los Angeles-area musicians. With artistic direction led by GRAMMY® winner Maestro Michael Christie, appointed as music director in December 2018, the Symphony is the resident company of the Thousand Oaks Civic Arts Plaza and performs at the Rancho Campana Performing Arts Center in Camarillo. It presents six Masterpiece Series concerts annually, performing major works from the symphonic repertoire with internationally-acclaimed artists as guest soloists.  The Symphony also provides quality outreach and educational opportunities for the communities it serves through its annual Symphonic Adventures concert programs for youth, its traveling Music Van, and the Laby Harmony Project, a year-round music and leadership program for underserved students.
The New West Symphony Association is registered as a 501(c)(3) non-profit organization. Contributions to the New West Symphony Association are tax-deductible to the extent permitted by law. The New West Symphony Association's tax identification number is 77-0406042.