New West Symphony 2021-22 Masterpiece Series:
Music to My Ears – Science of Sound
Sat, Feb. 26, 2022 – Thousand Oaks Civic Arts Plaza
Sun, Feb. 27, 2022 – Rancho Campana Performing Arts Center in Camarillo
Music is one of humanity's most treasured and enduring experiences combining physical science and human emotional response. This concert presentation is split into two parts. The first, shorter segment features Music Director Michael Christie, guest artists Jiji Kim, James Grinta, and an expert in the field of physics to demonstrate how sound is created and becomes a visceral emotional response. The second segment, the concert portion of the presentation, features works that highlight composers' use of distance, combinations of sounds and instruments to touch our hearts and souls. Choose to attend one or both presentations and enjoy a fascinating look into how energy becomes sound and sound becomes memories and emotions.
The first portion of the presentation will commence at 6:30pm and last approximately 40 minutes followed by a 20 minute intermission. The concert portion of the event will commence at 7:30pm and last approximately 70 minutes.
An additional work will be presented during the first portion of the event, Derek Bermel's Ritornello for Electric Guitar and Strings (2011).
THE PROGRAM
Giovanni Gabrieli | Canzon noni toni a 12 (Ch.183)
Antonio Vivaldi | Concerto for Guitar in D major RV.93
Jessie Montgomery | Strum
Georg Philipp Telemann | Suite for Trumpet, Strings and Continuo TWV 55:D8
Ralph Vaughn Williams | Fantasia on a Theme by Thomas Tallis
Wolfgang Amadeus Mozart | Serenade No.6 in D Major K.239 "Serenatta notturna"
THE ARTISTS
Michael Christie, conductor
Jiji Kim, guitar/electric guitar
James Grinta, trumpet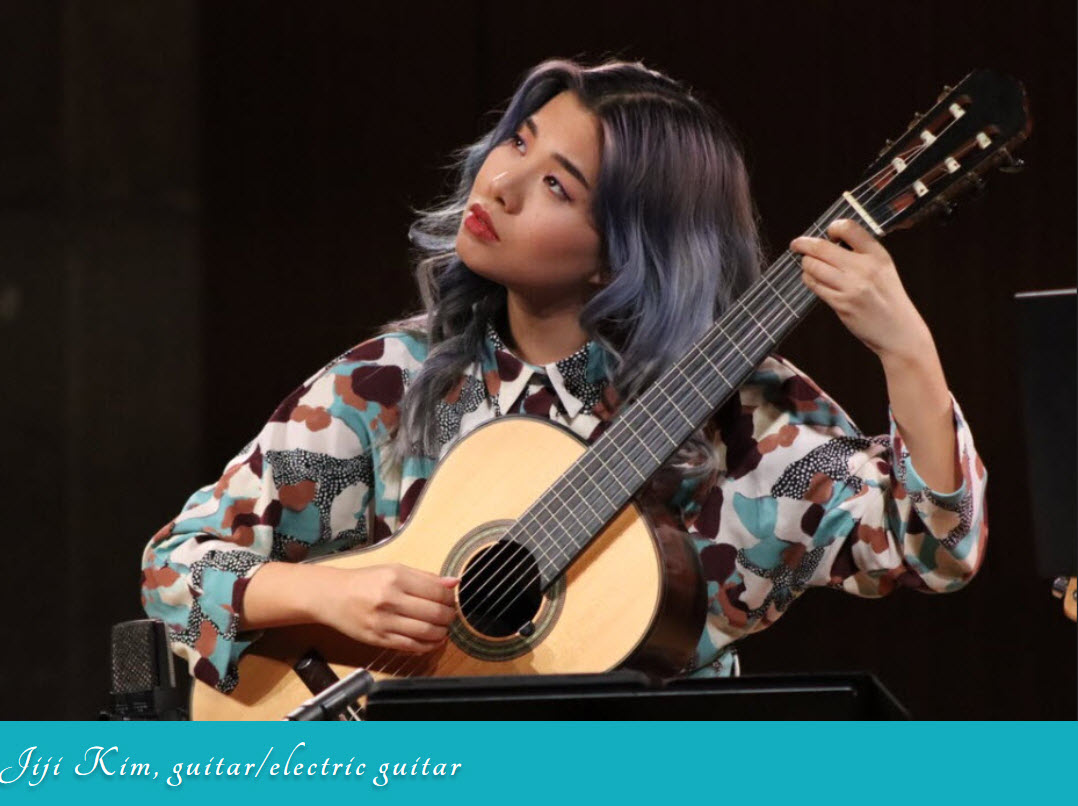 "I am working to address the misgivings and misunderstanding some have about attending live music performances with a mixed format presentation that examines a musical topic at the beginning of the event and demonstrates aspects of that topic in the concert portion of the performance. Patrons who are interested to know more about the fundamentals of all types of music are encouraged to attend and bring along their children/grandchildren or friends and neighbors. Just want to enjoy beautiful music with the New West Symphony? Everyone in attendance for the second segment of the event will enjoy a full concert experience."
– Michael Christie, Artistic and Music Director, New West Symphony
Thank You to Our Sponsors
2021/2022 SEASON SPONSORS
GRANDIOSO Season Sponsor
John Hammer
LARGO Season Sponsors
Karen and Dr. Paul Finkel
Nancy Israel
CORPORATE Season Sponsors
Home Helpers Home Care
CRESCENDO Season Sponsors
Karen Dean Fritts, Ph.D. and John Shwope
THANK YOU TO OUR CONCERT SPONSORS
FORTISSIMO SPONSOR
Kathy Jeffers-Volk in Memory of Dr. Charles H. Volk