A TOUR OF INDIA
Symphony Concert and Cultural Festival
Presented from the Ronald Reagan Presidential Library and Fred Kavli Theatre of the Bank of America Performing Arts Center.
AVAILABLE NOW ON DEMAND FOR ANYTIME VIEWING, THROUGH SEPTEMBER 30, 2021.
The captivating musical traditions of Indian Classical Music and Western Classical Music share extensive origins and significant influences. From the Roma migration toward Europe more than a thousand years ago, to Ravi Shankar's and George Harrison's history-making collaborations, the traditions offer a richness of music that extends beyond borders.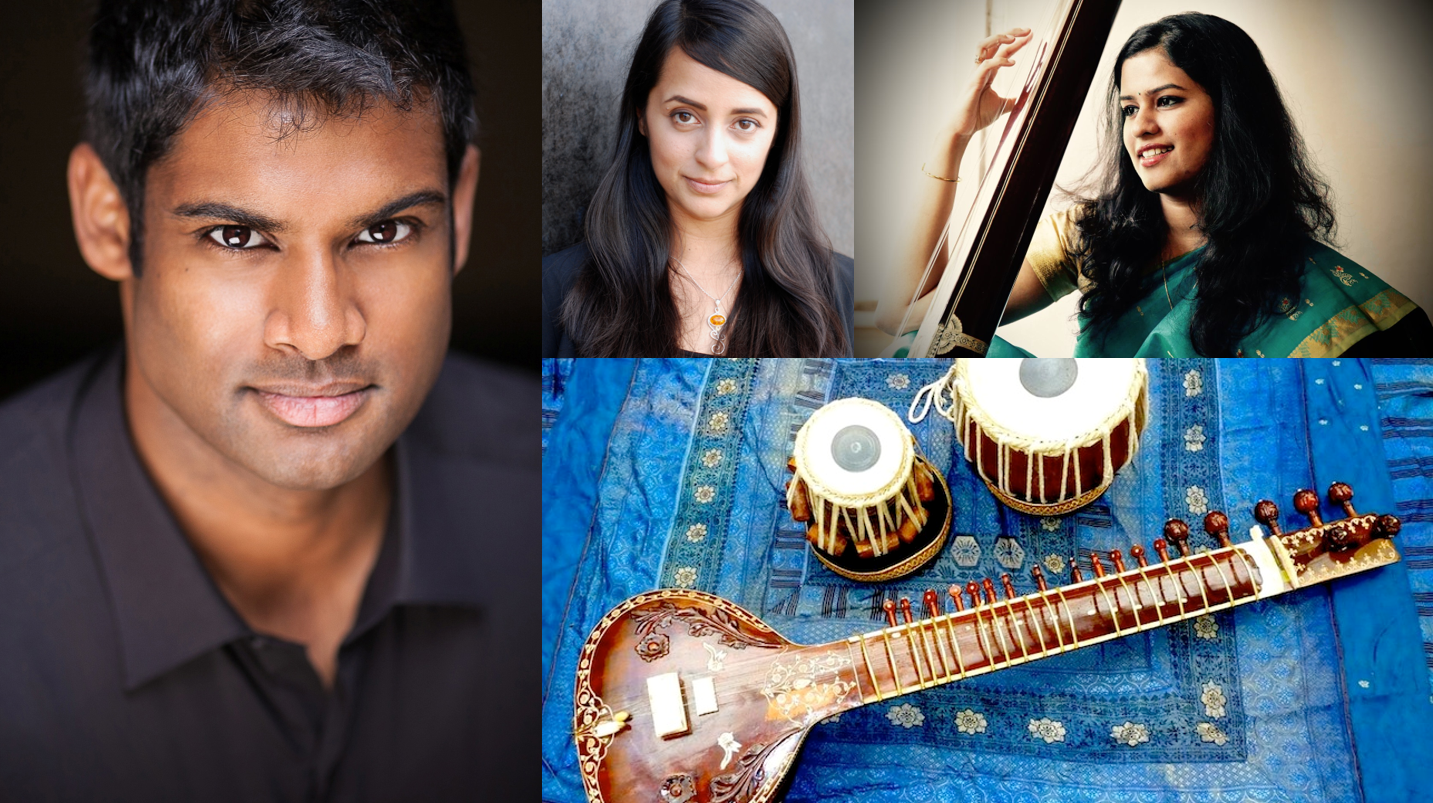 Southern California has long been home to musicians, innovators, and educators sharing the storied traditions of Indian culture and Indian Classical Music. European and American composers we hear often have been drawing on India's vibrant musical language and engrossing formal structures for well over a century.
In collaboration with LA based composer Reena Esmail, UCLA's Rahul Neuman, Hindustani Soprano Saili Oak and Internationally renowned tenor Sean Panikkar, New West Symphony explores the influences of these musical traditions upon the other. Works of Reena Esmail, Debussy, Elgar, Turina, Cooke and Philip Glass share the spotlight with performances of Hindustani and Carnatic music.
A TOUR OF INDIA
Michael Christie, conductor
     The Glywn and Ruth Chase Music Director
Saili Oak, Hindustani soprano
Sean Panikkar, tenor
Reena Esmail, composer
Rahul Neuman, sitar
Miles Shrewsbury, tabla
Arun Mathai, Bharatanatyam dancer
Kiran Athreya, Carnatic violinist
Debussy | Prelude to Afternoon of a Faun
Shane Cook | Ajapa Jaap
Turina | La Oración Del Torero
GS Rajan | 'Shivoham' Bharatanatyam Dance
Philip Glass |Evening Song, from the opera 'Satyagraha'
Elgar | Sospiri
Traditional | Yaman Kalyan Raga
Reena Esmail | Magan Rehna (Be Merry)
A Festival Passport, including the concert plus complementary content to enrich your experience, is $25 per household.
An All Access Season Passport to our season of 8 cultural festivals is $160 (a 20% savings).
Along with the symphony concert,  Season and Festival Passport holders enjoy access to companion cultural festival programs for further immersion into the music, the artistry, and the culture that inspired our concert.
AVAILABE NOW ON DEMAND FOR ANYTIME VIEWING, THROUGH SEPTEMBER 30, 2021. 
A Tour of India
New West Symphony Concert
Culture Insights and Entr'Acte
The profound impact of Indian family life and lifestyles in the Greater Los Angeles region, featuring a performance by Bharatanatayam dancer Arun Mathai accompanied by violinst Kiran Athreya.
Meet the Artist
Performances and interviews with Reena Esmail, Saili Oak, and Sean Panikkar. Presented from the Ronald Reagan Presidential Library.
Questions? Call us at 805.497.5880/866.776.8400
FESTIVAL SPONSORED BY
New West Symphony League
Mezzo Forte Festival Sponsor
Kathy Jeffers-Volk in memory of Charles H. Volk, PhD
"Reenal Esmail…related elements of classical Indian music to the symphonic tradition, utilizing advanced Western compositional techniques, all with an orchestra versed in the stylistic and technical demands of the Baroque era. The results were extremely successful."
— Opera News
Sean Panikkar continues "to position himself as one of the stars of his generation… His voice is unassailable—firm, sturdy and clear, and he employs it with maximum dramatic versatility."
— Opera News
"Since I moved to the US, I have been fascinated by Western classical music, and I began looking for ways to blend Hindustani singing with western music so that it sounded cohesive.  It has been a wonderfully rewarding challenge, in part because Western music is completely notated, and Hindustani music is completely improvised. Fortunately, I was supported throughout the whole process by not only my guru Dr. Ashwini Bhide Deshpande, but by my friend and collaborator, composer Reena Esmail."
Join us for A TOUR OF INDIA or enjoy all 8 cultural festivals this season! Prices are per-household and include online premieres and on-demand for 'anytime viewing' through September 30, 2021.