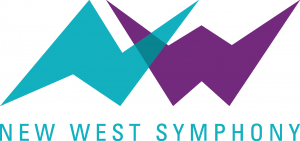 Contact:
Ross Goldberg
ross@kevinross.net
(818) 597-8453
Kim Woods Elected Chair of the New West Symphony's Board of Directors
 [Thousand Oaks, CA – October 8, 2018] – Kim Woods, long-time resident of Agoura Hills and currently a financial advisor, has been elected chair of the New West Symphony's board of directors, effective immediately. She succeeds Paul Finkel, MD., who as immediate two-term past chair will remain on the symphony's executive committee.
Active in a host of community-based organizations throughout the Conejo Valley, Woods has served on the board of governors of the Boys & Girls Clubs of Greater Conejo Valley and on the board of directors of both the Greater Conejo Valley Chamber of Commerce and the National Association of Women Business Owners of Ventura County. A Rotarian for more than two decades, Woods is a past club president of the organization was a member of the board of directors of the Westlake Village Sunrise Rotary. Woods served on the New West Symphony board from 2010-12 and was re-elected in early 2017.
"Music can be a dynamic agent for social change, convening and nurturing within our society and the New West Symphony is enthused about being a community leader in all of these areas," said Woods. "The New West Symphony can serve as a model for cultural collaboration by making music and the arts accessible to everyone and by stimulating the imagination with new experiences and new connections."
A veteran in both the financial and marketing arenas, Woods professional experience in both New York and Los Angeles includes working for such internationally-known companies as Ogilvy & Mather, Grey Advertising, Saatchi & Saatchi, Turner Broadcasting, Discovery Communications and AMC Networks. Now, she hopes to bring that wealth of experience, passion and strategic thinking to her leadership role with the symphony.
"The New West Symphony has experienced substantial momentum in the last few years and is about to enter an exciting new chapter with the upcoming appointment of a new Music Director and our 25th anniversary season on the horizon for 2019/2020," said Woods. "I am excited about what the future holds as we continue to inspire passion for symphonic music through live performances and education initiatives that engage and enrich our diverse audiences."
Founded in 1995, the New West Symphony is a professional orchestra that draws its players from the rich talent pool of professional Los Angeles-area musicians. The Symphony is the resident company of the Thousand Oaks Civic Arts Plaza and the Oxnard Performing Arts Center. It presents six Masterpiece Series concerts annually and provides a number of educational opportunities for local youth through its annual Symphonic Adventures concerts, its traveling Music Van, and the Laby Harmony Project for underserved youth. For information go to newwestsymphony.org and follow us on Facebook at www.facebook.com/newwestsymphony
#      #     #