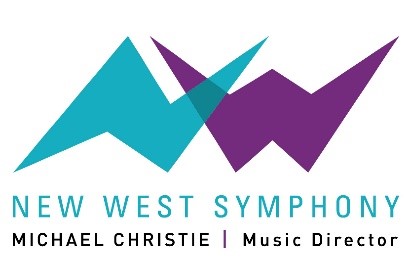 FOR IMMEDIATE RELEASE:
October 1, 2021
NEW WEST SYMPHONY PRESENTS
Delights and Dances
Live, In-Person Performances October 16 – 19, 2021
Ventura, Agoura Hills, Camarillo, Malibu
Thousand Oaks, CA – Following a year-long, around-the-world virtual concert tour, the New West Symphony, led by artistic and music director Michael Christie, returns to the stage to share the joy of live classical music performances. Delights and Dances is a 70-minute program of well-known works and delightful surprises.
With patrons' safety in mind, the programs will be presented without intermission, and proof of vaccination and masks will be required.
"The musicians of the New West Symphony are eager to take the stage and do what they do best – passionately perform great music in beautiful harmony," says music director Christie. "This program, which includes the music of Grieg, Tchaikovsky, Copland, and more, is a mix of pieces from several eras and genres that we know will delight you and get your toes tapping. Patrons have been asking when we will return to the concert platform and these performances are an opportunity for us all to gather and revel in the live concert experiences we've been yearning for."
The concert in Malibu will feature the first-ever side-by-side collaboration of New West Symphony and students from Pepperdine University's Seaver College under the direction of Director of Instrumental Ensembles, Dr. Pierre Tang. The students will join the professional musicians on stage to perform Edvard Grieg's Holberg Suite and Aaron Copland's famous "Hoe-down" from Rodeo.
Maestro Christie focuses on making the audience experience entertaining, enlightening, and enriching at each concert he conducts. The Symphony has selected these four concert venues in order to bring this exciting musical experience to the broadest audience possible, in convenient locations close to home.
"We are preparing a full season of programs beginning in December 2021. Our October concerts are an opportunity to whet the appetite of music lovers for the return of live, in-person performances, said New West Symphony CEO Natalia Staneva. "We want to re-ignite the passion for live classical music that we know people have missed. Our concerts will be produced with the strictest Covid 19 protocols in place, giving concert-goers that they can come together safely to enjoy live music again."
Tickets & Information
$40 general admission
www.newwestsymphony.org/delights-and-dances
866.776.8400
Program for Delights and Dances
SCHUBERT | Ave Maria
GRIEG | Holberg Suite
LILLEY/LOESSER | "I've Got Spurs that Jingle, Jangle, Jingle"
PRICE | "Juba" from String Quartet in A Minor
MORRICONE | Gabriel's Oboe
ABELS: Delights and Dances
TCHAIKOVSKY: "Finale" from Serenade for Strings
COPLAND | "Hoe-down" from Rodeo
Dates & Venues
October 16, 2021, 3:00pm | Ventura
Ventura College Performing Arts Center
4700 Loma Vista Rd, Ventura, CA 93003
October 16, 2021, 7:30pm | Agoura Hills
Agoura High School Performing Arts Education Center
28545 W. Driver Ave. Agoura Hills CA 91301
October 17, 2021. 3:00pm | Camarillo
Rancho Campana Performing Arts Center
4235 Mar Vista Dr, Camarillo, CA 93010
October 19, 2021, 7:00pm | Malibu
Lisa Smith Wengler Center for the Arts at Pepperdine University
24255 Pacific Coast Highway, Malibu, CA 90263
******************************
About the New West Symphony: Now in its 27th season, the New West Symphony draws its players from the rich talent pool of accomplished Los Angeles-area musicians. Its mission is to inspire passion for symphonic music through live performances and education initiatives that engage and enrich its diverse audiences.
From October 2020 through the summer of 2021, the New West Symphony presented a virtual cultural "tour" through eight online concert festivals. Each performance highlighted music of the ethnically diverse Ventura County and Conejo Valley, where the orchestra is based.
The Symphony partnered with extraordinary local guest artists who eagerly shared their passions and talents in A Tour of Japan (October 2020); A Tour of India (November 2020); Holocaust Remembrance (January 2021); A Tour of China (February 2021); A Tour of Iran (April 2021), A Tour of Mexico (May 2021); America the Melting Pot (June 2021); and the Season Finale (August 2021), which highlighted all of the festivals.
###