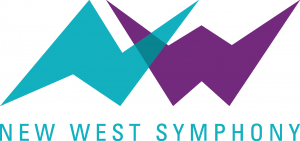 Contact:
Ross Goldberg
ross@kevinross.net
818/597-8453
New West Symphony Invites Local Area Children to Attend the Final Two Concerts of the Season with Special Family Club Membership
(THOUSAND OAKS) – March 27, 2018 — The New West Symphony is making it easier for children and their parents to attend the final two concerts of the season by joining the Symphony's Family Club at a discounted price.  The club is open to children age 7-13.
In addition to discounted tickets, VIP members receive specially prepared materials for each concert with fun activities and enriching information to help them appreciate and enjoy the performance. During intermission, VIP members are invited backstage to meet artists, tour the stage, and enjoy other exclusive activities designed to enhance their overall experience at the symphony.
Individuals can purchase concert tickets and be part of the Family Club for just $14 per child.  Adult tickets are only $29 per adult (limit two).  The tickets are subsidized by Carla Wales in memory of her mother and long-time patron Elly Nordskog.  Individuals interested in joining should call 866-776-8400.
The symphony's next concerts will be held April 13 at the Oxnard Performing Arts Center and repeated April 14 at the Thousand Oaks Performing Arts Center.  Under the baton of renowned guest conductor Andrew Grams and featuring internally-known pianist Till Fellner, the program will feature acclaimed works of Beethoven, Mozart and Brahms.
Founded in 1995, the New West Symphony is a professional orchestra that draws its players from the rich talent pool of professional Los Angeles-area musicians. The Symphony is the resident company of the Thousand Oaks Civic Arts Plaza and the Oxnard Performing Arts Center. It presents six Masterpiece Series concerts annually and provides a number of educational opportunities for local youth through its annual Symphonic Adventures concerts, its traveling Music Van, and the Harmony Project of Ventura County,  For information go to newwestsymphony.org and follow us on Facebook at www.facebook.com/newwestsymphony.
#      #     #