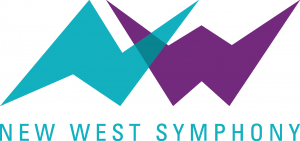 | | |
| --- | --- |
| Contact: Ross Goldberg | For Immediate Release |
| ross@kevinross.net | July 23, 2018 |
| 818-597-8453 | |
New West Symphony Invites Local Residents to "Adopt a Musician"
(THOUSAND OAKS) – July 23, 2018 — Once again this year, local residents have an opportunity to Adopt-A-Musician of the New West Symphony and by doing so help support the cultural arts in Ventura County.
Benefits of adopting include invitations to private rehearsal receptions, exclusive events to mingle with musicians, special recognition in concert programs and other perks such as sharing the stage with the orchestra at a rehearsal.  As an added benefit this year, those who adopt a musician receive a ticket to the Symphony's exclusive soirée at Sherwood Country Club on September 30, where they will enjoy a gourmet dinner with orchestra members and an intimate concert featuring two-time GRAMMY® winner Sylvia McNair performing songs by George Gershwin, Richard Rodgers, Cole Porter, and Stephen Sondheim.
"When you adopt a musician you honor that individual's exceptional talents and dedication to their craft while helping to sustain our professional orchestra's high standards of excellence," said NWS Executive Director Natalia Staneva.  "This important program is a way to connect you with your favorite instrument or tenured musician of the orchestra while making a significant impact on the cultural arts in your own community."
Staneva says that monies raised through the Adopt-A-Musician Program are an important part in allowing the symphony to continue its mission of "inspiring passion for music through live performances that attract, engage, educate and enrich our diverse audiences."
Various adoption level opportunities exist, including adopting the concertmaster, assistant concertmaster, principal musicians and section musicians.  Information on the program is available at https://newwestsymphony.org/support/adopt-a-musician/ or by calling (805) 497-5800.
The New West Symphony's 2018/2019 Masterpiece Series will kick-off October 6 and 7 in Thousand Oaks and Oxnard, respectively, with "Rhapsody in Blue" featuring many of George Gershwin's most popular works, along with Leonard Bernstein's jazzy suite from the ballet Fancy Free and Darius Milhaud's rollicking Le boeuf sur le toit which pays homage to the Jazz Age.  Guest artists will include two-time Grammy award winning soprano Sylvia McNair, pianist Kevin Cole and guest conductor Michael Christie.  Further information is available by calling 866-776-8400 or by visiting www.newwestsymphony.org.
Founded in 1995, the New West Symphony is a professional orchestra that draws its players from the rich talent pool of professional Los Angeles-area musicians. The Symphony is the resident company of the Thousand Oaks Civic Arts Plaza and the Oxnard Performing Arts Center. It presents six Masterpiece Series concerts annually and provides a number of educational opportunities for local youth through its annual Symphonic Adventures concerts, its traveling Music Van, and the Laby Harmony Project for underserved youth. For information go to newwestsymphony.org and follow us on Facebook at www.facebook.com/newwestsymphony.
#      #     #