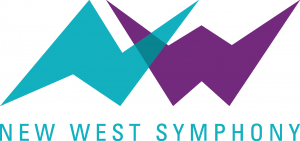 Contact:
Ross Goldberg
ross@kevinross.net
(818) 597-8453
New West Symphony Quick Bowman Piano Competition Winners Announced
 [Thousand Oaks, CA – January 2, 2019] – The New West Symphony announced today the winners of its highly-acclaimed Quick Bowman Piano Competition, an annual event that gives local youth an opportunity to perform before judges and be awarded for their participation in the competition.  These honored young musicians will now perform in recital Sunday, January 13 at 2pm in Samuelson Chapel at California Lutheran University.
Honored in the 7-9 age bracket were Aiden Um (first place), Gabriela Chao, Aidan Fu, Vivienne Hong and Helen Zhao.  Among 10-12-year olds, the winners were Sabrina Lo (first place), Ian Park, Winston Iskandar, Jake Liu and Timotée Allouch.  The 13-15 division saw winners Dylan Iskandar (first place), Daniel Kim, David Kwon and Sara Tsai.  Honored in the 16-18 age group were Rufus Bordal (first place), Max Hammond, Ankur Mukhopadhyay, Dylan Lee, Kayla Shen and Jessica Wong.
"The level of artistry among all winners was very impressive, and all of the top winners in each division displayed excellent career potential, impressive technique, mature artistry, and exciting repertoire choices beyond any previous year," said James Lent, lecturer and coordinator of instrumental collaborative piano at UCLA who served as one of the judges in the competition.
"The winners concert will be an exciting display of the discovery of young talent, and will give all in attendance faith about our younger generation's commitment to the future of classical music."
The Quick Bowman Piano Competition was created by Henry and LaReine Quick in 1990 and is held annually in their memory and in the memory of Jesse Bowman. Conducted in partnership with the New West Symphony, winners will not only perform at the CLU concert this month but will receive cash prizes, other potential recital performance opportunities and masterclasses.
Founded in 1995, the New West Symphony is a professional orchestra that draws its players from the rich talent pool of professional Los Angeles-area musicians. The Symphony is the resident company of the Thousand Oaks Civic Arts Plaza and the Oxnard Performing Arts Center. It presents six Masterpiece Series concerts annually and provides a number of educational opportunities for local youth through its annual Symphonic Adventures concerts, its traveling Music Van, and the Laby Harmony Project for underserved youth.   For information go to newwestsymphony.org and follow us on Facebook at www.facebook.com/newwestsymphony
#     #     #