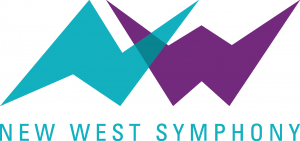 Contact:
Ross Goldberg
ross@kevinross.net
818/597-8453
New West Symphony Receives $35,000 in Local Grants 
to Support the Harmony Project of Ventura County
(THOUSAND OAKS) – February 20, 2018 – The New West Symphony announced today that it has received three local grants totaling more than $35,000 to support the Harmony Project of Ventura County.  The grants come from the Barbara Barnard Smith Fund for World Musics, Montecito Bank & Trust and the City of San Buenaventura.
Affiliated with Harmony Project Los Angeles and adopted by the New West Symphony in 2012, the Harmony Project of Ventura County promotes the healthy growth and development of children through music, aiming to bridge the social and academic gaps existing in the county. The project provides tuition free music instruction, including the loaning of instruments, to 155 children from low-income families. Program instruction begins in third grade and follows students through high school.
The grant of $18,525 from the Barbara Barnard Smith Fund for World Musics (operated by the Ventura County Community Foundation) is for the expressed purpose of including Latin American music in the Harmony Project's curriculum. By providing the opportunity to study, practice, rehearse and perform various forms of Latin American music (Son Jaracho, Mariachi, Cumbia, Salsa, Samba) students will diversity their musical knowledge and build pride in their cultural identity. Doing so will also enhance the intergenerational bonds between students and parents while building a stronger sense of community and lifelong musical, academic and social skills.
Grants of $14,000 from the City of San Buenaventura's Parks, Recreation and Community Partnerships Department and $2,500 from Montecito Bank and Trust will go towards supporting the Harmony Project of Ventura County's overriding mission of developing lifelong social and academic skills for some of Ventura's neediest students.   By creating equitable access to music education, the Harmony Project has been shown to create a sense of community through the musical ensemble while building confidence and self-esteem for the students through musical literacy and instrument proficiency.
Founded in 1995, the New West Symphony is a professional orchestra that draws its players from the rich talent pool of professional Los Angeles-area musicians. The Symphony is the resident company of the Thousand Oaks Civic Arts Plaza and the Oxnard Performing Arts Center. It presents six Masterpiece Series concerts annually and provides a number of educational opportunities for local youth through its annual Symphonic Adventures concerts, its traveling Music Van, and the Harmony Project of Ventura County,  For information go to newwestsymphony.org and follow us on Facebook at www.facebook.com/newwestsymphony.
#      #     #