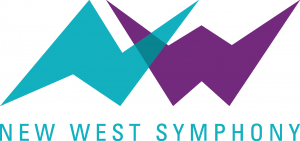 Contact:
Ross Goldberg
ross@kevinross.net
818/597-8453
Local Residents James Nagy and Jerusha Schmalzel Elected to the 
Board of Directors of the New West Symphony
(THOUSAND OAKS) – December 18, 2017 — James Nagy, managing director of Thousand Oaks-based Sprocket Websites, Inc. and Jerusha Schmalzel, customer success manager at Blackbaud, have been elected to the Board of Directors of the New West Symphony.
Nagy, a resident of Camarillo brings to the symphony a strong background in software technology, digital communication, social media and website design.  His nearly 30 years' experience in those and other areas will play a vital role in elevating the New West Symphony's online presence and creating new opportunities for the symphony to build its brand and enhance its name recognition throughout the communities it serves.
"I have long admired the innovative approach to the arts, the community involvement, and the leadership of the New West Symphony and it's an honor to now be able to engage with such a dynamic group of professionals on the board level," said Nagy. "Being able to give back to the community in this way is very rewarding which is why I so look forward to using my many years of corporate leadership experience, strategic planning, and marketing skills to help further the mission of this outstanding symphony."
Schmalzel, a resident of Thousand Oaks, has a long history of volunteerism and involvement with the arts having served on the development teams of the Pasadena Playhouse, the Arizona Theatre Company and the Tucson Symphony Orchestra.  At Blackbaud, the world's leading cloud software company powering social good, Schmalzel partners with arts and cultural organizations around country in helping them explore innovative ways to further their mission through the union of technology and fundraising strategies.
"I'm thrilled to join the board of the New West Symphony as I believe in the power of music and its ability to shape and enrich our lives," said Schmalzel.  "We are so fortunate to have a world-class, professional orchestra right in our community and I look forward to working alongside my fellow board members and staff to ensure the symphony's long term success."
The symphony's next concert, "Tchaikovsky Pathétique" will feature Tchaikovsky's final symphony, an early symphony by Sergei Rachmaninov and a world-premiere commission by EMMY® Award-winning composer Bruce Broughton for the Lyris Quartet.  Performances will be held January 25th in Santa Monica, 27th in Thousand Oaks and 28th in Oxnard.  The season will then continue with violin superstar Pinchas Zukerman in March, a "Classical Vienna" concert with Austrian pianist Till Fellner in April and a "Virtuoso Tour de Force" in May featuring Van Cliburn Competition gold medalist Haochen Zhang.
Founded in 1995, the New West Symphony is a professional orchestra that draws its players from the rich talent pool of professional Los Angeles-area musicians. The Symphony is the resident company of the Thousand Oaks Civic Arts Plaza, the Oxnard Performing Arts Center and Barnum Hall in Santa Monica.  It presents six Masterpiece Series concerts annually and provides a number of educational opportunities for local youth through its annual Symphonic Adventures concerts, its traveling Music Van, and the Harmony Project of Ventura County,  For information go to newwestsymphony.org and follow us on Facebook at www.facebook.com/newwestsymphony.
#      #     #