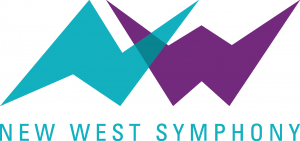 Contact:
Ross Goldberg
ross@kevinross.net
818/597-8453
Internationally-Acclaimed Conductor Kynan Johns Named Finalist
for Music Director for the New West Symphony
(THOUSAND OAKS) – December 11, 2017 – Internationally-acclaimed conductor Kynan Johns has been selected as one of the three finalists to fill the positon of music director of the New West Symphony, it has been announced. The Symphony is currently in the second season of its search for a new music director with the intention of having the selected candidate on board to lead the Symphony in its 25th anniversary season in 2019-2020.
A protégé of Lorin Maazel and Zubin Mehta, Maestro Johns has established an enviable reputation throughout Europe, Australia, Israel and America. Johns has conducted orchestras and opera companies throughout the world including, amongst others, the Israel Philharmonic, Rotterdam Philharmonic, Philharmonica della Scala, Melbourne Symphony, New Zealand Symphony and the Vienna Chamber Orchestra and is deservedly regarded as a leading conductor of the younger generation.
As part of the selection process, Johns was a guest conductor for the New West Symphony last season and returns this season to lead the orchestra for its "Tchaikovsky Pathétique" concerts January 25th in Santa Monica, 27th in Thousand Oaks and 28th in Oxnard.  The concerts will feature Tchaikovsky's final symphony and an early symphony by Sergei Rachmaninov alongside a world-premiere commission by EMMY® Award-winning composer Bruce Broughton for the Lyris Quartet. Continuing its tradition of fostering young and rising talent, the New West Symphony is showcasing the Lyris Quartet, founded by New West Symphony concertmaster Alyssa Park.
Following the January concert, the New West Symphony season continues with the return of violin superstar Pinchas Zukerman in March, a "Classical Vienna" concert with Austrian pianist Till Fellner in April and a "Virtuoso Tour de Force" in May featuring Van Cliburn Competition gold medalist Haochen Zhang. Subscription and single ticket information can be obtained by calling 866-776-8400 or by visiting www.newwestsymphony.org.
Founded in 1995, the New West Symphony is a professional orchestra that draws its players from the rich talent pool of professional Los Angeles-area musicians. The Symphony is the resident company of the Thousand Oaks Civic Arts Plaza, the Oxnard Performing Arts Center and Barnum Hall in Santa Monica.  It presents six Masterpiece Series concerts annually and provides a number of educational opportunities for local youth through its annual Symphonic Adventures concerts, its traveling Music Van, and the Harmony Project of Ventura County,  For information go to newwestsymphony.org and follow us on Facebook at www.facebook.com/newwestsymphony.
#      #     #