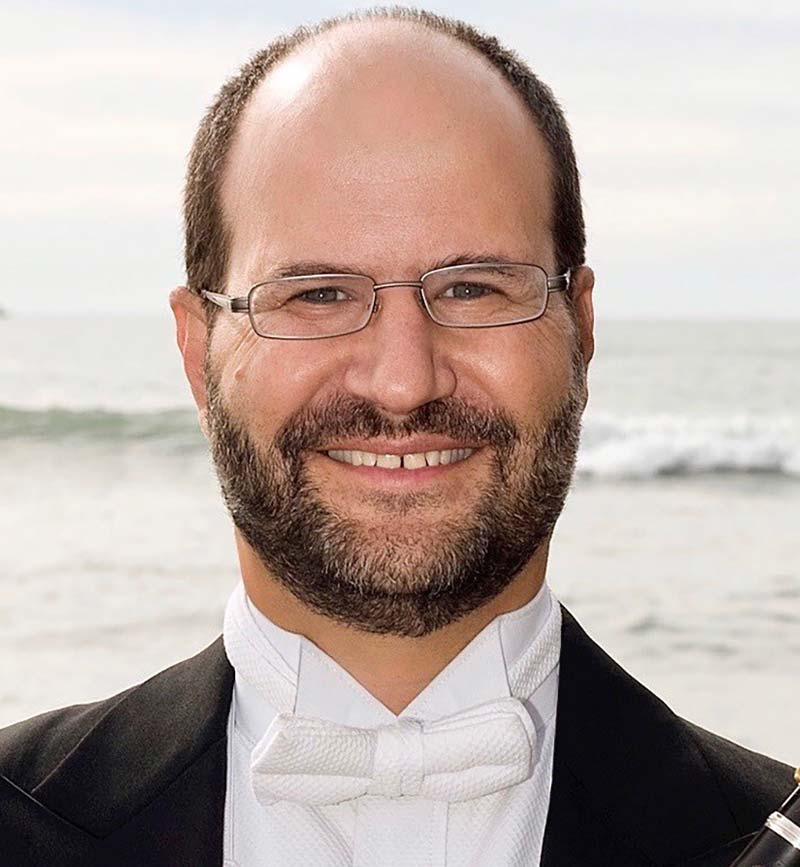 Holocaust Remembrance
January 31, 2021
Joshua Ranz, New West Symphony Principal Clarinet
Hailed in the Los Angeles Times as offering a "stunning rendition" of the Mozart Clarinet Concerto, and an "exciting" version of the Copland Clarinet Concerto, Joshua Ranz is principal clarinet of the New West Symphony.
As a chamber musician, Ranz has performed with Los Angeles Chamber Orchestra, Chamber Music Palisades, Capitol Ensemble, South Bay Chamber Music Society, Jacaranda and numerous other chamber music programs throughout Southern California. Ranz has played on over 150 soundtracks for such composers as John Williams, Michael Giacchino, James Horner, Randy Newman, Alan Silvestri, Jerry Goldsmith, Alexander Desplat and many others. Some of the recent films he has played on include Coco, Lady Bird, Downsizing, A Wrinkle in Time, Star Wars VII and Rogue One, The Incredibles 2 and Ready Player One. He also performs regularly with the Los Angeles Philharmonic.
Before moving to Los Angeles in 1999, Ranz was a member of the Honolulu and San Jose symphonies. He was a fellow and a faculty member of the Aspen Music School and Festival and a fellow at the Tanglewood Music Festival.
Ranz joined the UCLA School of Music as Lecturer in Clarinet in 2020. Ranz has been the studio artist instructor for clarinet at the Biola Conservatory of Music for over a decade. He also previously taught at Pomona College and Long Beach City College. Originally from New York, Ranz attended Fiorella H. LaGuardia High School of Music & Art and Performing Arts. He went on to receive his Bachelor's degree at Harvard College, majoring in music composition and analysis. He then received his Master of Music at the Yale School of Music, where he studied with David Shifrin.
Ranz and his wife, oboist Leslie Resnick, have two sons, Jonah and Nathan.Phillip Triggs joined the New West Symphony in 2014 as a section viola player and began as acting principal in 2016. He is also Assistant Principal Viola of the Santa Barbara Symphony since 2015 and a member of Hollywood Bowl Orchestra's viola section since 2018. Additionally, he performs as first-call substitute with Pacific Symphony. He has served as guest associate principal viola with the Los Angeles Chamber Orchestra, guest principal viola with the Riverside County Philharmonic, and guest principal viola with the Long Beach Opera for the US Premiere of Philip Glass' Opera, The Perfect American. Phillip is also active in the recording studios, performing for film, video games, television, Netlflix, Disney+, etc. Past orchestral posts include the Civic Orchestra of Chicago and Opera Pacific Orchestra.