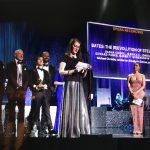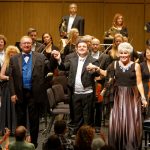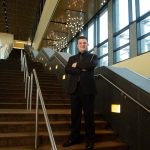 Maestro Michael Christie Wins GRAMMY® Award!
Music Director for New West Symphony, Michael Christie, was awarded a GRAMMY Award for a recording of a live performance he conducted with Santa Fe Opera, the world premiere of contemporary opera, The (R)evolution of Steve Jobs about the life of the founder of Apple Computer and inventor of the iPhone. The opera recording, written by Mason Bates with libretto by Mark Campbell, was nominated for 4 total Grammys. This is Maestro Christie's first GRAMMY nomination and first GRAMMY win.
"It was such a thrill to be involved in the creation of a new American opera on such an important American topic, and I'm so proud that the piece, at the earliest point of its life, will be recognized as a great new American opera," said Maestro Christie. "This is great news for new voices and future works to be considered for the Grammys."
Conducting the premiere of a work presents a unique opportunity and responsibility. "Partnering with the composer, to bring the most out of their musical voice, to walk side by side with composers, helps them realize the potential of their piece," said Maestro Christie. No stranger to winning notable awards for conducting new works, Maestro Christie alos premiered, with the Minnesota Opera, Silent Night by Kevin Puts, who won a Pulitzer Prize for the work. 
Maestro Christie, music director of New West Symphony, has performed or commissioned dozens of new works by national and international composers, and will continue to be an advocate for bold and interesting new voices as the artistic head of New West Symphony. With such a notable background in opera, Maestro Christie brings a unique perspective to the symphonic world. "Opera forces you to be a musical storyteller. For example, when you can conduct an opera by Dvorák, and then you look at his symphonic work, his dramatic impulse can inform your choice of tempo and how you do phrases. Opera gives us a way to think about composer's symphonic music in terms of how they view drama." 
The recording was nominated for "Best Opera Recording," "Best Contemporary Classical Composition," "Best Engineered Album, Classical," and "Producer of the Year, Classical." In the category of "Best Opera Recording," other nominees were John Adams for "Doctor Atomic," Christophe Rousset nominated for "Alceste," Sebastian Weigle nominated for "Der Rosenkavalier" and Constantine Orbelian nominated for "Rigoletto." Maestro Christie will be conducting this work with the San Francisco Opera, which recently announced performances in June, 2020.
Maestro Christie will make his debut as music director with New West Symphony on April 6 & 7, 2019, performing the Symphony's "Indescribable Beauty" concert featuring Chopin International Piano Competition winner Yulianna Avdeeva. 
Maestro Christie makes his New West Symphony debut as music director in April, 2019.
Saturday, April 6, 2019 | 7:30 pm
Thousand Oaks Civic Arts Plaza
Sunday, April 7, 2019 | 3:00 pm
Oxnard Performing Arts Center