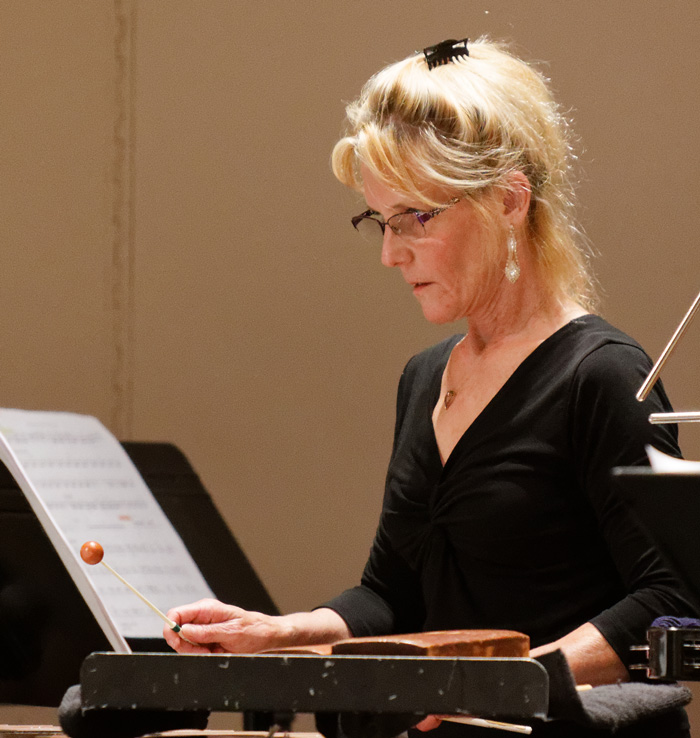 Marie Matson
Principal Percussion
Marie Matson is the principal percussionist of the New West Symphony as well as one of its founding members. She is currently the principal timpanist of the Asia America Symphony and a tenured founding member of the California Philharmonic. Marie also performs frequently with the Opera Pacific Orchestra, Pasadena Pops Orchestra, Ventura Master Chorale, Long Beach Symphony, Pasadena Symphony, and Santa Barbara Symphony, and as an extra percussionist with the Los Angeles Chamber Orchestra, Hollywood Bowl Orchestra and Los Angeles Master Chorale Sinfonia.
Ms. Matson has toured with Andrea Bocelli and John Tesh and performed with The Three Tenors, David Benoit, The Moody Blues, Richard Carpenter, Doc Severinson, Michael Martin Murphy and many others. Her TV appearances include "The Tonight Show" with Jay Leno as well as sidelining in a commercial for the Midland Bank of England. She was the featured marimba soloist (with screen credit) for the 2002 motion picture "A Guy Thing" and the glockenspiel soloist on the hit tune "Need to Be Next To You" from the movie, "Bounce."
Ms. Matson is also a dedicated swimmer and cat lover.