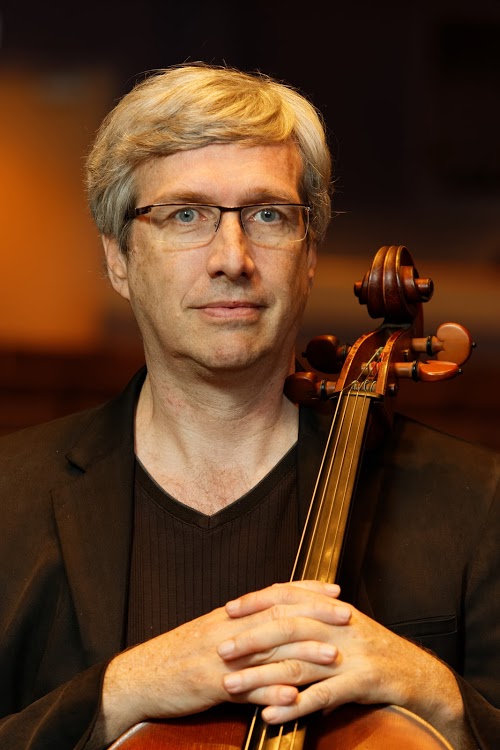 Mark Tanner
Principal Cello
Mark had been principal cellist with the New West Symphony since the 2000/2001 season, and was a talented soloist and inspiring leader. Mark was a frequent soloist with the orchestra, and he opened the 2016/2017 season with a passionate performance of Concierto en Tango by Miguel del Águila
On Thursday, December 14, 2017, Mark made an emergency landing of the plane he was piloting off the coast of the Bahamas. Mark made a heroic effort to save his wife, Janna Lower, who survived the crash. To our great sadness, Mark was not found.
Mark was a cherished member of the New West Symphony family, and he will be greatly missed.
Remarks by Marney Weaver
New West Symphony subscriber in Thousand Oaks who hosted Mark in her home
Delivered at Tchaikovsky's Pathétique post-concert reception
Saturday, January 27, 2018
Many of you knew Mark – it was hard not to notice the tall, elegant, commanding figure to the right of our conductor, and you may have talked to him at a concert afterglow where he was always present.  If you've been to our concerts, you know what a wonderful musician Mark was, and, if you've met him in person, you also know what a warm, enthusiastic and friendly person he was.  
I was really lucky.  For most of the 17 years Mark performed with the New West Symphony, he stayed at my home on El Monte Drive, and after I returned from two years in Indio, he stayed with me again at my home in Wildwood. Paul and Karen Finkel were the lucky and – he told me- warm and charming hosts in between.  Mark was a devoted husband to his lovely wife – violinist Janna Lower; he was a cat lover, steadfast friend, philanthropist, scientist, and right at the top of his list, a cellist! He often said that his day jobs provided him with the luxury of flying to California to perform with the New West Symphony.
When he first came to stay with me I offered to cook him breakfast or put food in the small refrigerator in his room.  He thanked me and said he would very much appreciate a bagel every morning with butter only, and a weeks worth of root beer!  And for 15 of the next 17 years that's what he got.  He brought his bagels into our kitchen for toasting so we had many conversations in those mornings that lasted long after the bagel was finished.  He didn't like my coffee much – no one does – I make it very weak – but he loved  to go out for coffee or to get Peet's coffee and make his own!  He was thrilled when Peets actually opened cafes in Thousand Oaks.  And I still buy Peets coffee!
I want to share some personal memories of my friend Mark.
About two years after he had been staying with us, he arrived to find me fuming over a defunct timer on my Thermador double oven.  The factory certified repair people had informed me it could not be fixed, and that Thermador no longer made that timer, but they would be happy to sell me a reconditioned unit for $450.  I was not a happy camper.  Mark  responded he would fix it, if I could  just produce a few simple tools. As a low level do-it-yourselfer, that was no problem, and  in an hour my timer was working and I could once again clean my oven. And I've never  again trusted a repairman who tells me repair is not possible.
One day Mark came to me and asked if he could borrow my son Andrew's student cello. I wondered if he was teaching someone locally, and he told me that he was going to do some sort of wild contemporary piece of music at the Ventura City Hall that required him to bang on the wood like a percussion instrument.  He assured me it wouldn't damage the cello but he wasn't sure enough about that to use his own cello. So somewhat skeptically, I said yes. I went to that concert and wondered if I might be taking home firewood, but the cello was tougher than it looked!
Mark had many unexpected talents and skills, and I don't think he made very many visits to my house without finding something wrong with my computer software which he would fix in minutes when I had failed  after working on the problem for many hours. I was so grateful for his regular visits.
Mark was a successful venture capitalist, and I know about only a few of his ventures, mostly because I can't remember all the details he told me long ago. He helped to create some fascinating medical computer systems including one which measured the cleanliness of the hands of each medical staff person and visitor who entered or left a patient room, with the goal of increasing awareness  about how important it was for staff  members to clean their hands thoroughly and thereby reduce infection and contamination among patients.  The correlation between improvement in clean hands and reduced infection was extremely high in the studies that followed instlallation of this system in several hospitals, and Mark was extremely proud of a hospital where the system was used that  eventually achieved a ZERO contamination year. 
Mark was a skilled computer software programmer and engineer; computers had been his major at Yale.  He did forensic computer work and hosted and created web sites, and created whatever software was needed for the inventions and systems needed  by his venture capital companies.
In recent years, he created a foundation called Tropicordia along with his wife Janna and his best friend and venture capital partner Richard Allen.  Mark personally funded this foundation which was to make  grants for unique ideas in the musical world, and  to collect used strings from string playing musicians which were too used for concert work, but perfect for young or poor orchestras whose musicians could not afford to buy them. Tropikordia would sort the strings by the key they provided and then bundle and ship them to such organizations.  He very much looked forward to a planned retirement at age 60 when he could devote much of his time to the work of this foundation. I believe Richard and Janna, the other two board members, hope to continue this work in his memory.
Occasionally Mark would bring Janna with him to Thousand Oaks, and they would make a short vacation of the trip flying their plane in hops to Camarillo. Janna loved to cook, and became good friends with Jo-Ann Gordon, Jo-Ann visited the Tanners in Gainesville, and cook they did.  This was Mark's opportunity to provide the appreciative audience! 
Mark cared deeply, almost paternally, about the New West Symphony, and the excellence of the music it provided us all. He was uncompromising in his quest for perfection personally, as a section principle, and as a member of the orchestra body. I know he made an effort to get to know his section members and work with them to create the best and most cohesive cello section possible.  He also cared equally about every musician in our orchestra and worked hard as a union representative at various times to see that salaries were as good as possible, given the unending financial challenges that face symphony orchestras. I know how often he and Natalia Staneva met to discuss issues that would arise.  He was never merely an employee.
Mark's tragic passing leaves a hole in my life.  I am sure we will find a fine cellist to fill that first chair, but we will never find another Mark Tanner.  His cello sits in my closet with his concert clothes, and I just keep thinking he will show up to use them.  I should add that the cello is for sale, as Janna believes that it deserves to be played, and that is what Mark would want.
Marney Weaver