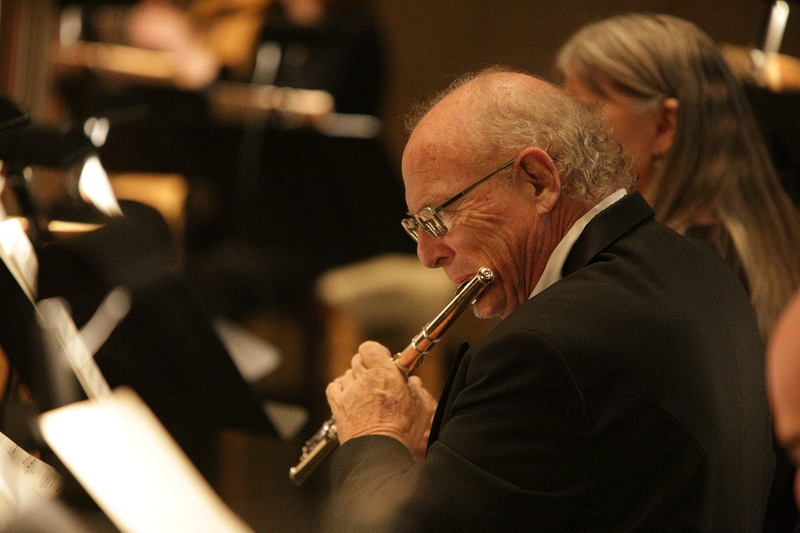 Paul Fried
Principal Flute
Paul Fried is widely regarded as one the foremost flutists of his generation. He began his studies with his father Milton Fried, a professional musician who played all the woodwinds. At the age of 8, in 1955, he auditioned for Julius Baker and was accepted to study at the Juilliard Preparatory School on full scholarship. He continued at the Juilliard Preparatory School and also performed with the college school woodwind ensemble, until he was 11. By the age of 10 he was performing concertos and performed on the nationally televised Arthur Godfrey talent show. He also performed as a member of the Suburban Symphony, in New City New York.
Later, while living in Las Vegas, he continued his studies with Eugene Foster, Solo Flute of the Utah Symphony. He was offered a position with the Utah Symphony conducted by Maurice Abravanel at the age 16 and turned it down to once again go to New York, where he was accepted into Juilliard, and continued his studies with Julius Baker. He also was influenced by the teaching of Marcel Moyce. Fried graduated from Juilliard in June of 1970, having already won the 3rd, and Alto Flute position with the Boston Symphony. He was promoted to Assistant Principal flute of the BSO in January 1971, and was later promoted in 1976 to Solo Flute of the Boston Pops under both Andre Fiedler and John Williams. In December of 1976 Fried was invited to perform as Solo Flute with the Berlin Philharmonic in Berlin, under Herbert von Karajan.
Paul Fried left the BSO in 1982 and performed as Co – Principal Flutist of the Pittsburgh Symphony from 1982 to 1985, then conducted by Andre Previn. Since September of 1985, he has lived in Los Angeles where he is Solo Flutist of the New West Symphony. He was a featured soloist with his colleagues in January 2008, performing the CPE Bach D Minor Concerto. Paul has also been active in the studios as Solo Flutist for many movies including many of the movies of David Newman and Michael Kamen. These movies include Hoffa, Ice Age, Anastasia, The Spirit, Lethal Weapon, Die Hard, Robin Hood and many others.
Fried currently has nine solo cds available at CDBaby.com, PaulFriedFlutist.com and Simplicityrecords.com His newest recording is his Music Minus One Recording and arrangement of the Vivaldi Seasons, with the Czech Symphony Chamber Orchestra. In 2004 he performed at the First China Flute Convention held in Shenyang China. In 2005 Powell Flutes of Japan helped sponsor Fried in concerts with famed Japanese flutist Nobutaka Shimizu. Together they performed works of Jean Michel Damase in Tokyo and Osaka with Damase performing as pianist. These performances can be heard on this website and paulflute007 on youtube. Paul Fried has played the same Powell Flute built by Verne Q. Powell himself in 1947, since the age of 11. The flute was purchased from his teacher at that time, the legendary Julius Baker. Previously, the flute was played by Arthur Lora who was Solo Flute in the NBC Symphony under Arturo Toscinini. Fried has recently decided to take a more active role in helping to promote the magical greatness of Powell Flutes.
Paul Fried teaches flute privately in Los Angeles and teaches flute students worldwide on Skype.