A TOUR OF IRAN
Online Symphony Concert and Cultural Festival
AVAILABLE NOW ON DEMAND FOR ANYTIME VIEWING, THROUGH SEPTEMBER 30, 2021
New West Symphony's Global Sounds. Local Cultures season continues with A Tour of Iran, exploring centuries old traditions of Iranian poetic and musical cultural influences on the western world. Award-winning mezzo soprano Sasha Cooke and Iranian instrumentalists Pejman Hadadi and Masoud Rezaei join the New West Symphony on this musical voyage. GRAMMY-winning Artistic and Music Director Michael Christie leads the orchestra in western classical masterworks by Handel, Rameau, Gounod and the timeless overture to Mozart's Magic Flute. Iranian composers Behzad Ranjbaran, Masoud Rezaei and Golfam Khayam share their inspiration from Iranian sites and poetry.
This festival is presented in partnership with Farhang Foundation 
Established in 2008 in Los Angeles, Farhang Foundation is a nonreligious, nonpolitical, not-for-profit, member-supported foundation with a mission to celebrate and promote Iranian art and culture for the benefit of the community at large.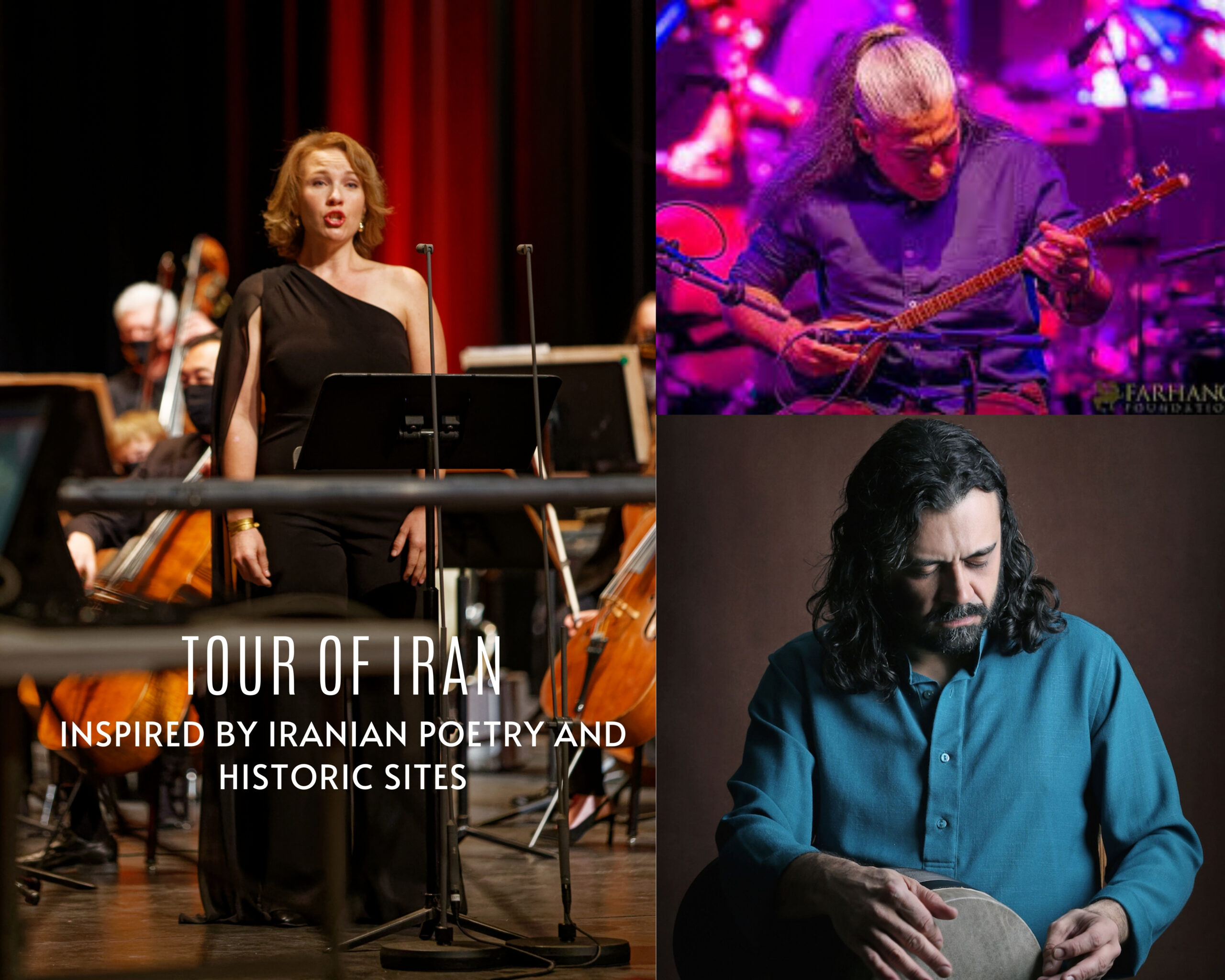 A TOUR OF IRAN
MICHAEL CHRISTIE, CONDUCTOR
SASHA COOKE, Mezzo Soprano
PEJMAN HADADI, Tombak and Daf
MASOUD REZAEI, Setar
KHAYAM: Seven Valleys of Love for Strings (Simorgh, Murmuration)
MOZART: Magic Flute Overture
RANJBARAN: Enchanted Garden: Joy
RAMEAU: Suite from Zoroastre
HANDEL: Xerxes: "Ombra mai fu"
GOUNOD: from the Opera "Faust"
Entr'Acte | Faites lui mes aveux (Flower Song) |Si le bonheur (When fortune beckons)
REZAEI: From album "Nothingness"
"Another Birth" | "Cold Autumn" | "Failure"
Online reception with Michael Christie, joined by Executive Director of Farhang Foundation Alireza Ardekani and guest artists, immediately after the concert.
A Concert Passport, including the concert plus complementary content to enrich your experience, is $25 per household.
An All Access Season Passport to our season of 8 cultural festivals is $160 (a 20% savings).
Along with the symphony concert, Season and Concert Passport holders enjoy access to companion cultural festival programs for further immersion into the music, the artistry, and the culture that inspired our concert.
AVAILABLE NOW ON DEMAND FOR ANYTIME VIEWING, THROUGH SEPTEMBER 30, 2021.
A Tour of Iran Symphony Concert
Programs Included with Your Concert Passport:
Culture Insights
In Culture Insights, the New West Symphony offers insights into Southern California – Iranian culture; demonstrations of traditional instruments and dance; and discussions about history, arts and music with distinguished guest artists including Dr. Ahmad Karimi-Hakkak, a distinguished literary figure and Iranologist who has written dozens of books and hundreds of scholarly articles on poetry and language, Grammy – winning composer, musician and santur player Hamid Saeidi, Executive Director of Farhang Foundation Alireza Ardekani, and award – winning choreographer Melieka Fathi. The segment features a culinary excursion into the traditions of Nowruz with restaurateur Sadaf Salout Nezhad.
Meet the Artists
This online edition of Meet the Artists is an expansion of a longstanding New West Symphony tradition that breaks the barrier between the stage and audience seats. Enjoy a combination of biography, artistry and insight into an artist's process and talent. The guests of the Meet the Artists program include percussionist Pejman Hadadi, setar virtuoso Masoud Rezaei and mezzo soprano Sasha Cooke.
Questions? Call us at 805.497.5880/866.776.8400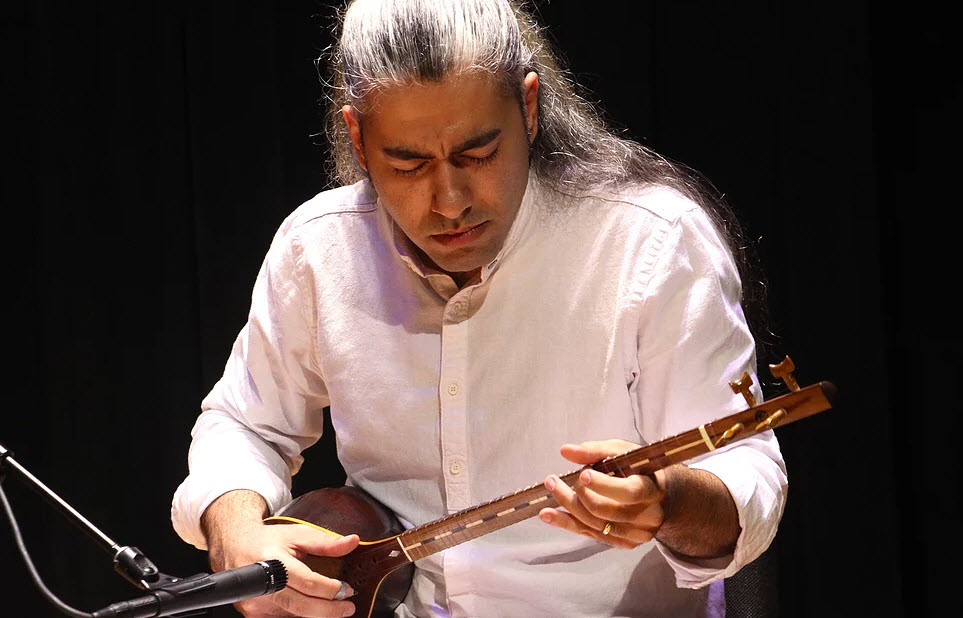 MASOUD REZAEI, Composer/Setar
Iranian raised composer and setar (Persian Lute) player Masoud Rezaei developed a passion for the classical Iranian instrument that led him to pursue a bachelor's degree in Iranian Traditional Performance. He studied the intricate techniques of playing this age-old instrument and understanding how to compose the lush, beautiful scores with Iranian master musicians such as Zolfonoun, Babaei and Shoari. Masoud has performed on many global stages and will perform selections from his acclaimed duet with Mathias Kunzli on western drum kit. His album "Nothingness" was released in 2015, and his album "Until," released in 2019, won Best World Traditional Album at the 18th Independent Music Awards and the Outstanding Achievement in World Music and Instrumentals Award at the Global Music Awards.
THANK YOU TO OUR SPONSORS
GRANDIOSO SEASON SPONSORS
John Hammer
Barbara Barnard Smith Fund for World Musics at Ventura County Community Foundation
CORPORATE SEASON SPONSOR
Home Helpers Home Care
LARGO SEASON SPONSOR
Karen & Dr. Paul Finkel
CRESCENDO SEASON SPONSORS
Susan Burgos
Fern & Dr. Arnold Heyman
ALLEGRO FESTIVAL SPONSORS
Drs. Lucy & Sam Bruttomesso
Join us for Tour of Iran or enjoy all 8 cultural festivals this season! Prices are per-household and include online premieres and on-demand for 'anytime viewing' through September 30, 2021.