Holocaust Remembrance Concert
Holocaust Remembrance Week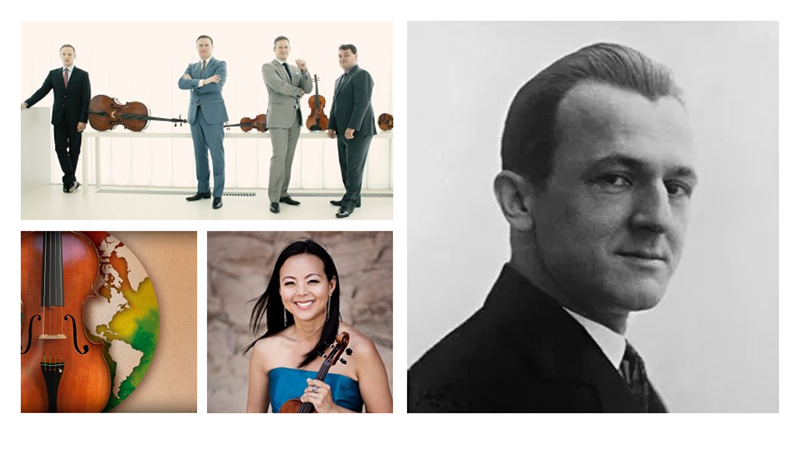 AVAILABLE NOW ON DEMAND FOR ANYTIME VIEWING, THROUGH SEPTEMBER 30, 2021.
New West Symphony joined the international community on January 27 through January 31 to commemorate and honor six million Jewish victims of the Holocaust and millions of other victims of Nazism voices featuring touching historical context and music of the early 20th century and today exploring Jewish themes.
HOLOCAUST REMEMBRANCE
Michael Christie, Artistic and Music Director
Jerusalem String Quartet
Alyssa Park, New West Symphony Concertmaster
Phillip Triggs, New West Symphony Principal Viola
Joshua Ranz, New West Symphony Principal Clarinet
Daniel Vnukowski, piano
JOHN WILLIAMS Theme from Schindler's List
MENDELSSOHN Song Without Words Op. 67, No. 2
JOHANNES BRAHMS String Quartet No. 3 in Bb-Major, Op. 67
ERVIN SCHULHOFF Five pieces for String Quartet 
BÉLA KOVÁCS  Sholem-alekhim, rov Feldman!
WLADYSLAW SZPILMAN Mazurka
MIECZSLAW WEINBERG  Sonata No. 1 fur Viola Solo, Adagio
ROMAN RYTERBAND: Suite Polonaise – Oberek
JOHN WILLIAMS: Remembrance from Schindler's list
The music of the early-mid 20th century was profoundly influenced by some of Classical Music's greatest masters such as Johannes Brahms and was boldly looking toward international and folk influences even during the century's darkest points. New West Symphony's Holocaust Remembrance presentations feature New West Musicians and the internationally acclaimed Jerusalem Quartet performing an array of music illuminating vast stylistic and cultural treasures.
A Concert Passport, including the concert plus complementary content to enrich your experience, is $25 per household.
An All Access Season Passport to our season of 8 cultural festivals is $160 (a 20% savings).
Along with the symphony concert,  Season and Concert Passport holders enjoy access to companion cultural festival programs for further immersion into the music, the artistry, and the culture that inspired our concert.
AVAILABLE NOW ON DEMAND FOR ANYTIME VIEWING, THROUGH SEPTEMBER 30, 2021.
Holocaust Remembrance
New West Symphony Concert 
Programs Included with Your Concert Passport:
"Never Forget"
This program features interviews with Celina Biniaz, the youngest of Schindler's List survivors and the Violins of Hope Los Angeles Chair Susanne Reyto, along with a showing of a "Violins of Hope" documentary.
Roman Ryterband: Suite Internationale – Mazur Fantastique
Soehn/Biniaz-Harris: Melodies of Auschwitz
John Williams: Jewish Town from "Schindler's List"
Meet the Artists
30-minute program featuring exclusive interviews with members of Jerusalem Quartet and pianist Daniel Vnukowski.
Mendelssohn: Song Without Words op. 19 no.1
Arlen: Masque: Sounds of Winter
Roman Ryterband: Mazurka
Brahms: String Quartet No. 3, op. 67, 4th movement
Schulhoff: Five Pieces for String Quartet, Alla Tarantella
Questions? Call us at 805.497.5880/866.776.8400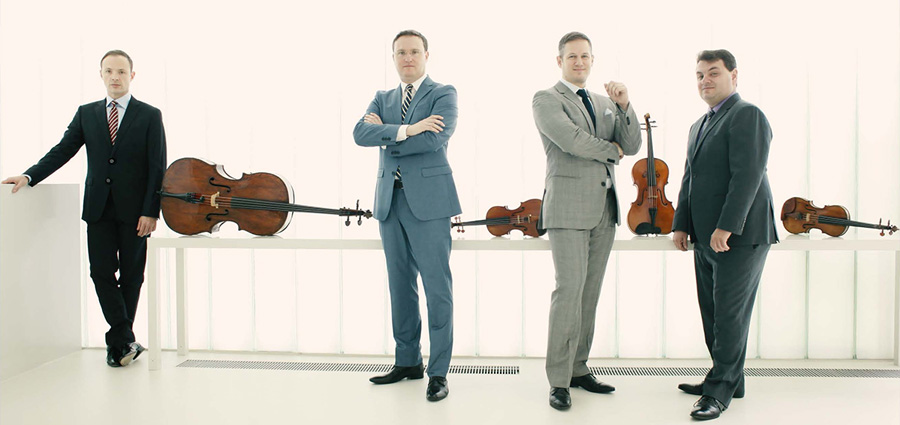 "Passion, precision, warmth, a gold blend: these are the trademarks of this excellent Israeli string quartet."
 Such was the New York Times' impression of the Jerusalem Quartet. Since the ensemble's founding in 1993 and subsequent 1996 debut, the four Israeli musicians have embarked on a journey of growth and maturation. This journey has resulted in a wide repertoire and stunning depth of expression, which carries on the string quartet tradition in a unique manner.
— New York Times
Fortissimo Sponsors
Joan & Dr. Robert Piccioni
 
Mezzo Forte Festival Sponsor
Nancy Israel
 
THANK YOU TO OUR SEASON SPONSORS
 
GRANDIOSO SEASON SPONSOR
John Hammer
 
CORPORATE SEASON SPONSOR
Home Helpers Home Care
 
LARGO SEASON SPONSORS
Karen & Dr. Paul Finkel
 
CRESCENDO SEASON SPONSORS
Susan Burgos
Fern & Dr. Arnold Heyman
Join us for Holocaust Remembrance or enjoy all 8 cultural festivals this season! Prices are per-household and include online premieres and on-demand for 'anytime viewing' through September 30, 2021.