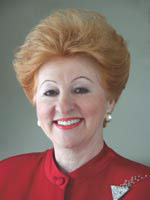 Holocaust Remembrance
January 31, 2021
Susanne Reyto
Los Angeles Chair of Violins of Hope initiative, an award-winning author, speaker, world traveler and an ardent supporter of the arts.
She is a child survivor of the Holocaust and grew up under Communism. Her childhood experiences and her ultimate escape from Communist Hungary in the late 1950's left Susanne with an unwavering spirit of optimism and perseverance. She grew up in Australia, lived on Guam while her husband served in the US Navy and has traveled the world. She is a frequent speaker at Los Angeles Museum of the Holocaust. She works tirelessly for the preservation of our American way of life, liberty and the education of our future generations about history including the Holocaust.
Her writings have been featured in major US newspapers and Internet magazines/websites. She has appeared on television and radio in the US and Canada. Her book, "Pursuit of Freedom" has been designated as recommended reading for youngsters.