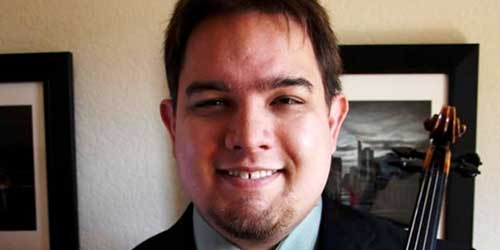 Holocaust Remembrance
January 31, 2021
Phillip Triggs, New West Symphony Principal Viola
Phillip Triggs joined the New West Symphony in 2014 as a section viola player and began as acting principal in 2016. He is also Assistant Principal Viola of the Santa Barbara Symphony since 2015 and a member of Hollywood Bowl Orchestra's viola section since 2018. Additionally, he performs as first-call substitute with Pacific Symphony. He has served as guest associate principal viola with the Los Angeles Chamber Orchestra, guest principal viola with the Riverside County Philharmonic, and guest principal viola with the Long Beach Opera for the US Premiere of Philip Glass' Opera, The Perfect American. Phillip is also active in the recording studios, performing for film, video games, television, Netlflix, Disney+, etc. Past orchestral posts include the Civic Orchestra of Chicago and Opera Pacific Orchestra.
Phillip was trained at Chapman University under the tutelage of Professor Robert Becker, and later at Northwestern University with Roland Vamos. His summers were spent at the Aspen Music Festival and School, studying with James Dunham and Jeffery Irvine. Early violin studies were with renowned pedagogue William Fitzpatrick.
A dedicated teacher, Mr. Triggs is an adjunct instructor at Concordia University Irvine and Santa Ana College. He also maintains a small private studio at his home in Mission Viejo, where he lives with wife Adriana, son Thomas, and daughter Luciana.