A TOUR OF JAPAN
Symphony Concert and Cultural Festival
Presented from the Ronald Reagan Presidential Library and Fred Kavli Theatre of the Bank of America Performing Arts Center
NOW AVAILABLE ON DEMAND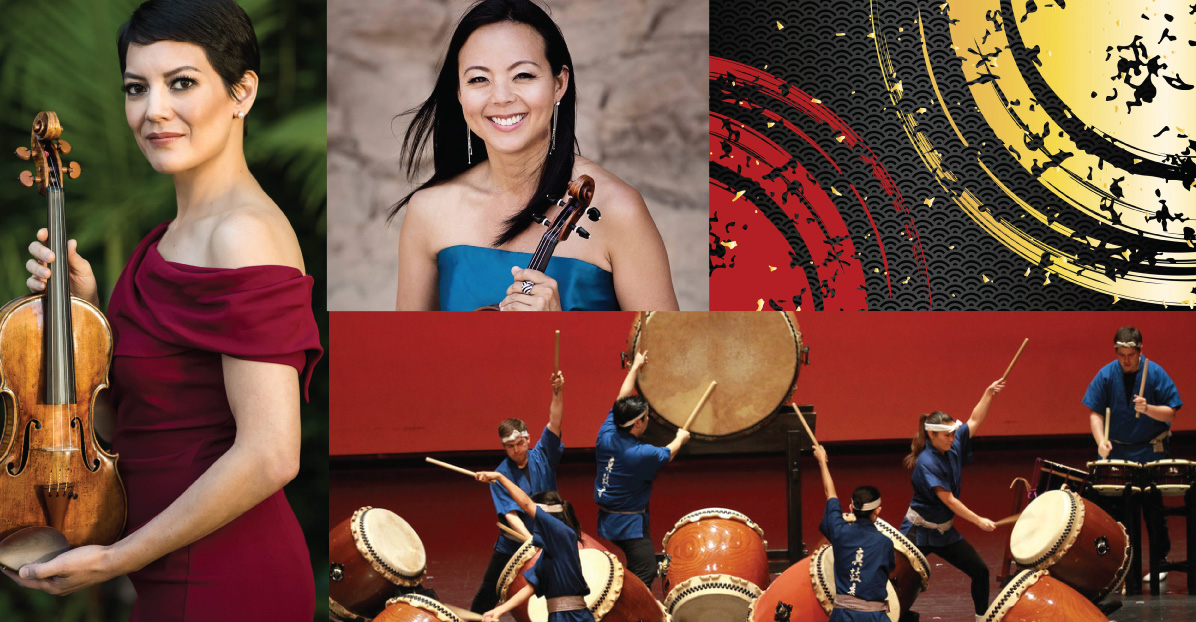 A TOUR OF JAPAN

Michael Christie, conductor
     The Glywn and Ruth Chase Music Director
Anne Akiko Meyers, violin
Alyssa Park, violin
Reiko Obata, koto
Benjamin Krasner, piano
Makoto Taiko, taiko drums
SCHUBERT | Ave Maria
TORU TAKEMITSU | Three Film Scores
MOZART  | Serenade in D Major
BEETHOVEN | Für Elise
SHINICHI YUIZE  Concerto No. 2 for Koto and Strings (3rd mvt.)
J.S. BACH | Concerto for Two Violins in D minor
Miyake, performed by Makoto Taiko, Japanese drum ensemble
MEZZO FORTE CONCERT SPONSORS
Adele & James McGinnis
An All-Access Passport for the Japan festival, including the concert plus complementary content to enrich your experience, is $25 per household. 
A full digital membership for an All-Access Passport to our season of 8 cultural festivals is $160 (a 20% savings).
NOW AVAILABLE ON DEMAND through September 30, 2021.
Your Passport Awaits
Along with the symphony concert,  All Access Passport holders enjoy access to companion cultural festival programs for further immersion into the music, the artistry, and the culture that inspired our concert.
All programs are now available ON DEMAND, for viewing at your convenience.
A Tour of Japan
New West Symphony Concert
Meet the Artist
Performances and interviews presented from the Ronald Reagan Presidential Library.
On the Veranda
Featuring Artist Hirokazu Kosaka
Questions? Call us at 805.497.5880/866.776.8400
"Perhaps it is music that will save the world."  ~Shinichi Suzuki
Thousands of teachers have taught music to hundreds of thousands of students since the mid-20th century with the Suzuki Method. The composers who feature in this masterful teaching strategy—Bach, Schubert, Mozart and Beethoven—are performed by the New West Symphony, featuring violinist Anne Akiko Meyers, alongside the mesmerizing sounds of Japanese traditional music and music from Japan over recent decades.
Exclusive Programming for All-Access Passport and Digital Season Membership Holders
On the Veranda
Hirokazu Kosaka, artistic director of the Japanese American Cultural and Community Center discusses the Japanese cultural aesthetics in relation to various art forms.
Paul Fried, New West Symphony principal flute, and pianist Benjamin Krasner, perform select works at the Ronald Reagan Presidential Library in the Reagans' private quarters.
Meet the Artist
Interviews and performances with our guest artists Anne Akiko Meyers, Reiko Obata, and Hunter Loyd. Presented from the Ronald Reagan Presidential Library in the Reagans' private quarters, and in front of Air Force One.