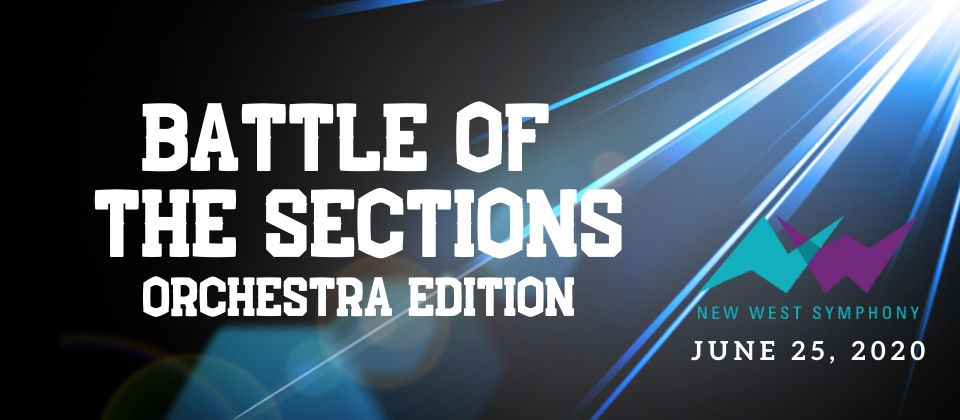 Battle of the Sections: Orchestra Edition
Online Event | Thursday, June 25, 2020 | 7:00 PM
About This Event
For the first time in history, New West Symphony is launching a battle extraordinaire challenging its orchestra sections to compete for the honor of being named "The Best Orchestra Section in the History of the World."  
Do you swoon for Strings? Are you moved by Percussion? Does Brass make you bold? Can you feel the Woodwinds in your hair?   
When you purchase a ticket to this event, you'll join in the fun by choosing a team that represents your favorite section! The team that raises the most amount of money will win the coveted "Biggest Bang for the Buck" Award, and the section that receives the most votes during the concert will claim the title "Best Orchestra Section in the History of the World!"
How to Attend
All registered guests will receive a link to attend the live online event on Thursday, June 25 at 7:00pm. The celebratory event will last approximately one hour. Festive virtual attire is encouraged. 

Team Woodwinds
Located in the middle of the orchestra, woodwind instruments are also in the middle of the sound range. Collectively their sound brings a warmth and richness to symphonic music, but as solo instruments, they ring cool and clear. Team Woodwinds will blow your socks off!

New West Symphony flautist Carol Lockart shares her passion for the flute! Then, watch great piece of music that make the woodwinds section shine!
Carl Nielsen – Flute Concerto
Strauss – Oboe Concerto
Brahms – Clarinet Sonata No. 2
Mozart – Bassoon concerto B-Flat major, K191



Diamond Sponsors
Mucci Taylor
Double Platinum Sponsors
Lucy and Dr. Sam Bruttomesso
Platinum Sponsors
Marilyn and Stan Sutton
Gold Sponsors
Jack Ayvazian
Kim Woods and Mark Schadecker
Beverly and Steven Shapiro
Natalia Staneva and Eugene Yankevich
Silver Sponsors
Mr. Kelly Damon and Mrs. Rebecca Barton
Fiona and Mike Corrigan
Robert Harma
Alan Kirschbaum
Frances Pardee
Laura and Peter Thommen