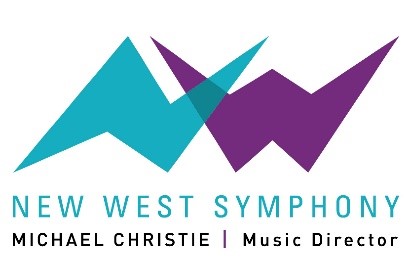 FOR IMMEDIATE RELEASE:
NEW WEST SYMPHONY PRESENTS
Winterfest Celebration Dinner
December 4, 2021 at 5pm
Thousand Oaks, CA – In anticipation of their upcoming holiday concert, Tales of Winter, the New West Symphony will be hosting Winterfest, an exclusive celebration dinner at the Bank of America Performing Arts Center. Following a successful return to live performances last month, the Symphony, led by Grammy-winning artistic and music director Michael Christie, will also be honoring two pairs of their esteemed volunteer members of the Board and Symphony League – Pat & Harry Croner and Marilyn & Stan Sutton. The pre-concert dinner celebration will begin at 5:00 pm on December 4th.
"Holidays are synonymous with families, so Tales of Winter has a story for every generation," said Board Chair, Dwight Brown. "We're so excited to begin a new tradition for both our regular concert-goers and those who might choose to attend a cultural event just a few times a year. The event before the concert, our Winterfest celebration, will help support the symphony's efforts in providing important orchestra experiences for our community as well as education programs that introduce young people to music."
"I can't begin to tell you the huge impact that the Suttons and Croners have had, not only on our Symphony, but on the community at large," added Development Committee Chair, Nancy Israel. "While they tirelessly work to keep us going, they have also been responsible for some of our best ideas because they are fearless in trying new ways to engage our patrons. This organization would look very different had we not had the good fortune to meet these two families, and I'm fortunate to have them as close personal friends."
The Tales of Winter concert marks a triumphant return to the Symphony's regular venue of the Kavli Theater at the Thousand Oaks Civic Arts Plaza on the night of December 4th at 7:30pm.
Of the concert, Maestro Christie said, "This special program is a mix of holiday and seasonal favorites with gorgeous symphonic works inspired by winter sights and sounds from around the world." The family-friendly concert will also feature comedy by host Jim Meskimen, a new holiday masterwork by Pauline Frechette and more.
For more information on the Winterfest celebration, the Tales of Winter concert, and the New West Symphony's full season, visit www.NewWestSymphony.org or find them on Facebook and Instagram.
Winterfest Tickets & Sponsorship Information
Dinner Tickets: $250
Sponsorships Available Starting at $2,500
https://newwestsymphony.org/winterfest
Tales of Winter Tickets & Information
Starting at $30
https://newwestsymphony.org/2021-22-season/tales-of-winter/
866.776.8400
Program for Tales of Winter
TCHAIKOVSKY | Selections from "The Nutcracker"
RIMSKY- KORSAKOV | Snow Maiden Suite
WALDTEUFEL | "Skater's Waltz"
FRY | "The Twelfth Elf"
FRECHETTE | "Tales of Winter"
ANDERSON: "Sleigh Ride"
Dates & Venues for Tales of Winter
December 4, 2021, 7:30pm | Thousand Oaks
Kavli Theatre, Thousand Oaks Civic Arts Center
2100 Thousand Oaks Blvd, Thousand Oaks, CA 91362
December 5, 2021. 3:00pm | Camarillo
Rancho Campana Performing Arts Center
4235 Mar Vista Dr, Camarillo, CA 93010
******************************
About the New West Symphony: Founded in 1995, the New West Symphony is a professional orchestra that draws its players from the rich talent pool of professional Los Angeles-area musicians. The Symphony is the resident company of the Thousand Oaks Civic Arts Plaza. It presents six Masterpiece Series concerts annually and provides a number of educational opportunities for local youth through its annual "Symphonic Adventures" concerts and the Laby Harmony Project for under resourced youth. Its mission is to inspire passion for symphonic music through live performances and education initiatives that engage and enrich its diverse audiences.
# # #