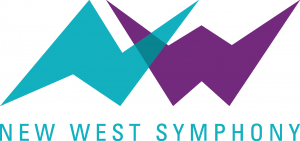 Contact:
Rebecca Roling
rroling@newwestsymphony.org
(805) 469-1496
New West Symphony Partners with FOOD Share,

Inviting Concertgoers to Donate Food Items at February Concerts
[Thousand Oaks, CA – February 5, 2019] – New West Symphony will place donation barrels from FOOD Share of Ventura County at their upcoming February 9 and 10 concerts and invite concertgoers to help replenish the food bank after mudslides and government shutdown. Symphony concertgoers are asked to bring non-perishable items to concerts held Saturday February 9 at the Thousand Oaks Civic Arts Plaza and Sunday February 10 at the Oxnard Performing Arts Center. Yellow FOOD Share donation barrels will be available in the lobbies of both venues.
"This weekend's concerts were originally to be held in November, but we rescheduled them due to the Woolsey and Hall fires, which displaced many families in our community," said Natalia Staneva, chief executive officer of New West Symphony. "With the recent mudslides and government shutdown, we want to give our concertgoers an easy way to help food-insecure families in our community, so we will have Food Share food barrels at both our concerts this weekend."
"We really appreciate New West Symphony engaging their concertgoers in replenishing our food pantries, which have experienced extra demand this winter from people impacted by the weather, mudslides, and the government shutdown. We rely on people and organizations in our community to provide this essential service to food-insecure families in Ventura County," said Monica White, chief executive officer of FOOD Share, Ventura County's Food Bank.
Concertgoers are encouraged to bring non-perishable food items to New West Symphony concerts this weekend, and Food Share requests a variety of nonperishable goods, including canned fruits and vegetables, beans, canned meats, dry pasta, and grains. They encourage donations of nutritious core food staples and protein food items over food items such as soda, cookies, candies and junk food. FOOD Share is dedicated to providing healthy food for our hungry friends.
Here is a list of most needed food items:
Canned proteins (tuna, ham, salmon and chicken)
Canned soup
Canned or dried fruits
Canned vegetables
Dried beans, rice and cereal
Peanut butter (and jelly)
Pasta and rice
They prefer plastic containers and pop top cans. Unfortunately, they cannot accept home canned or baked products.
New West Symphony concerts will be held at the following locations:
Saturday February 9 | 7:30pm 
Thousand Oaks Civic Arts Plaza
2100 East Thousand Oaks Blvd.
Thousand Oaks, CA 91362
Sunday February 10 | 3:00pm 
Oxnard Performing Arts Center
800 Hobson Way
Oxnard, CA 93030
About New West Symphony
Founded in 1995, the New West Symphony is a professional orchestra that draws its players from the rich talent pool of professional Los Angeles area musicians. The Symphony presents an annual Masterpiece Series concert season and provides many educational opportunities for local youth through its annual Symphonic Adventures concerts, its traveling Music Van, and the Laby Harmony Project of Ventura County. For more information visit https://www.newwestsymphony.org and follow them on Facebook at www.facebook.com/newwestsymphony.
About FOOD Share
Since 1978, FOOD Share has been feeding the hungry in Ventura County. It all began when eight friends banded together to provide food to those in need under a bridge in Ventura, CA. The early philanthropic movement started in a family garage, quickly outgrew a donated fire station in Saticoy and now operates in Oxnard, CA with two warehouses with a combined 36,000 square feet. Today, staff and volunteers distribute almost 12 million pounds of food, or 10 million meals annually through its 190 pantry and program partners. As Ventura County's regional food bank, FOOD Share provides food for over 75,000 hungry friends and neighbors monthly. FOOD Share is a member of Feeding America, the nation's largest hunger-relief network of food banks, as well as the California Association of Food Banks.
#     #     #