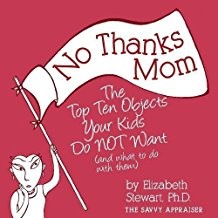 No Thanks, Mom

The top ten objects that your kids do NOT want (and what to do with them)
A Pleasure of Your Company Event, presented by the New West Symphony League
Elizabeth Stewart, Ph.D., The Savvy Appraiser, offers sage advice on what to do with those objects that were lovingly saved, but are not welcomed by the next generation. Learn how to downsize your home without upsizing your children's home, and without causing strife in your relationships.
With over 30 years of experience appraising art and antiques, it was a personal experience of discovering her own treasures in a Goodwill store that inspired Dr. Stewart's presentation.  A gifted speaker, she will have you alternating between laughter and tears as she sets forth plans for what to do with your treasures once your kids have said "No thanks."
Presented in a private home in Westlake Village with wine and light refreshments.  Dr. Stewart's book "No Thanks, Mom" will be available for purchase, for your own reference or as a gift to your family and friends.
Hosted by Nadine Kawaguchi, Anne Prokopovych and Renee Salick.
Saturday, July 14
2:00pm – 4:00pm
Private home in Westlake Village
Limited to 20 guests
$45 per person
Reservations are required for all events. This venue is not wheelchair accessible.
For questions, please contact Nadine Kawaguchi (n.kawaguchi@sbcglobal.net) or phone (805) 435-2781.
The New West Symphony is a 501(c)(3) non-profit organization, Tax ID 77-0406042.