Battle of the Sections: Orchestra Edition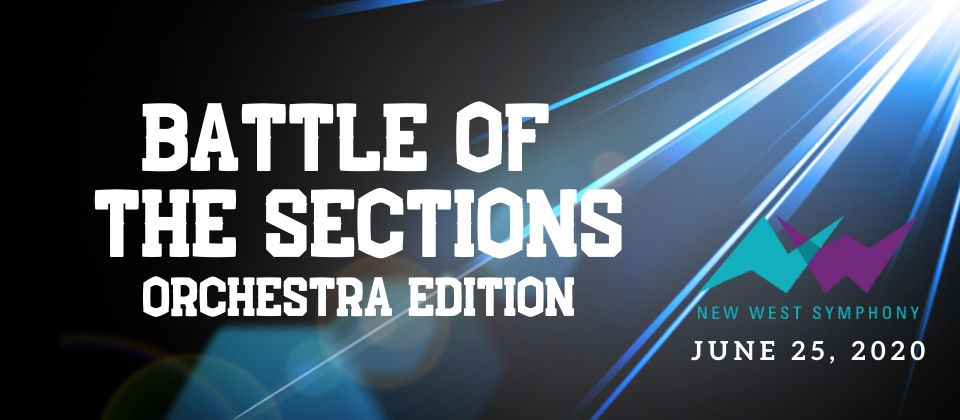 Battle of the Sections: Orchestra Edition
Online Event | Thursday, June 25, 2020 | 7:00 PM
About This Event
For the first time in history, New West Symphony is launching a battle extraordinaire challenging its orchestra sections to compete for the honor of being named "The Best Orchestra Section in the History of the World."  
Do you swoon for Strings? Are you moved by Percussion? Does Brass make you bold? Can you feel the Woodwinds in your hair?   
When you purchase a ticket to this event, you'll join in the fun by choosing a team that represents your favorite section! The team that raises the most amount of money will win the coveted "Biggest Bang for the Buck" Award, and the section that receives the most votes during the concert will claim the title "Best Orchestra Section in the History of the World!"
How to Attend
All registered guests will receive a link to attend the live online event on Thursday, June 25 at 7:00pm. The celebratory event will last approximately one hour. Festive virtual attire is encouraged.
Watch Now: Musicians Choose Their Themes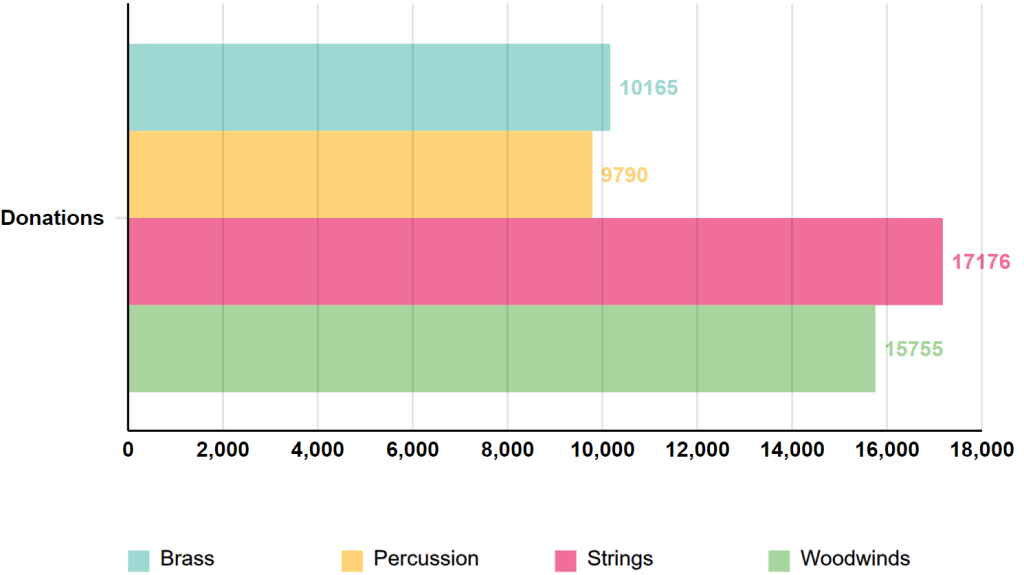 | | |
| --- | --- |
| Event | Battle of the Sections: Orchestra Edition |
| Performances By | New West Symphony Musicians |
| Date | Thursday, June 25, 2020 |
| Where | As close as your computer or television! |
| Time | 7:00 – 8:00 pm |
| Attire | Come as you are! |
Join us on June 25 at 7:00 pm for this virtual event, see the final pieces performed by each section, vote for your favorite, and see an exclusive appearance by a surprise guest.
All proceeds support New West Symphony's mission to inspire passion for symphonic music through live performances and educational initiatives that engage and enrich our diverse audiences. 
The New West Symphony has served its community for 25 years. While we may not be able to greet each other in person at a concert right now, we at the New West Symphony want to let our beloved patrons know that we are here for you. The world needs healing now more than ever. Until we meet again in the concert halls, the New West Symphony will continue to reach audiences in imaginative ways. 
Join with us today and help the New West Symphony deliver the healing power of music to our community. 
Thank you for your continued support!
The Sections
Get to know the competing orchestra sections and decide which is your favorite!
Team Percussion
Keeping the beat and bringing the drama, the percussion section has the most diverse sounds in the orchestra. Learn more >>

Team Strings
The largest section in the orchestra, from the highest highs and the lowest lows, strings give symphonies their unique sound. Learn more >>

Team Brass
This family of horns brings vibrant color and the loudest and clearest sounds to the orchestra. Learn more >>

Team Woodwinds
From the smallest piccolo to the largest bassoon, woodwinds are nimble and bring rich color in harmony and melody. Learn more >>

Diamond Sponsors
Mucci Taylor
Woodwinds

Double Platinum Sponsors
Lucy and Dr. Sam Bruttomesso
Woodwinds

Susan Burgos
Strings
Dr. Alexis and Michael Christie
Brass
Karen & Dr. Paul Finkel
Strings
Ray and Janet Scherr Foundation
Strings
Platinum Sponsors
Dwight Brown, Home Helpers Home Care
Strings
Nancy Israel, in loving memory of Bill Israel
Percussion
Elise and Bill Kearney
Percussion
Leah Mendelsohn
Strings
Susan and Nate Patena
Brass
Joan and Robert Piccioni
Brass
John Shwope and Karen Dean Fritts
Brass
Marilyn and Stan Sutton
Woodwinds
Rain and Peter Van Name
Strings

Gold Sponsors
Jack Ayvazian
Woodwinds
Nancy Carlin
Percussion
John Hammer
Strings
Kim Woods and Mark Schadecker
Woodwinds
Beverly and Steven Shapiro
Woodwinds
Sarah and Robert Steenberge
Percussion
Natalia Staneva and Eugene Yankevich
Woodwinds

Silver Sponsors
Carol Allegretti
Brass
Lisa Allison
Strings
Lisa and Al Baker
Percussion
Mr. Kelly Damon and Mrs. Rebecca Barton
Woodwinds

Elizabeth Blake
Strings
Priscilla Brehm
Strings
Karen and Ken Christie
Brass
Eloise and Chuck Cohen
Strings
Fiona and Mike Corrigan
Woodwinds
Patricia and Tom Dodds
Percussion
Ross and Debbie Goldberg
Percussion
Robert Harma
Woodwinds
Diane Hunn
Strings
Ann and John Ives
Percussion
Martha Jaffe
Brass
Patricia and George Jones
Strings
Alan Kirschbaum
Woodwinds
Philippa and Karl Klessig
Brass
Paula and Miguel Levy
Percussion

Bob Lugari
Percussion
Barbara Meister
Brass
Cindy Murray
Percussion
Frances Pardee
Woodwinds
Barbara and Owen Patotzka
Percussion
Rebecca and Mark Roling
Brass
Laura and Peter Thommen
Woodwinds
Marney Weaver
Strings

Stephanie and John Wilson
Percussion
Natalia Staneva and Eugene Yankevich
Strings, Percussion, Brass