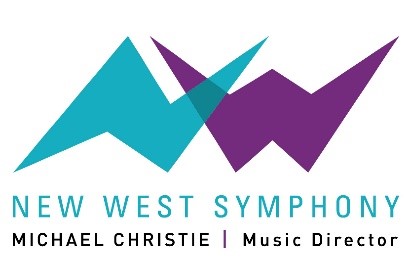 FOR IMMEDIATE RELEASE:
Ross Goldberg
ross@kevinross.net
818-597-8453
New West Symphony to Hold Free Memorial Day Virtual Concert May 25
On the Heels of its Acclaimed Mother's Day Virtual Concert, the NWS Launches
a Series of Programs Designed to Share Music's Unique Ability to 'Lift the Human Spirit"
(THOUSAND OAKS, CA – March 19, 2020) — To honor the heroes among us as well as those who have come before, the New West Symphony will be holding a free Memorial Day Concert on May 25.  The virtual concert, which will be broadcast LIVE from the Ronald Reagan Presidential Library, will take place live at 7pm and can be accessed at https://bit.ly/concertforheroes.
People who register are invited to submit the name of a service member, in memory or living, and their name will be shared during the live event. "Memorial Day is a time to honor those who made the ultimate sacrifice and gave their lives in the defense of freedom.  They are among our nation's heroes," said Symphony CEO Natalia Staneva. "Today, as we confront a war of a much different kind, other heroes are emerging who are putting their own lives on the line in a courageous battle against the coronavirus.  This live, online concert is designed to help celebrate those who make us proud by their unselfish actions, their incredible spirit and their uncommon sense of purpose."
Melissa Giller, Chief Marketing Officer from The Ronald Reagan Presidential Foundation and Institute welcomed the Symphony by saying: "President Reagan believed so strongly in our military and, on Memorial Day, for honoring the sacrifices of those who gave up their lives so we could have our freedom. He would be honored to know that the New West Symphony was hosting its Memorial Day program from his presidential library grounds. At times like these, music can soothe the soul more than ever, and we're so thankful that we can assist this virtual concert in this way.
The virtual Memorial Day concert comes on the heels of the New West Symphony's highly acclaimed virtual Mother's Day concert which was viewed by more than 5,000 people.  As with that concert, the May 25 performance is being curated and will come under the direction of GRAMMY® winner and Music Director Michael Christie.
Program highlights will range from patriotic favorites America the Beautiful, You're a Grand Old Flag, America and others to Copland's poignant songs Zion's Wall, At the River and Simple Gifts to Bernstein's Somewhere from West Side Story.  These and other numbers will be lovingly performed by Sean Chen of Oak Park at the piano, Woodland Hills raised soprano Jessica Rivera and New West Symphony musicians.  MSgt Daniel C. Plaster from the Air National Guard Band of the West Coast will close the concert next to the Reagan Library's Gold Star Families Memorial Monument. 
As with all performing arts organizations the New West Symphony has had to creatively pivot its artistic endeavors to comply with state guidelines regarding social distancing and avoidance of large gatherings. To help music lovers continue to enjoy the beauty of music, each week Maestro Christie collects some of his favorite music performances including his personal video introductions and posts them on Michael Christie's Jukebox (https://newwestsymphony.org/michael-christies-jukebox/). In addition, the New West Symphony is continuing to create original content and making it available online through social media, the blog and at NewWestSymphony.org.
"We are looking forward to the day when we can once again gather in our concert halls for the shared experience and lifting of the human spirit that music uniquely brings," said Staneva.  "Until then, we will continue to find creative and engaging ways to bring the joy of music to our community as we together navigate these difficult and uncharted waters."
The New West Symphony is currently celebrating its 25th anniversary season. It draws its players from the rich talent pool of accomplished Los Angeles-area musicians and performs under artistic direction of GRAMMY® winner Maestro Michael Christie. Its mission is to inspire passion for symphonic music through live performances and education initiatives that engage and enrich its diverse audiences.  For more information visit NewWestSymphony.org or connect with us on Facebook and Instagram.
#     #     #