New West Symphony to Present "A Tour of Mexico" May 23
Concert and Week-Long Festival on Mexican Culture and Musical Heritage the Latest Installment in the Symphony's Groundbreaking "Global Sounds. Local Cultures" Season
(Thousand Oaks, CA) – May 10, 2021 – The New West Symphony's groundbreaking "Global Sounds, Local Cultures" season will continue later this month with A Tour of Mexico, shining a spotlight on the profound impact Mexican culture has had in shaping not only classical music, but Southern California itself.  The virtual concert will be held on May 23 with festival activities taking place earlier that week.
"The largest named ancestry in California is Mexican, and California is home to the largest population of Mexican Americans in the country," said NWS CEO Natalia Staneva.  "We are proud to celebrate this beautifully rich and diverse culture and bring to our audience the talents of incredible musicians who will make this wonderful music come to life.  Our thanks go not only to the musicians but to the Museum of Ventura County for their partnership in making this festival possible."
The A Tour of Mexico festival will spotlight virtuosic guitarist Jiji Kim, harpist Maria Casale and the Mariachi Divas and will feature works by Arturo Marquez, Fernando Arroyo Garcia Lascurain, Silvestre Revueltas, Manuel Ponce, Gabriela Ortiz, and José Enrique González-Medina.  The music will be performed under the direction of Grammy-award winner Michael Christie, New West Symphony's Artistic and Music Director.
"Joy is the word that performers and composers alike cite when they speak of the spirit of Mexico's colorful musical tapestry," said Christie. "The music we are performing for A Tour of Mexico highlights the profound influences of indigenous, European and Pan-American musical traditions on Mexico's past, present and future musical creations. Our hope is that our audience comes away with a new appreciation for the tremendous cultural legacy of the region of Mexico. I am enchanted by the nuances of this music as well as of our other Global Sounds, Local Cultures presentations throughout the season."
In addition to the May 23 concert, audiences will have access to companion programming to further immersion themselves into Mexican music, artistry and culture. These events begin with a pre-concert talk by UCLA Senior Lecturer David Ravetch on May 20 who will explore the music presented in the A Tour of Mexico concert in an informative, audience-friendly format.
On Friday, May 21 the symphony's "Culture Insights" will explore Southern California's Mexican heritage through demonstrations of traditional instruments, performance and discussions about Mexican history, arts and music.  Appearances will include Zapotec master weaver Porfirio Gutiérrez; Rocio Marron, Son Jarocho and Mariachi violinist; community leader Carmen Ramirez; musician and educator Jorge Andres Herrera; California State Channel Islands "Danza Tlaloc Ollin"(Aztec Dance) performance and leaders from the Museum of Ventura County.
Pre-concert events will conclude with a "Meet the Artists" program on May 22 which provides viewers the opportunity to get closer to the guest artists and learn more about the artistic and creative process. The session will include a combination of biography, performance and insight into the talents of soloist guitarist Jiji Kim and composers Fernando Arroyo García Lascurain, José Enrique González-Medina and Gabriela Ortiz.
A Tour of Mexico is the sixth in a series of eight festivals being held this season which have thus far included A Tour of Japan, A Tour of India, Holocaust Remembrance, A Tour of China and A Tour of Iran.  Still to come are America the Melting Pot in June and A Tour of South Korea in July All prior festivals are also available on demand at  www.newwestsymphony.org/2020-21-virtual-season.
Cost for each "Festival Passport" is $25 per household. Patrons may also select an "All Access Season Passport" for the full season for $160. Tickets and memberships may be purchased online at www.newwestsymphony.org or by phone at 805-497-5880 or 866-776-8400. After the initial airing, all concerts and content will be streamed online and/or available to watch on-demand through September 30, 2021.
Now in its 26th season, the New West Symphony draws its players from the rich talent pool of accomplished Los Angeles-area musicians.  Its mission is to inspire passion for symphonic music through live performances and education initiatives that engage and enrich its diverse audiences. For more information, visit NewWestSymphony.org; or connect on Facebook and Instagram.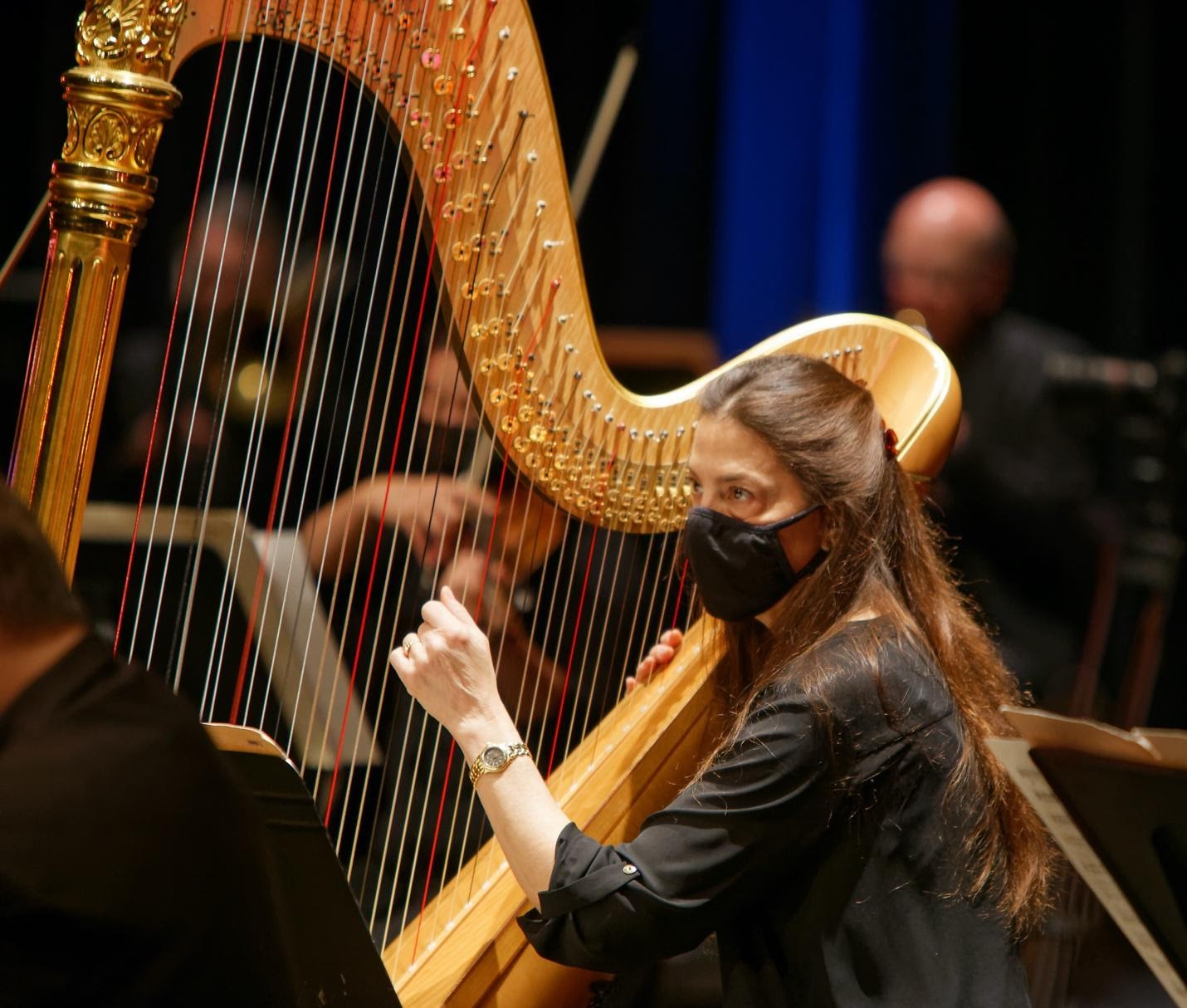 Harpist Maria Casale will be one of the featured performers as part of the New West Symphony's "A Tour Of Mexico" concert May 23.