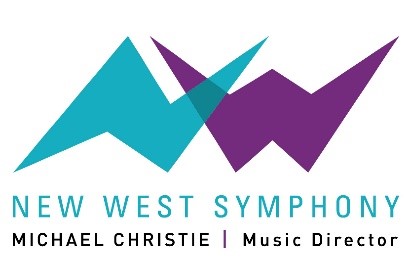 FOR IMMEDIATE RELEASE:
Ross Goldberg
ross@kevinross.net
818-597-8453, x- 1
Season Finale From the New West Symphony Presents Highlights and
New Insights Into its Celebrated "Global Sounds, Local Cultures" Season

(THOUSAND OAKS, Calif. – August 16, 2021) —The New West Symphony will be presenting the Season Finale of its renowned "Global Sounds, Local Cultures" 2020-2021 online concert season on August 20-22, complete with retrospective performance highlights and brand new artist interviews. Season ticket holders will be receiving an email with instructions on how to watch. Others can purchase a ticket at newwestsymphony.org/2020-21-virtual-season/season-finale/
In response to COVID-19 restrictions, the New West Symphony creatively reimagined its 2020-2021 programming into a season of digital concerts — along with engaging complementary content — reflecting the music, cultures, and family traditions found in California's southland. Entitled "Global Sounds, Local Cultures" and running from October 2020 to the summer of 2021, the season spotlighted the global influences and vivid cultural influences that helped shape classical music and SoCal itself. Among the programs presented were "tours" of Japan, Mexico, China, Iran, and India, along with programs dedicated to Holocaust Remembrance and "America the Melting Pot."
On Sunday, August 22 at 3 pm PT, the New West Symphony will present its Season Finale concert featuring highlights from the seven "Global Sounds, Local Cultures" online festivals. The program includes a selection of western classical music favorites by J.S. Bach, Mozart, and Mahler alongside revelations by composers including Tan Dun, Golfam Khayam, Reena Esmail, Margaret Bonds, Arturo Márquez, and Xavier Foley.
Viewers can also enjoy access to companion festival programs for further immersion into the music, artistry, and cultures that inspired the season as curated by New West Symphony Artistic and Music Director Michael Christie. The Season Finale cultural programs connect with many of the artists featured throughout the year to find out how they are doing and what they learned from their many adventures. During these events – Program Insights on August 20 and Meet the Artists on August 21– Christie will revisit the just-concluded season and interview violin soloist Anne Akiko Meyers; Chinese Pipa Virtuoso Wu Man; Executive Director of Farhang Foundation Alireza Ardekani; composer Reena Esmail; and New West Symphony Concertmaster Alyssa Park.
"I am grateful to the array of artists and experts who generously helped us build marvelous cultural bridges; creating a connection to people during a time of isolation and uncertainty," said Christie. "The incredible musical and production talents of the southern California region were on full display throughout our online season, and I hope viewers will enjoy the revelations in each one that we'll be exploring during this season finale."
All festival events will be available on-demand after their online premieres through September 30, 2021, with the purchase of an All-Access Season Passport, available at www.newwestsymphony.org/2020-21-virtual-season.
Currently, in its 26th season, the New West Symphony draws its players from the rich talent pool of accomplished Los Angeles-area musicians. Its mission is to inspire passion for symphonic music through live performances and education initiatives that engage and enrich its diverse audiences. For more information, visit NewWestSymphony.org or connect on Facebook and Instagram.
# # #