New West Symphony is honored to present Violins of Hope in April, 2020. Violins of Hope are a collection of string instruments, each with their own stories from the Holocaust. Lovingly restored by violinmakers Amnon and Avshalom Weinstein, these precious instruments will visit Southern California in March and April of 2020. Select New West Symphony musicians will perform on Violins of Hope for our concerts, April 18th and 19th, 2020.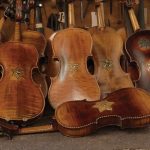 Violins of Hope is a project created to celebrate the triumph of the human spirit, using a private collection of over 60 instruments all restored since the end of World War II. The violins, violas, and cellos have been collected by the Weinsteins since the 1980s, when Amnon was asked to restore a violin that had survived the Holocaust. When he opened the violin, he found black powder, which he discovered was ash from the crematoria at Auschwitz, where it was played by the grandfather of the violin's owner. The Weinsteins' collection has grown to 60 instruments, and they have been working to restore these instruments so they may continue to tell the story of their previous owners. 
To complement the New West Symphony's Violins of Hope concerts, we have the opportunity to share living history of the Violins of Hope, and more broadly on the understanding of the Holocaust, including personal and real stories from our own residents right here in Ventura County and Los Angeles who survived the Holocaust.  There will be the engagement of community partners, including social service organizations, libraries, colleges and universities, local museums, temples, and community centers, to create public awareness around this very unique opportunity for our community.
New West Symphony has partnered with The Younes and Soraya Center for the Performing Arts, the Los Angeles Museum of the Holocaust, the Los Angeles Jewish Symphony, the Los Angeles Lawyers Philharmonic and the Long Beach Symphony to host the Southern California premiere of Violins of Hope. Read an article by the Los Angeles Times and view a PBS video below. 
Violins of Hope is part of the 2019/2020 Masterpiece Series
Saturday April 18, 2020 
Thousand Oaks Civic Arts Plaza
Sunday April 19, 2020
Oxnard Performing Arts Center
Saturday April 18, 2020 | 7:30pm
Thousand Oaks Civic Arts Plaza
Michael Christie, conductor
Olga Kern, piano
Sunday April 19, 2020
Oxnard Performing Arts Center
Newman | Diary of Anne Frank Suite
Leshnoff | Symphony No. 4, "Heichalos" (written for Violins of Hope)
Rachmaninoff | Piano Concerto No. 3