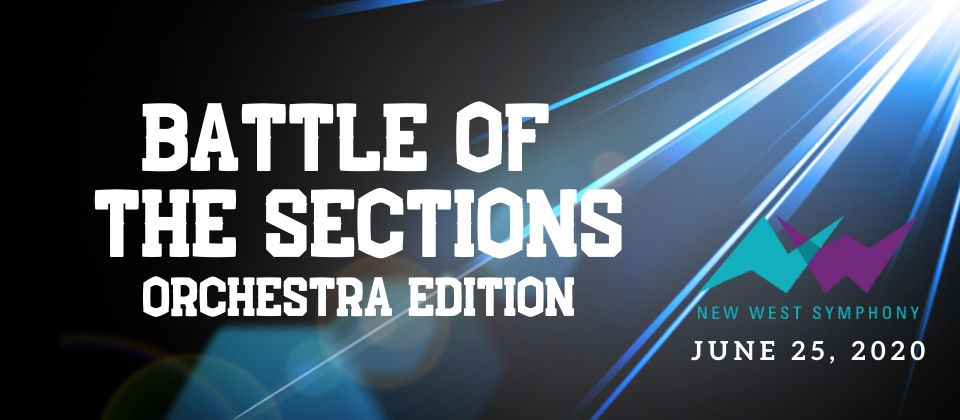 Battle of the Sections: Orchestra Edition
Online Event | Thursday, June 25, 2020 | 7:00 PM
About This Event
For the first time in history, New West Symphony is launching a battle extraordinaire challenging its orchestra sections to compete for the honor of being named "The Best Orchestra Section in the History of the World."  
Do you swoon for Strings? Are you moved by Percussion? Does Brass make you bold? Can you feel the Woodwinds in your hair?   
When you purchase a ticket to this event, you'll join in the fun by choosing a team that represents your favorite section! The team that raises the most amount of money will win the coveted "Biggest Bang for the Buck" Award, and the section that receives the most votes during the concert will claim the title "Best Orchestra Section in the History of the World!"
How to Attend
All registered guests will receive a link to attend the live online event on Thursday, June 25 at 7:00pm. The celebratory event will last approximately one hour. Festive virtual attire is encouraged.

Team Strings
The Strings section is the largest section in the orchestra – 34 strong on our tenured roster! And if you love orchestras, you're gonna love Strings! Is it the sheer power of the sound or the visual movement of all those bows moving together?

Below are video excerpts that showcase instruments in this section.
Bottesini: Concerto for Double Bass No. 2 in B Minor

Rossini – William Tell Overture

Edgar Meyer plays "McGlynn's Jigs" on Double Bass

Bartok – Viola Concerto

Handel – Concerto in B-flat (harp)

Bruch – Violin Concerto No. 1



Double Platinum Sponsors
Susan Burgos
Karen & Dr. Paul Finkel
Ray and Janet Scherr Foundation
Platinum Sponsors
Dwight Brown, Home Helpers Home Care
Leah Mendelsohn
Rain and Peter Van Name
Gold Sponsors
John Hammer
Silver Sponsors
Lisa Allison
Elizabeth Blake
Priscilla Brehm
Eloise and Chuck Cohen
Diane Hunn
Patricia and George Jones
Marney Weaver
Natalia Staneva and Eugene Yankevich