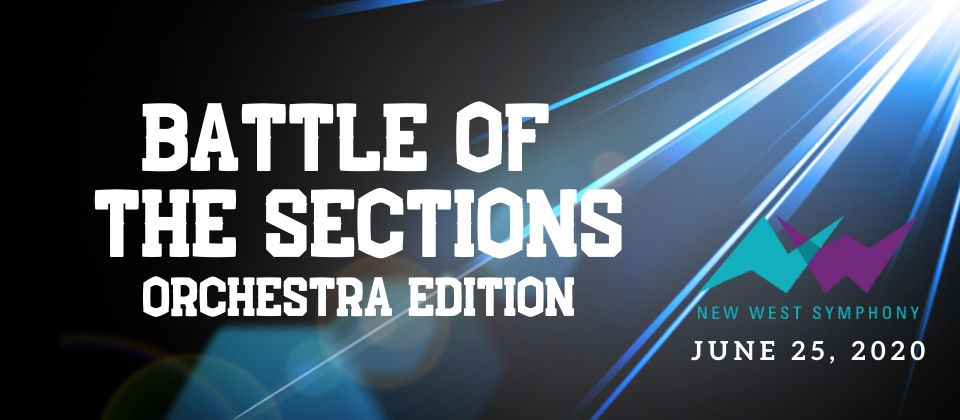 Battle of the Sections: Orchestra Edition
Online Event | Thursday, June 25, 2020 | 7:00 PM
About This Event
For the first time in history, New West Symphony is launching a battle extraordinaire challenging its orchestra sections to compete for the honor of being named "The Best Orchestra Section in the History of the World."  
Do you swoon for Strings? Are you moved by Percussion? Does Brass make you bold? Can you feel the Woodwinds in your hair?   
When you purchase a ticket to this event, you'll join in the fun by choosing a team that represents your favorite section! The team that raises the most amount of money will win the coveted "Biggest Bang for the Buck" Award, and the section that receives the most votes during the concert will claim the title "Best Orchestra Section in the History of the World!"
How to Attend
All registered guests will receive a link to attend the live online event on Thursday, June 25 at 7:00pm. The celebratory event will last approximately one hour. Festive virtual attire is encouraged.

Team Percussion
What's not to like about the Percussion section because it contains almost anything you can imagine. Drums? Check. Gong? Check. Piano? Che…wait, what? Yes, piano, marimba and celesta (baby piano) are all in the percussion section along with drums, timpani and castanets because, even though they play melodic notes, their sound is made through percussing. If you like variety, join Team Percussion! 

Below are video excerpts that showcase instruments in this section.
Steve Reich – Mallet Quartet
Carlos Seixas – Toccata in G Minor
Carlos Chávez – Sinfonia No.2, "Sinfonía India"
Bernstein, arr. Sean Chen – Candide Overture



Platinum Sponsors
Nancy Israel
Elise and Bill Kearney
Gold Sponsors
Nancy Carlin
Sarah and Robert Steenberge
Silver Sponsors
Lisa and Al Baker
Patricia and Tom Dodds
Ross and Debbie Goldberg
Ann and Jon Ives
Miguel and Paula Levy
Bob Lugari
Cindy Murray
Barbara and Owen Patotzka
Stephanie and John Wilson
Natalia Staneva and Eugene Yankevich