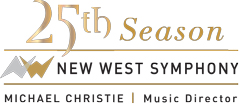 Contact:
Rebecca Roling
rroling@newwestsymphony.org
(805) 469-1496
New West Symphony Moves Oxnard Concerts to Rancho Campana Performing Arts Center in Camarillo
All Sunday Matinee performances will be performed in Camarillo for its 2019/2020 Season

First Concert is October 6, 2019 at 3:00pm
(THOUSAND OAKS, Calif. – Sept. 9, 2019) — The New West Symphony Board of Directors announced it will move its Sunday matinee concerts for its 2019/2020 season to the Rancho Campana Performing Arts Center in Camarillo, effective with its season opening concert on Sunday October 6, 2019 at 3:00pm. The Rancho Campana PAC opened in 2016 and features modern technology, great acoustics, comfortable seating, free parking, ADA compliance, and easy access. The $20 million, 27,500-square-foot venue has 685 seats, which will comfortably accommodate the Symphony's West Ventura County audiences.
"The move to this incredible venue is part of the symphony's ongoing commitment to provide an enhanced concert experience for its audience," said Kim Woods, board chair for New West Symphony. "This modern and stunning facility provides an intimate and easily accessible setting, and we believe patrons will enjoy our concerts more than ever."
Subscribers to New West Symphony's Oxnard concerts in its Masterpiece Series will have their seats transitioned to comparable seats in the Rancho Campana PAC, which has a similar configuration to the Oxnard Performing Arts Center. Season tickets will be mailed to subscribers in mid-September.  New subscriptions and single tickets are now on sale at www.newwestsymphony.org or by calling 805-497-5880.
2019/2020 25th Anniversary season
25th Anniversary Salute
Sunday October 6, 2019 – 3:00pm
Jazz in classical form with Marcus Roberts Trio
Trip the Light Fantastic
Sunday November 17, 2019 – 3:00pm
A rhythmic journey from Transylvania to the Americas
Happy 250th Ludwig
Sunday January 26,2020 – 3:00pm
Eroica Trio celebrates Beethoven's birthday
Dreams
Sunday March 1, 2020 – 3:00pm
Music that remembers the Holocaust
Violins of Hope
Sunday April 19, 2020 – 3:00pm
Restored string instruments from the Holocaust and Olga Kern on piano
Sarah Chang & Brahms
Sunday May 3, 2020 – 3:00pm
Violin superstar returns to perform Brahms
About Rancho Campaña Performing Arts Center
Rancho Campaña Performing Arts Center is a 27,500-square-foot center on the 28-acre campus of Rancho Campaña High School and is the Camarillo's first large-scale indoor performance venue for concerts and plays.
The $20 million center is also the centerpiece of the academy-based high school, which offers arts and entertainment as one area of focus. Located at 4235 Mar Vista Drive, Rancho Campaña PAC is close to the intersection of Los Posas Road and Lewis Road, situated behind the Camarillo Library. The venue is located near a selection of restaurants and is a 10-minute drive from historic Old Town Camarillo.
About New West Symphony
The New West Symphony is an esteemed performing arts organization that attracts diverse, capacity audiences to experience and celebrate the transformative power of live symphonic music in Ventura and Los Angeles counties. Led by a visionary music director, Maestro Michael Christie, it serves as a growing hub for music appreciation and education sustained by robust financial support and community resources.
The New West Symphony orchestra includes some of the world's most famous and accomplished musicians. Our tenured orchestra members have appeared as soloists with the finest orchestras, are GRAMMY®-nominated artists themselves, and can be heard on almost any film soundtrack you can imagine, from Jurassic Park and Star Wars to La La Land. New West Symphony performs exceptional music, exceptionally close.
For more information visit https://www.newwestsymphony.org and follow them on Facebook at www.facebook.com/newwestsymphony.
#     #     #