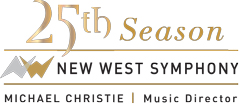 Contact:
Ross Goldberg
ross@kevinross.net
818-597-8453, x-1
New West Symphony Announces Three Additions to Its Board of Directors
            (THOUSAND OAKS, Calif. – Sept. 4, 2019) — The New West Symphony announced today three new members to its board of directors. All three—Dwight Brown; Mark Fitzpatrick; and Karen Dean Fritts, Ph.D.—were elected at the symphony's recently held annual meeting.
Brown is co-owner of Home Helpers of Thousand Oaks, a caregiving agency that has helped more than 1,000 seniors age comfortably and safely in their own homes. Previously a vice president  at Anthem, Brown has degrees in psychology and philosophy from UCLA and a Master of Business Administration degree from the UCLA Anderson School of Management. He is a member of both the Westlakers (a local philanthropic organization) and the Rotary Club of Westlake Village, and his business sponsors and partners with a number of local nonprofit organizations including the Alzheimer's Association and Senior Concerns along with the symphony.
Fitzpatrick brings to the symphony board more than two decades of experience in technology, banking and operations management and currently serves as chief of technology operations for the Ronald Reagan Presidential Foundation and Institute housed in Simi Valley and Washington, D.C. His varied and impressive background includes serving as executive vice president and managing partner of a Los Angeles-based technology firm, executive director of a large mortgage banking institution and vice president of consumer banking for IndyMac Bank. Fitzpatrick is a board member of the Boy Scouts of America, Ventura County Council.
Fritts holds a doctorate in clinical psychology, a master's in counseling psychology and a bachelor's in psychology. For more than 35 years she has been a licensed California marriage and family therapist and is a recognized expert in early development and its effect on adult behavior. In addition to her private practice in the Thousand Oaks area, Fritts has worked with corporations and small businesses as a coach, motivational speaker and consultant. She is a clinical member of several professional organization in California and nationwide and has been a fervent supporter of the New West Symphony for the past two decades.
"We are thrilled and honored to welcome Dwight, Mark and Karen to our board as the symphony embarks on its 25th anniversary celebration," said Board Chair Kim Woods. "The passion each of these individuals share for the power of music coupled with their unique skills and impressive backgrounds will enhance our organization and contribute to enriched experiences for all of our concertgoers and supporters."
Founded in 1995, the New West Symphony is a professional orchestra that draws its players from the rich talent pool of professional Los Angeles-area musicians. The symphony presents six Masterpiece Series concerts annually at the Thousand Oaks Civic Arts Plaza, where it is the resident company, and also in West Ventura County. In addition, the symphony provides a number of educational opportunities for local youth through its annual Symphonic Adventures concerts, its traveling Music Van and the Laby Harmony Project for underserved youth. For information, go to newwestsymphony.org; and follow us on Facebook at facebook.com/newwestsymphony.
#     #     #