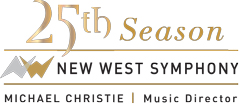 Contact:
Rebecca Roling
rroling@newwestsymphony.org
(805) 469-1496
New West Symphony Opens 25th Anniversary Season
GRAMMY® Winner Michael Christie Launches Inaugural Season as Music Director
Jazz Legends Marcus Roberts Trio Perform Gershwin
(THOUSAND OAKS, Calif. – Sept. 24, 2019) — The New West Symphony celebrates its 25th anniversary season on October 5th and 6th with new music director Michael Christie, and kicks off its season with concerts featuring jazz legends, the Marcus Roberts Trio, performing George Gershwin's Concerto in F.  The orchestra will also perform Scheherazade by Rimsky-Korsakov, and Salute by GRAMMY, OSCAR® and Pulitzer Prize® winning composer John Corigliano.
Music director Michael Christie was signed by New West Symphony in December 2018 after a three-year search. Christie is responsible for the artistic vision of New West Symphony, including creating concert programming and providing musical leadership. Christie won the 2018 GRAMMY Award for "Best Opera Recording" conducting Santa Fe Opera in "The (R)evolution of Steve Jobs" by Mason Bates. Christie's conducting career, spanning more than 20 years, has included Minnesota Opera, where Christie led 24 productions over eight years, with six seasons as its first-ever Music Director (2012-2018); Music Director of the Phoenix Symphony (2005-2013) and Brooklyn Philharmonic (2005-2010), and as Chief Conductor of the Queensland Orchestra (2001-2004) in Australia.
The Marcus Roberts Trio – a musical partnership between pianist, Marcus Roberts, drummer Jason Marsalis, and bassist Rodney Jordan – ​is known for its virtuosic style and entirely new approach to jazz trio performance. While most jazz trios have the piano front and center, all members of the Marcus Roberts Trio share equally in shaping the direction of the music by changing its tempo, mood, texture, or form at any time.
Two new features will be included in the 2019/2020 Masterpiece Series season, enhancing concert intermissions with new experiences: Intermission Insights is a 10 minute Q&A, with guest artists led by Maestro Christie, immediately following the first half; and Entr'Acte includes the performance of a short contemporary piece performed at the end of intermission, with the purpose of presenting new music to audiences. There will be a 10-minute break between these two intermission experiences.  
New West Symphony recently announced it will move its Sunday matinee concerts for its 2019/2020 season to the Rancho Campana Performing Arts Center in Camarillo, effective with its concert on Sunday October 6, 2019 at 3:00pm. The Rancho Campana PAC opened in 2016 and features modern technology, great acoustics, comfortable seating, free parking, ADA compliance, and easy access. The $20 million, 27,500-square-foot venue has 685 seats, which will comfortably accommodate the Symphony's West Ventura County audiences.
New subscriptions and single tickets are now on sale at www.newwestsymphony.org or by calling 805-497-5880.
CONCERT DETAILS
25th Anniversary Salute
Saturday October 5, 2019 | 7:30pm
Thousand Oaks Civic Arts Plaza
Sunday October 6, 2019 | 3:00pm
Rancho Campana Performing Arts Center in Camarillo
New West Symphony presents 6 concerts in its 2019/2020 Masterpiece Series from October, 2019 through May, 2020.
About New West Symphony
The New West Symphony is an esteemed performing arts organization that attracts diverse, capacity audiences to experience and celebrate the transformative power of live symphonic music in Ventura and Los Angeles counties. Led by a visionary music director, Maestro Michael Christie, it serves as a growing hub for music appreciation and education sustained by robust financial support and community resources.
The New West Symphony orchestra includes some of the world's most famous and accomplished musicians. Our tenured orchestra members have appeared as soloists with the finest orchestras, are GRAMMY®-nominated artists themselves, and can be heard on almost any film soundtrack you can imagine, from Jurassic Park and Star Wars to La La Land. New West Symphony performs exceptional music, exceptionally close.
For more information visit https://www.newwestsymphony.org and follow them on Facebook at www.facebook.com/newwestsymphony.
Press Contact: Rebecca Roling, New West Symphony
805.469.1496 | rroling@newwestsymphony.org
#     #     #