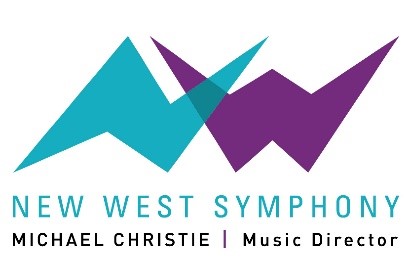 NEW WEST SYMPHONY PRESENTS
Masters of Melody
Performances October 1- 2, 2022
Thousand Oaks
, Camarillo
Both concerts will be dedicated in loving memory to the life and legacy of Honorable District 5 Ventura County Supervisor, Carmen Ramirez
FOR IMMEDIATE RELEASE: September 12, 2022
Eileen Roberts
ERoberts@NewWestSymphony.org
626-826-8253
Thousand Oaks, CA – From Mozart to Gershwin and beyond, New West Symphony's first concert for Fall 2022 embraces three centuries of melody-making designed not only to entertain audiences, but to engage their musical memories and emotions.  
"Masters of Melody," part of New West Symphony's 2-22/2023 Masterpiece Series, will be presented October 1and 2 in Thousand Oaks and Camarillo, respectively, featuring American composer and double bass virtuoso Xavier Foley; energetic ensemble Hermanos Herrera performing classic melodies from Mexico; and Los Angeles-based guest vocalist Brighton Thomas, singing selections from The Great American Songbook. 
Conducted by Michael Christie, NWS Music Director, "Masters of Melody" will seek to break down the elements of music-melody, rhythm, harmony, and texture-in a way that enables the audience to better connect with what they hear (and sometimes sing, if only in the shower or car). 
"What we will address in this concert is how melody makes us feel things and elicit memories that are special in our lives," says Christie. "To that end, we will explore how composers of different eras and styles have used melodies to connect us emotionally." 
About the program 
The composers featured in "Masters of Melody" encompass nearly 300 years of music history, each of whom has contributed to the development of melody. Chronologically, that list starts with Wolfgang Amadeus Mozart, whom Christie calls "arguably the father of all melodies that have been appreciated and adored by audiences for three centuries." Mozart's Symphony 41, "Jupiter," long hailed by many music critics as perhaps his greatest symphony for its simplicity, complexity, and melodic invention, will conclude the concert. 
Opening "Masters of Melody" will be selections from The Great American Songbook, including Irving Berlin's "Alexander's Ragtime Band," Stephen Foster's "Beautiful Dreamer," WC Handy's "Saint Louis Blues," and George and Ira Gershwin's "Fascinating Rhythm." All will be sung by Brighton Thomas, whose age belies her technical foundation and extensive knowledge of music that allow her to write and perform songs spanning multiple genres. 
"American music has what I call a snapping quality, starting with Stephen Foster and the incorporation of African-American melodies from the slave and Civil War era," says Christie. "The same is true of Mexican melodies, which have an infusion of indigenous sounds as well as European influences.' 
These themes will be included in the works performed by Xavier Foley, a rising star of the double bass who Christie says "has transformed his instrument from one usually utilized as background or supporting instrument into something very unique and powerful, and has created some fascinating and unique melodies on the double bass." A native of Georgia and graduate of the prestigious Curtis Institute of Music, Foley will perform the "Chorus" section of his own composition, Soul Bass, plus Giovanni Bottesini's Double Bass Concerto No. 2 in B Minor. 
Bringing energy, passion, and precision to traditional Mexican melodies is Hermanos Herrera, an ensemble featuring five brothers and their younger sister whose repertoire includes Son Huasteco, Son Jarocho, and Musica Norteña. The Herreras-all graduates of UCLA who have shared the stage with the likes of Linda Ronstadt, Jose Feliciano, and Los Lobos-will perform Carlos Ramirez' "La Malagueña," Alvaro Carillo's "Sabor A Mi," and Juan Diaz del Moral and Emilio D. Uranga's "Allá en el Rancho Grande." 
"Our program of 300 years of melody includes a variety of styles and composers," says Christie. "I'm very interested to see how our audiences react to our presentation of melodies by Mozart, Gershwin, and other composers that people know well, because there is a lot to enjoy." 
Additionally, Xavier Foley and Jorge Herrera will join Michael Christie for pre-concert "Hear and Now" talks (6:30PM in Thousand Oaks, 2:00PM in Camarillo), while Brighton Thomas will join Christie for "Intermission Insights" at both concerts. "Hear and Now" and "Intermission Insights" are part of New West Symphony's ongoing commitment to educate and enrich its audiences, and to enhance the accessibility of the music and its performers. 
Both concerts are dedicated to the life and legacy of District 5 Ventura County Supervisor, Honorable Carmen Ramirez. Ms. Ramirez was a tremendous supporter of the arts and New West Symphony. She believed the arts developed an individual's self esteem, voice, and confidence. She felt the emotions music elicits transcends all languages and cultures, supports creativity, and promotes the thinking process of what is beauty, art, and truth. 
"The loss of Carmen for Ventura County is beyond words. She was a committed arts champion and radiated pride, assurance, and love for the people and future of our region," says Music Director Michael Christie.  
Masters of Melody Tickets & Information 
Starting at $30
https://newwestsymphony.org/2021-22-season-2/rachmaninoff-piano-concerto/ 
866.776.8400 
Dates & Venues 
October 1, 2022, 7:30pm | Thousand Oaks 
Kavli Theatre, Thousand Oaks Civic Arts Center  
2100 Thousand Oaks Blvd, Thousand Oaks, CA 91362 
October 2, 2022, 3:00pm | Camarillo 
Rancho Campana Performing Arts Center  
4235 Mar Vista Dr., Camarillo, CA 93010 
About the New West Symphony  
Now in its 27th season, the New West Symphony draws its players from the rich talent pool of  accomplished Los Angeles-area musicians.  During this season, New West Symphony will present  programs ranging from the familiar melodies of Hollywood's Silver Screen and the Great American Songbook, to the pinnacle of symphonic masterworks, Beethoven's beloved Ninth Symphony. The season features New West Symphony premiere performances of works by four American women composers: Joan Tower's Fanfare for the Uncommon Woman, Jessie Montgomery's Strum, Reena Esmail's Meri Sakhi Ki Avaaz (My Sister's Voice), and a world premiere collaborative performance of Pauline Frechette's Tales of Winter. Among other works are Dvořák's Suite in A Major, "American," Sibelius' Third Symphony; Mozart's "Jupiter" Symphony; and selections from Scott Joplin's Treemonisha as well as music by Vivaldi, Vaughan Williams, Bottesini and Korngold. 
 About Michael Christie Named Artistic and Music Director of the New West Symphony in December 2018, GRAMMY® Award-winning conductor Michael Christie is a thoughtfully innovative conductor, equally at home in the symphonic and opera worlds, who is focused on making the audience experience at his performances entertaining, enlightening, and enriching. Deeply committed to bringing new works to life, he has championed commissions by leading and emerging composers alike.  
 Christie has served as Music Director of the Phoenix Symphony (2005-2013) and Brooklyn Philharmonic (2005-2010), and as Chief Conductor of the Queensland Orchestra (2001-2004) in Australia. He has also guest conducted the Los Angeles Philharmonic, National Symphony Orchestra, Civic Orchestra of Chicago, Rochester Philharmonic Orchestra, Rhode Island Philharmonic, and the Symphonies of Dallas, St. Louis, Atlanta, Houston, Minnesota, Oregon, Indianapolis, Cincinnati, and Santa Rosa. European engagements have included leading the Rotterdam Philharmonic, DSO Berlin, Orchestre National de Lille, Swedish and Netherlands Radio Symphony, City of Birmingham Symphony, NDR Hannover Orchestra and the Czech Philharmonic. Christie also enjoys a strong profile in Australia, where he has conducted the Sydney Symphony, Tasmanian Symphony, Opera Queensland, and the Western Australian Symphony in Perth. 
For further information, visit michaelchristieonline.com and follow him on Facebook, Twitter, Instagram and YouTube.
###