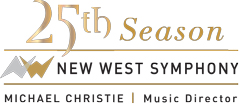 Ann Flower Communications
annamaria@annflowerpr.com
310.903.0319

Celebrated Virtuoso Violinist Joshua Bell
Makes His Debut in Ventura County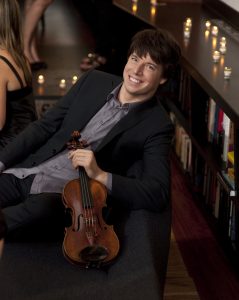 (Ventura, CA) – In co-celebration of their 25th anniversaries, two prominent performing arts organizations – the Ventura Music Festival and the New West Symphony- are collaborating to present a very special recital on November 3rd at Oxnard Performing Arts Center. The star: Joshua Bell, one of the most charismatic violinists in the world.
Ticket prices range from $30 to $96, with a limited VIP ticket option at $225 that adds a post-concert dinner reception and Q&A/conversation with Mr. Bell. The internationally acclaimed violinist will perform an intimate recital program featuring works by Schubert, Bach and Ysaÿe, among others.
VMF's Artistic Director Nuvi Mehta, who will facilitate the conversation with Mr. Bell says of him: "I have known Joshua Bell for many years, since I was in my late teens at Indiana University and he was hardly more than a boy studying with my teacher Josef Gingold.   Josh floored us all with his playing in Gingold's masterclasses.  What floors me today is that I remain awed every time I hear him, his musicality intensifying with every passing year.  He is one of those rare artists who can dazzle with virtuosity as well as bring audiences to wonder in a single note."  
"This recital celebrates an important milestone for both organizations. Joshua Bell embodies the values that we have cultivated for the last 25 years in this community – virtuosity, advocacy for music as an essential educational tool and commitment to innovation and collaboration," said CEO of the New West Symphony Natalia Staneva.
With a career spanning over 30 years as a soloist, chamber musician, recording artist, conductor, and arts advocate, Joshua Bell is one of the world's most sought after violinists. A Sony Classical artist, Bell has recorded more than 40 CDs garnering Grammy, Mercury, Gramophone, and Echo Klassik awards. His accompanist for the recital is noted Italian pianist Alessio Bax.
ABOUT THIS CONCERT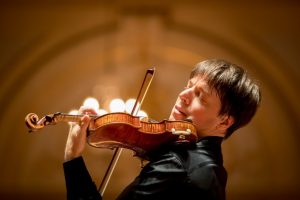 Joshua Bell in Recital will take place on Sunday, November 3, 2019, 3pm at the Oxnard Performing Arts Center, located at 800 Hobson Way, Oxnard CA 93030.
Tickets ranging  from $30 to $225  will be available starting July 11.  Tickets can be reserved online at https://newwestsymphony.org/joshua-bell or by calling the New West Symphony box office at 866-776-8400.
ABOUT VENTURA MUSIC FESTIVAL
Since 1994, the mission of the Ventura Music Festival is to bring world-class music to the community, foster audience-artist relationships, and enhance the joy of music through diverse programs for all ages. VMF seeks to create an inclusive, welcoming environment in which people both see and hear themselves reflected in the music. For more information visit www.venturamusicfestival.org.
ABOUT NEW WEST SYMPHONY
Founded in 1995, the New West Symphony is a professional orchestra which, under the direction of Maestro Michael Christie, draws its players from the rich talent pool of professional Los Angeles-area musicians. Celebrating its 25th season, the Symphony presents six Masterpiece Series annually as the resident company of the Thousand Oaks Civic Arts Plaza and the Oxnard Performing Arts Center. The Symphony also provides several educational opportunities for local youth through its annual Symphonic Adventures concerts, its traveling Music Van, and the Laby Harmony Project for underserved youth.  For information go to www.newwestsymphony.org.
# # #