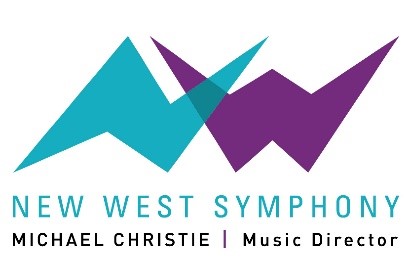 FOR IMMEDIATE RELEASE:
NEW WEST SYMPHONY ANNOUNCES LAUNCH OF 2021/2022 SEASON
Music Director Michael Christie to Lead Orchestra in
Full Season of Live Performances Beginning in December
Highlights Inclde Works by Four American Women Composers
Beethoven's "Ode to Joy" Caps the Season
New West Symphony Artistic and Music Director Michael Christie and Symphony CEO Natalia Staneva have announced the launch of the Symphony's 2021/2022 Masterpiece Series Season. The six-concert series marks the orchestra's return to a full season of live performances following its 18-month pandemic hiatus.
From December 2021 through November 2022, the Symphony will present programs ranging from the familiar melodies of Hollywood's Silver Screen and the Great American Songbook to the pinnacle of symphonic masterworks, Beethoven's beloved Ninth Symphony. The season will feature New West Symphony premiere performances of works by four American women composers: Joan Tower's Fanfare for the Uncommon Woman, Jessie Montgomery's Strum, Reena Esmail's Meri Sakhi Ki Avaaz (My Sister's Voice), and a world premiere collaborative performance of Pauline Frechette's Tales of Winter. Among other works are Dvořák's Suite in A Major, "American," Sibelius' Third Symphony; Mozart's "Jupiter" Symphony; and selections from Scott Joplin's Treemonisha as well as music by Vivaldi, Vaughan Williams, Bottesini and Korngold. December's opening concert will kick off the holiday season with a program of symphonic wintertime delights and beloved holiday traditions in what promises to be a new tradition for the Symphony.
"This exciting and varied season emphasizes two goals: first, welcoming our devoted fans back to the concert hall to relish in the artistry of live performance; and second, to build the orchestra's audience for the coming years," said Maestro Christie. "I have selected iconic favorites and expanded our programming to embrace families, first time concertgoers, and the large numbers of new residents to the region, many of whom are already avid classical music lovers. Joining our extraordinary musicians to enhance the experience is an exceptional group of guest artists and ensembles performing an array of musical styles."
Acclaimed guest artists making their New West Symphony Masterpiece Series solo debuts include violinist Elena Urioste, guitarist JIJI Kim, New West Symphony principal trumpet James Grinta, double bassist Xavier Foley, the ensemble Hermanos Herrera, Hindustani soprano Saili Oak, soprano Toni Marie Palmertree, mezzo soprano Sarah Coit, tenor Yongzhao Yu, and baritone Craig Irvin. Pianist Andrew von Oeyen returns to perform Sergei Rachmaninoff's Third Piano Concerto. Vocal ensembles from California Lutheran University and Pepperdine University will provide the choral forces for the Beethoven Ninth Symphony performances.
"We are eager to re-ignite the passion for live classical music that we know people have missed," said New West Symphony CEO Natalia Staneva. "Our concerts will be produced with the latest Covid- 19 protocols in place, giving concert-goers assurance that they can come together once again to safely enjoy live music."
Each Masterpiece Series concert will be presented two times. Performances will take place on Saturday evenings at 7:00 pm at the Thousand Oaks Bank of America Performing Arts Center located at 2100 E. Thousand Oaks Boulevard, and Sunday afternoons at 3:00 pm at the Rancho Campana Performing Arts Center located at 4235 Mar Visa Drive in Camarillo.
Subscription packages, priced from $150 to $600, are available online through the Symphony's secure web site at newwestsymphony.org or by calling the Symphony ticket office at 866.776.8400 between 9:00 am and 5:00 pm, Monday through Friday. Tickets for individual concerts, priced from $30 to $120, are also available.

About Michael Christie
            Named Artistic and Music Director of the New West Symphony in December 2018, GRAMMY® Award-winning conductor Michael Christie is a thoughtfully innovative conductor, equally at home in the symphonic and opera worlds, who is focused on making the audience experience at his performances entertaining, enlightening, and enriching. Deeply committed to bringing new works to life, he has championed commissions by leading and emerging composers alike.
Christie has served as Music Director of the Phoenix Symphony (2005-2013) and Brooklyn Philharmonic (2005-2010), and as Chief Conductor of the Queensland Orchestra (2001-2004) in Australia. He has also guest conducted the Los Angeles Philharmonic, National Symphony Orchestra, Civic Orchestra of Chicago, Rochester Philharmonic Orchestra, Rhode Island Philharmonic, and the Symphonies of Dallas, St. Louis, Atlanta, Houston, Minnesota, Oregon, Indianapolis, Cincinnati, and Santa Rosa. European engagements have included leading the Rotterdam Philharmonic, DSO Berlin, Orchestre National de Lille, Swedish and Netherlands Radio Symphony, City of Birmingham Symphony, NDR Hannover Orchestra and the Czech Philharmonic. Christie also enjoys a strong profile in Australia, where he has conducted the Sydney Symphony, Tasmanian Symphony, Opera Queensland, and the Western Australian Symphony in Perth.
For further information, visit michaelchristieonline.com and follow him on Facebook, Twitter, Instagram and YouTube.
About the New West Symphony
Founded in 1995, the New West Symphony is a professional orchestra that draws its players from the rich talent pool of professional Los Angeles-area musicians. With artistic direction led by Music Director Michael Christie, the Symphony is the resident company of the Thousand Oaks Civic Arts Plaza and also performs at the Rancho Campana Performing Arts Center in Camarillo. It presents six Masterpiece Series concerts annually, performing major works from the symphonic repertoire with acclaimed artists as guest soloists. The Symphony also provides quality outreach and educational opportunities for the communities it serves through its annual Symphonic Adventures concert programs for youth and the Laby Harmony Project, a year-round music and leadership program for underserved students.
For further information, visit the New West Symphony at newwestsymphony.org/ and follow on Facebook, Twitter, Instagram and YouTube.
NEW WEST SYMPHONY
2021-2022 MASTERPIECE SERIES
Six Saturday Evenings ~ 7:30 pm ~ Bank of America Performing Arts Center, Thousand Oaks
Six Sunday Afternoons ~ 3:00 pm ~ Rancho Campana Performing Arts Center, Camarillo
TALES OF WINTER! CELEBRATE THE HOLIDAYS WITH NEW WEST SYMPHONY
Symphonic wintertime delights and beloved holiday traditions will have you ice skating in the aisles. The orchestra will be joined by the Los Robles Children's Choir, traditional Mexican music ensemble Hermanos Herrera, members of the California Contemporary Ballet, and special guest host, actor and impressionist Jim Meskimen, all under the direction of our own jolly elf, Music Director Michael Christie.
Saturday, December 4, 2021
Sunday, December 5, 2021
Michael Christie, conductor
Jim Meskimen, guest host
Hermanos Herrera, guest ensemble
California Contemporary Ballet
Los Robles Children's Choir 
                  Tchaikovsky   Selections from The Nutcracker
     Rimsky-Korsakov Snow Maiden  Suite
              Waldteufel   Skater's Waltz
                                 FRY   The Twelfth Elf
                   FRECHETTE   Tales of Winter
                   ANDERSON   Sleigh Ride
OUR AMERICAN ROOTS
From majestic mountains to Hollywood's Silver Screen, America inspires great music. Antonin Dvořák wove a musical tapestry that blended American styles with Western European symphonic traditions, influencing the works of Aaron Copland, Joan Tower, Erich Wolfgang Korngold and John Williams.
Saturday, January 29, 2022
Sunday, January 30, 2022
Michael Christie, conductor
Elena Urioste, violin
                        COPLAND           Fanfare for the Common Man
                     DVOŘÁK Suite in A Major, "American"
                                     TOWER   Fanfare for the Uncommon Woman
                      KORNGOLD   Violin Concerto
                        WILLIAMS   Star Wars Suite
MUSIC TO MY EARS: THE SCIENCE OF SOUND
Music is one of humanity's most treasured and enduring experiences, combining physical science with human emotional response. Together we will explore how the characteristics of musical instruments and concert venues themselves create our vibrant acoustic experience.
Saturday, February 26, 2022
Sunday, February 27, 2022
Michael Christie, conductor
Jiji Kim, guitar/electric guitar
James Grinta, trumpet
                                    GABRIELI    Canzon noni toni a 12
                       VIVALDI    Concerto for Guitar in D Major
                        MONTGOMERY    Strum
                 TELEMANN    Suite for Trumpet, Strings and Continuo
             VAUGHAN WILLIAMS    Fantasia on a Theme by Thomas Tallis
                                     MOZART    Serenade No. 6 in D Major, "Serenata notturna"
RACHMANINOFF PIANO CONCERTO NO. 3
Written within a few years of each other, Rachmaninoff's epic concert showpiece, Sibelius' beautiful folk-influenced symphony and Joplin's ragtime-inspired opera each capture a spirit of national pride and musical awakening that distinguished early 20th Century music.
Saturday, April 2, 2022
Sunday, April 3, 2022
Michael Christie, conductor
Andrew von Oeyen, piano
             RACHMANINOFF   Piano Concerto No. 3 in D Minor
                              JOPLIN   Selections from Treemonisha
                          SIBELIUS   Symphony No. 3 in C Major
MASTERS OF MELODY
Timeless melodies lead us from the heights of ecstasy to the depths of despair. Mozart's "Jupiter" Symphony and classic melodies from Mexico and The Great American Songbook connect us to our past and carry us through our lives.
Saturday, October 1, 2022
Sunday, October 2, 2022
Michael Christie, conductor
Xavier Foley, double bass
Hermanos Herrera, guest ensemble
                    MUSIC FROM   The Great American Songbook and Beyond
                        BOTTESINI   Double Bass Concerto No. 2 in B Minor
                            MOZART   Symphony No. 41 in C Major, "Jupiter"   
ODE TO JOY
We end our season with a celebration of unity. Beethoven's triumphant Symphony No. 9 and Reena Esmail's My Sister's Voice explore themes of human connection beyond borders and the passage of time.
Saturday, November 19, 2022
Sunday, November 20, 2022
Michael Christie, conductor
Saili Oak, Hindustani soprano
Toni Marie Palmertree, soprano
Sarah Coit, mezzo soprano
Yongzhao Yu, tenor
Craig Irvin, baritone
California Lutheran University Choral Ensembles & Arete Vocal Ensemble,
  Wyant Morton, director
Pepperdine University Choral Ensembles
  Ryan Board, director
                             ESMAIL   Meri Sakhi Ki Avaaz (My Sister's Voice)
                    BEETHOVEN   Symphony No. 9 in D Minor, "Choral"
###