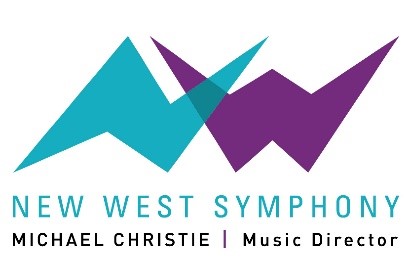 NEW WEST SYMPHONY PRESENTS
Ode to Joy
Performances November 19-20th, 2022
Thousand Oaks
, Camarillo
FOR IMMEDIATE RELEASE: October 21, 2022
Eileen Roberts
ERoberts@NewWestSymphony.org
626-826-8253
Thousand Oaks, CA – How do you connect India, Germany, and California, musically speaking? New West Symphony offers a unique and uplifting answer with Ode to Joy, in its final performances for the 2021/2022 Masterpiece Series, presented November 19 and 20 in Thousand Oaks and Camarillo. Billed as "a celebration of unity" by Artistic and Music Director Michael Christie, Ode to Joy continues the Symphony's tradition of honoring timeless classics while highlighting newer works. 
The former is Ludwig Van Beethoven's Symphony No. 9 in D Minor, among the most treasured of all classical works by one of music's greatest and most prolific composers. The latter is Meri Sakhi Ki Avaaz (My Sister's Voice) by one of classical music's newest and brightest stars, Los Angeles-based Indian-American composer Reena Esmail. 
"Together, these works explore themes of human connection beyond borders and the passage of time, and embrace New West Symphony's adventurous spirit in presenting music that is as thought-provoking as it is engaging and celebratory," says Christie. 
About "My Sister's Voice": 
Opening the program is Meri Sakhi Ki Avaaz (My Sister's Voice), composed in 2018 and which, "at its core, is a song about sisterhood," says Christie. "Each of the three movements' short texts epitomizes one of the many facet of having and being a sister." 
The movements begin with a modern take of Delibes' "Flower Duet" from the opera Lakme; proceed to a classical Hindustani bandish (fixed composition); and conclude with a "mirrors and opposites" third movement, encompassing both "light and sweet" and "dark and heavy." 
The work's composer, Reena Esmail, is the Los Angeles Master Chorale's current Swan Family Artist-in-Residence with a wide array of glowing reviews for her unique creations that blend Indian and Western classical music. Raised in Studio City and a graduate of the Los Angeles County High School for the Arts, Esmail earned bachelor's, master's, and doctorate degrees in composition from Juilliard and Yale's School of Music. She is the artistic director of Shastra, a non-profit organization that promotes cross-cultural music collaboration between the music tradition of India and the West. 
Joining New West Symphony for Meri Sakhi Ki Avaaz is Hindustani soprano Saili Oak, a native of Mumbai who has previously performed with New West Symphony, the Los Angeles Chamber Orchestra, and numerous ensembles around the world. She is also programs director for Shastra.  
About Symphony No. 9: 
It is now 200 years since Beethoven began two years of work on his Ninth and final symphony, completing it just three years before his death. Remarkably, notes Christie, "one of the most famous melodies of all time actually gave Beethoven an enormous amount of trouble. There are dozens of version of its final bars in his sketchbooks!" 
While music audiences (classical and beyond) are undoubtedly familiar with its rousing finale, Symphony No. 9 in fact has three preceding movements, that in collaboration with the fourth, "serve to mark some of mankind's most triumphant, sublime, and vile moments and personalities with equal effect" says Christie. "Such is the beguiling genius of this pinnacle work of the Western musical repertory." 
Premiering to great acclaim in Vienna on May 7, 1824, the composition forever established the choral symphony as an integral part of classical music. So profound was its influence that noted 19th century Danish composer Niels Gade stopped writing symphonies after completing his eighth, reportedly telling an interview, "There in only one Ninth." 
New West Symphony's presentation of Ode to Joy will feature a quartet of highly acclaimed  soloists: soprano Ann Toomey, mezzo soprano Courtney Jameson, tenor Casey Candebat, and baritone Craig Irvin, all of whom have performed challenging operatic and solo works throughout the US and the world.  
They will be joined by several local choral ensembles: the Pepperdine Concert and Chamber Choirs from Malibu, directed by Ryan Board, and the Areté Symphonic Choir from Thousand Oaks, directed by Wyant Morton.  
Additionally, pre-concert "Hear and Now" talks (6:30PM in Thousand Oaks, 2:00PM in Camarillo), and "Intermission Insights," featuring composer Reena Esmail and soprano Saili Oak in conversation with Michael Christie, will be offered at both concerts. "Hear and Now" and "Intermission Insights" are part of New West Symphony's ongoing commitment to educate and enrich its audience, and to enhance the accessibility of the music and its performers.  
Ode to Joy Tickets & Information 
Starting at $35[Text Wrapping Break]https://newwestsymphony.org/2022-23-season/ode-to-joy/ 
866.776.8400 
Dates & Venues 
November 19, 2022, 7:30pm | Thousand Oaks 
Kavli Theatre, Thousand Oaks Civic Arts Center  
2100 Thousand Oaks Blvd, Thousand Oaks, CA 91362 
 November 20, 2022, 3:00pm | Camarillo 
Rancho Campana Performing Arts Center  
4235 Mar Vista Dr., Camarillo, CA 93010 
About the New West Symphony  
Now in its 27th season, the New West Symphony draws its players from the rich talent pool of  accomplished Los Angeles-area musicians.  During this season, New West Symphony will present programs ranging from the familiar melodies of Hollywood's Silver Screen and the Great American Songbook, to the pinnacle of symphonic masterworks, Beethoven's beloved Ninth Symphony. The season features New West Symphony premiere performances of works by four American women composers: Joan Tower's Fanfare for the Uncommon Woman, Jessie Montgomery's Strum, Reena Esmail's Meri Sakhi Ki Avaaz (My Sister's Voice), and a world premiere collaborative performance of Pauline Frechette's Tales of Winter. Among other works are Dvořák's Suite in A Major, "American," Sibelius' Third Symphony; Mozart's "Jupiter" Symphony; and selections from Scott Joplin's Treemonisha as well as music by Vivaldi, Vaughan Williams, Bottesini and Korngold. 
About Michael Christie 
 Named Artistic and Music Director of the New West Symphony in December 2018, GRAMMY® Award-winning conductor Michael Christie is a thoughtfully innovative conductor, equally at home in the symphonic and opera worlds, who is focused on making the audience experience at his performances entertaining, enlightening, and enriching. Deeply committed to bringing new works to life, he has championed commissions by leading and emerging composers alike.
Christie has served as Music Director of the Phoenix Symphony (2005-2013) and Brooklyn Philharmonic (2005-2010), and as Chief Conductor of the Queensland Orchestra (2001-2004) in Australia. He has also guest conducted the Los Angeles Philharmonic, National Symphony Orchestra, Civic Orchestra of Chicago, Rochester Philharmonic Orchestra, Rhode Island Philharmonic, and the Symphonies of Dallas, St. Louis, Atlanta, Houston, Minnesota, Oregon, Indianapolis, Cincinnati, and Santa Rosa. European engagements have included leading the Rotterdam Philharmonic, DSO Berlin, Orchestre National de Lille, Swedish and Netherlands Radio Symphony, City of Birmingham Symphony, NDR Hannover Orchestra and the Czech Philharmonic. Christie also enjoys a strong profile in Australia, where he has conducted the Sydney Symphony, Tasmanian Symphony, Opera Queensland, and the Western Australian Symphony in Perth. 
For further information, visit michaelchristieonline.com and follow him on Facebook, Twitter, Instagram and YouTube.