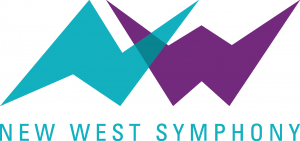 Contact:
Ross Goldberg
ross@kevinross.net
(818) 597-8453
New West Symphony Gala to Celebrate the "Resiliency of our Community"
While Honoring Long-Time Supporter Dr. Paul Finkel.
 [Thousand Oaks, CA – November 19, 2018] – As local communities work to rebuild after the devastating Woosley Fire, the New West Symphony announced today that its December 7th Reflections Gala will celebrate "the resiliency of our community as we reflect upon our collective past, present and future."
"As our community comes together to comprehend the recent tragedies that have befallen us, it is important to remember the healing power of music and how the joy and positive energy of music can help us all get through this difficult time," said New West Symphony Executive Director Natalia Staneva. "Our musicians, staff and patrons live and work here and we are all affected by these tragedies."
Staneva says that funds raised at the Gala, to be held at the Hyatt Regency Westlake, will support the continuity of the symphony and strengthen its ability to remain a major cultural contributor to the richness and beauty of Ventura County. As part of its commitment to helping heal its neighbors, Staneva said that the symphony will reach out to our children to comfort them with music during this confusing time. "We must remain dedicated to our youth engagement programs such as Symphonic Adventures, our traveling Music Van, and the Laby Harmony Project for underserved youth so that children always have a safe place to go where they know they are loved and respected."
The Gala will honor Dr. Paul Finkel, immediate past chair and long-time support of the symphony. As an internist and nephrology subspecialist, Dr. Finkel served with the U.S. Air Force in the Vietnam War caring for troops with traumatic acute renal failure. He was a member of the faculty of UCLA Medical School for 15 years and practiced medicine at Los Robles Medical Center and in private practice before retiring in 2014.
An avid photographer, for many years Dr. Finkel used traditional techniques to capture glimpses of the human psyche in candid moments and in the wonders of nature. In his recent body of work, called Reflections, which will be showcased at the Gala, Dr. Finkel gravitated to the creation of an amalgamation of photography and painting that "reflects on our past, celebrates our present, and provides a glimpse of our future."
Entertainment at the Gala will include performances from New West Symphony past and current concertmasters Elizabeth Pitcairn and Alyssa Park. Pitcairn performs with one of the world's most legendary instruments, the Red Mendelssohn Stradivarius of 1720, while Park has earned a reputation as one of the most accomplished chamber musicians in Los Angeles.
"This community has embraced the symphony for 24 years," said Staneva. "While there are so many needs and worthwhile causes, we hope the public will continue to support one of its most precious resources – the New West Symphony. Your support is needed now more than ever."
Information, tickets and sponsorship opportunities for the Gala may be obtained at https://newwestsymphony.org/reflections-gala-2018/ or by calling 805-497-5800.
Founded in 1995, the New West Symphony is a professional orchestra that draws its players from the rich talent pool of professional area musicians. The Symphony is the resident company of the Thousand Oaks Civic Arts Plaza and the Oxnard Performing Arts Center.  For information go to newwestsymphony.org and follow us on Facebook at www.facebook.com/newwestsymphony
#      #     #