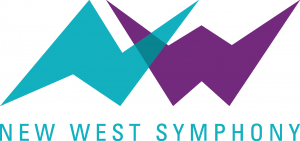 Contact:
Rebecca Roling
rroling@newwestsymphony.org
(805) 469-1496
James Cameron's 11 Oscar-winning Film to be Shown Outdoors
at California Lutheran University with Live Accompaniment by the New West Symphony
Titanic Live
New West Symphony
at William Rolland Stadium
Presented by New West Symphony in partnership with
CSUN | The Soraya and California Lutheran University
Makes LA Debut June 22
Tickets on Sale Now!
[Thousand Oaks, CA – March 14, 2019] –
In an extraordinary concert-film event, only the second such screening ever in the United States, the blockbuster film Titanic will be shown on a vast LED outdoor screen with James Horner's epic score performed live by the New West Symphony's renowned orchestra on Saturday night, June 22, in Thousand Oaks.   The special showing will take place at the William Rolland Stadium on the campus of California Lutheran University.
From the time of its release 22 years ago, Titanic became a cultural phenomenon and one of the most beloved films of all time, winning 11 Academy Awards including Best Picture, Best Director (James Cameron), Best score (the late Horner) and Best Song "My Heart Will Go On."
The film stayed #1 at the U.S. box office for a record 15 consecutive weeks, grossing over $2 billion.
Titanic Live marks the inaugural summer outdoor concert of the New West Symphony at Cal Lutheran's unique William Rolland Stadium.  It is being presented by New West Symphony in partnership with CSUN/The Soraya and California Lutheran University.  Titanic Live is an Avex Classics International Production.
"James Horner was a local resident beloved by people both within and outside of the entertainment industry," said New West Symphony CEO Natalia Staneva.  "Some of our orchestra members played on the film so as we begin our 25th anniversary season we thought it only appropriate to launch what we hope will be an annual summer concert series with this extraordinary movie that has touched the hearts of so many."
People attending the June 22 showing will see the complete film (3 hours, 22 minutes with intermission) projected on a vast LED screen build especially for the event and brought to life like never before through the extraordinary sounds of the New West Symphony Orchestra and singers. The Symphony and the Soraya have collaborated in the past on live music accompanying classic films.
Seating at the William Roland Stadium will include VIP seating and general seating for blankets and picnic chairs on the sides. Pre-concert amenities include gourmet food trucks, beer garden, and availability of picnic tables to dine al fresco outside the stadium.
Tickets for Titanic Live, starting at $25, are currently on sale through Ticketmaster.com and by calling 1-800-745-3000.
About New West Symphony
Founded in 1995, the New West Symphony is a professional orchestra which, under the direction of Maestro Michael Christie, draws its players from the rich talent pool of professional Los Angeles-area musicians. Soon to celebrate its 25th season, its orchestra members include some of the world's most accomplished musicians who have appeared as soloists with the finest orchestras, are Grammy Award nominated artists themselves, and can be heard on almost any film soundtrack including Titanic, Jurassic Park, Star Wars and La La Land.   The Symphony presents six Masterpiece Series annually as the resident company of the Thousand Oaks Civic Arts Plaza and the Oxnard Performing Arts Center.  The Symphony also provides a number of educational opportunities for local youth through its annual Symphonic Adventures concerts, its traveling Music Van, and the Laby Harmony Project for underserved youth.   For information go to newwestsymphony.org and follow us on Facebook at www.facebook.com/newwestsymphony
About California Lutheran University
Founded in 1959, California Lutheran University is a selective, comprehensive institution offering bachelor's, master's and doctoral degrees in the liberal arts and sciences and professional fields. Its mission is to educate leaders for a global society who are strong in character and judgment, confident in their identity and vocation, and committed to service and justice. Mentored by dedicated and accomplished faculty members, more than 4,400 undergraduate and graduate students pursue their passion and discover their purpose as they seek to grow as individuals. Students come from 42 states and 49 countries and represent a diversity of faiths and cultures. The university's 225-acre main campus is located in Thousand Oaks, with other locations in Woodland Hills, Oxnard, and Santa Maria as well as Pacific Lutheran Theological Seminary in Berkeley. For more information about Cal Lutheran, please visit CalLutheran.edu.
About Younes and Soraya Nazarian Center for the Performing Arts (The Soraya)
The 2018-19 Season marks the eighth year for the award-winning Younes and Soraya Nazarian Center for the Performing Arts, which has quickly become one of the cultural jewels of the greater Los Angeles region. Under the leadership of Executive Director Thor Steingraber, The Soraya continues to expand its programming and outstanding multidisciplinary performances.  The mission of The Soraya is to present a wide variety of performances that not only includes new and original work from the Los Angeles region but also work from around the world that appeal to all of LA's rich and diverse communities. Located on the campus of California State University, Northridge, The Soraya's season offers a vibrant performance program of nearly 50 classical and popular music, dance, theater, family, and international events that will serve to establish The Soraya as the intellectual and cultural heart of the San Fernando Valley, and further establish itself as one of the top arts companies in Southern California. The award-winning, 1,700-seat theatre was designed by HGA Architects and Engineers and was recently cited by the Los Angeles Times as "a growing hub for live music, dance, drama and other cultural events."
About Titanic Live and Titanic, the Film
James Horner and James Cameron attended the debut in April 2015 of Titanic Live screenings accompanied by a full orchestra performing the movie's score at London's Royal Albert Hall, just weeks before the composer's untimely death in a plane crash. "London was a great way to honor James for what he had done for the film," said Cameron in an interview with the Los Angeles Times. "It never really got said properly in 1998 [at the Oscar ceremony]. He went up and took his bows at the end [of the London debut]. It felt like a triumph. I think that's the score he's proudest of."
In a 2014 interview, writer David Hocquet reminded Horner that "a whole generation has been touched by your music, and this is apart from the screen. Your music will live on in our minds and in our hearts, and apart from the film." Horner humbly responded: "It's so funny, I lose track of that. I never think of those things. … I do my best and then I put it in the mail and hope for the best."
More than a century after the actual events, the fascination with the Titanic hasn't faded at all – if anything, it has become even stronger; a cautionary legend that speaks to our times of great technological advances and even greater perils.
In 1997, James Cameron's Titanic set sail in theatres, and one of the world's most breathtaking love stories was born. This spectacular blockbuster recreates the ill-fated maiden voyage of the White Star Line's $7.5 million R.M.S Titanic and the tragic sea disaster of April 15, 1912.  Upon its original release, Titanic was celebrated for transporting audiences back in time, right into the belly of the R.M.S Titanic in all her glory and into the heart of a forbidden love affair entwined with the ship's epic collision with human arrogance, nature and fate.
The movie tells the story of a seventeen-year-old aristocrat, expecting to be married to a rich claimant by her mother, who falls in love with a kind but poor artist aboard the luxurious, ill-fated R.M.S. Titanic.  Leonardo DiCaprio and Kate Winslet shine in the timeless love story born of tragedy that created an international phenomenon as memorable as the legendary 'ship of dreams.'  At a cost of more than $200 million, Titanic was ranked as the most expensive film in Hollywood history at the time of its release, and became the most successful.
Nominated for 14 Academy Awards, it tied All About Eve (1950) for the most Oscar nominations, and won 11, tying Ben-Hur (1959) and The Lord of the Rings: The Return of the King (2003) for the most Oscars won by a single film. With an initial worldwide gross of over $1.84 billion, Titanic was the first film to reach the billion-dollar mark. It remained the highest-grossing film of all time until Cameron's Avatar surpassed it in 2010.
A 3D version of Titanic, released on April 4, 2012, to commemorate the centennial of the sinking, earned it an additional $343.6 million worldwide, pushing the film's worldwide total to $2.18 billion and making it the second film to gross more than $2 billion worldwide (after Avatar). In 2017, the film was re-released for its 20th anniversary and was selected for preservation in the United States National Film Registry. Box Office Mojo estimates that the film sold over 128 million tickets in the US in its initial theatrical run.
Sony Classical released Titanic: Music from the Motion Picture, the soundtrack to the film composed, orchestrated and conducted by James Horner on November 18, 1997. The soundtrack shot to the top of the charts in nearly two dozen territories, selling over 30 million copies and is one of the best-selling albums of all time, the best selling album of 1998, and the all-time highest-selling primarily orchestral soundtrack.
"My Heart Will Go On" performed by Celine Dion was the biggest selling single of 1998, winning Record Of The Year and Best Original Song at the 1999 Grammy® Awards.  In April of 1998, Horner's Titanic soundtrack album on Sony Classical completed an unprecedented run of 16 weeks at No. 1 on the Billboard Top 200 Album Chart, setting a new record for the most consecutive weeks at No. 1 for a score album.  Sony Classical's multi-platinum sequel soundtrack album Back to Titanic featured additional music from the film as well as several new compositions by Horner based upon themes from his original score.
Horner collaborated closely with Cameron to create something that eschewed sentimental conventions, yet still captured the shifts of the period, the starkness of the love story and the twin themes of human hubris and transcendent courage.  With a mix of synthesizer, choral vocals and orchestra, Horner fused an emotional connection not only between Rose and Jack but also between their story and audiences the world over.
About Composer James Horner
Beyond the two Academy Awards and two Golden Globe Awards for his music from James Cameron's Titanic, James Horner received eight additional Academy Award nominations, five additional Golden Globe nominations, and six Grammy awards, including Song of the Year in both 1987 (for "Somewhere Out There") and 1998 (for "My Heart Will Go On.")
He composed for over 100 motion pictures. Known for his stylistic diversity, Horner's other film credits included The Amazing Spider-Man, Black Gold, For Greater Glory, Karate Kid, Avatar, Apocalypto, Flight Plan, The New World, The Legend of Zorro, Chumscrubber, The Forgotten, Troy, Bobby Jones: Stroke of Genius, House of Sand and Fog, The Missing, Beyond Borders, The Four Feathers, Radio, Windtalkers, A Beautiful Mind, Iris, Enemy at the Gates, Dr. Seuss' How The Grinch Stole Christmas, The Perfect Storm, Freedom Song, Bicentennial Man, Mighty Joe Young, The Mask Of Zorro, Deep Impact, The Devil's Own, Ransom, Courage Under Fire, To Gillian On Her 37th Birthday, The Spitfire Grill, Braveheart, Apollo 13, Casper, Legends of the Fall, Clear and Present Danger, The Pagemaster, Bopha, The Pelican Brief, The Man Without a Face, Patriot Games, Thunderheart, Sneakers, The Rocketeer, Glory, In Country, Field of Dreams, Honey, I Shrunk the Kids, The Land Before Time, Willow, An American Tail, The Name Of The Rose, Cocoon, Gorky Park, Cocoon and Cocoon: The Return, 48 Hours and Another 48 Hours, and Star Treks II and III.
Born in Los Angeles in 1953, Horner spent his formative years living in London where he attended the prestigious Royal College of Music. His initial interest was to become a composer of serious, avant-garde classical music. Returning to his native California, Horner continued his music education at the University of Southern California, where he received a Bachelor of Music in Composition. He then transferred to the Masters program at UCLA, where he earned his Doctorate in Music Composition and Theory.
In 1980, Horner was approached by the American Film Institute and asked to score a short film entitled The Drought. It was then that he discovered his passion for composing music for film.  After scoring a number of films for the AFI, Horner left the academic world and began working for Roger Corman at New World Pictures. It was in this milieu of low-budget horror films (Brainstorm, Battle Beyond The Stars) that Horner developed his craft. It was also where he became acquainted with a number of young directors including Ron Howard, for whom he would later score such films as Willow, Cocoon, and the hit Apollo 13.
Also during his time at New World, Horner met a young cameraman named James Cameron, with whom he would later collaborate on the hit sequel Aliens and, of course, Titanic. In the ensuing years, Horner has gone on to collaborate with many of Hollywood's most noted and successful filmmakers, including Ed Zwick, Joe Johnston, Phil Alden Robinson, Steven Spielberg, William Friedkin, Mel Gibson, Oliver Stone, Philip Noyce, Michael Apted, Lasse Hallstrom, Norman Jewison, and Francis Ford Coppola.
Equally comfortable with lush orchestral scoring and contemporary electronic techniques, Horner likened his approach to composing to that of a painter, where the film serves as the canvas and where musical color is used to describe and support the film's emotional dynamics. He is also noted for his integration of unusual ethnic instruments into the traditional orchestral palette in order to achieve exotic colors and textures. An accomplished conductor, Horner preferred to conduct his orchestral film scores directly to picture and without the use of click tracks or other mechanical timing devices.
James Horner composed several concert works, including "Spectral Shimmers," which was performed by the Indianapolis Symphony Orchestra and "A Forest Passage," commissioned by the Cleveland Orchestra in celebration of the 25th anniversary of the Cuyahoga Valley National Recreational Area in Ohio. Among his final concert works is a double concerto for violin and cello entitled "Pas de Deux," premiered by the Royal Liverpool Philharmonic Orchestra in 2014, and a concerto for 4 horns and orchestra entitled "Collage," which was premiered by the London Philharmonic Orchestra in 2015.
In addition to his highly respected silver-screen scores, Horner had begun a career of symphonic composition cut short by the plane crash that caused his untimely death on
June 22, 2015.
Titanic by the numbers (from Wikipedia)
Including revenue from the 2012 and 2017 reissues, Titanic earned $659.4 million in North America and $1.528 billion in other countries, for a worldwide total of $2.187 billion.
It became the highest-grossing film of all time worldwide in 1998, and remained so for 12 years, until Avatar (2009), also written and directed by Cameron, surpassed it in 2010.
20th Century Fox estimated that seven percent of American teenage girls had seen Titanic twice by its fifth week in release.
The film received steady attendance after opening in North America on Friday, December 19, 1997. It stayed in theaters in North America for almost 10 months before finally closing on Thursday, October 1, 1998 with a final domestic gross of $600,788,188.  Outside North America, the film made double its North American gross, generating $1,242,413,080 and accumulating a grand total of $1,843,201,268 worldwide from its initial theatrical run.  On the weekend April 13–15, 2012—a century after the original vessel's foundering, Titanic became the second film to cross the $2 billion threshold during its 3D re-release.
Box Office Mojo estimates that the film sold over 128 million tickets in the US in its initial theatrical run.
The film's soundtrack became the best-selling primarily orchestral soundtrack of all time, and became a worldwide success, spending 16 weeks at No. 1 in the United States, and was certified diamond for over eleven million copies sold in the United States alone. The soundtrack became the best-selling album of 1998.
The film garnered fourteen Academy Award nominations, tying the record set in 1950 by Joseph L. Mankiewicz's All About Eve and won 11: Best Picture (the second film about the Titanic to win that award, after 1933's Cavalcade), Best Director, Best Art Direction, Best Cinematography, Best Visual Effects, Best Film Editing, Best Costume Design, Best Sound (Gary Rydstrom, Tom Johnson, Gary Summers, Mark Ulano), Best Sound Effects Editing, Best Original Dramatic Score, and Best Original Song.  It was the second film to receive eleven Academy Awards, after Ben-Hur (1959);The Lord of the Rings: The Return of the King would also match this record in 2004.
Titanic won three Grammy Awards for Record of the Year, Song of the Year, and Best Song Written Specifically for a Motion Picture or Television.
Titanic began its awards sweep starting with the Golden Globes, winning four, namely Best Motion Picture – Drama, Best Director, Best Original Score, and Best Original Song.
Titanic eventually won nearly ninety awards and had an additional forty-seven nominations from various award-giving bodies around the world.
It won the ACE "Eddie" Award, ASC Award, Art Directors Guild Award, Cinema Audio Society Awards, Screen Actors Guild Award (Best Supporting Actress for Gloria Stuart), The Directors Guild of America Award, and Broadcast Film Critics Association Award (Best Director for James Cameron), and The Producer Guild of America Award.
In the U.S., the film also won Best Male Performance for Leonardo DiCaprio and Best Movie at the MTV Movie Awards, Best Film at the People's Choice Awards, and Favorite Movie at the 1998 Kids' Choice Awards. It won various awards outside the United States, including the Awards of the Japanese Academy as the Best Foreign Film of the Year.
Titanic Live is a live performance of James Horner's original score by a 130-piece orchestra, choir and Celtic musicians, accompanying a showing of the film.  In April 2015, Titanic Live premiered at the Royal Albert Hall, London, where the 2012 3D re-release had premiered.  The Express said it was "An absolute triumph, Titanic Live brought the film to life in a beautiful new way."
Press Contacts:
Tim Choy, Niki Blumberg, Davidson & Choy Publicity
323-954-7510 | t.choy@dcpublicity.com; n.blumberg@dcpublicity.com
Gary W. Murphy, Public Relations Consultant
310-914-0178 | gmurphypr@gmail.com