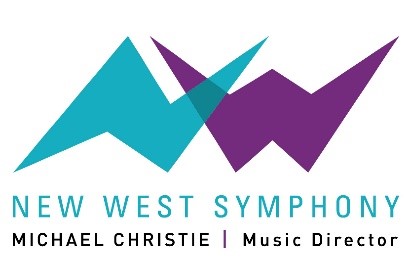 NEW WEST SYMPHONY CHORUS 
Binging On Mozart Concerts
April 15 & 16, 2023
Thousand Oaks, CA – New West Symphony announces the formation of the New West Symphony Chorus, to debut on April 15th and 16th as part of their Binging on Mozart concerts. Under the direction of Dr. Wyant Morton, the New West Symphony is comprised of rich vocal talent in Ventura and Los Angeles counties.
"Having a Symphony Chorus as part of the New West Symphony family is a true jewel in our artistic crown. The Ventura and West LA County region is full of amazing vocalists. Our recent choral/orchestral projects have proven there is great interest in contributing to the vast repertoire that puts these artists onstage with the power of a symphony orchestra. New West Symphony is proud to create a new top chorus serving our region under the leadership of Dr. Wyant Morton. I know our audiences will be thrilled by the excitement and visceral experience of 60 vocalists under Wyant's expert guidance," says Artistic and Music Director Michael Christie. 
"For many years I have enjoyed my collaborations with the New West Symphony preparing my choruses for performances with several different conductors. In recent years, under the baton of Maestro Michael Christie, the musical experiences for my singers in the Areté Vocal Ensemble and at California Lutheran University have been especially enjoyable and rewarding. So I am thrilled that this musical relationship is being formalized with the creation of the New West Symphony Chorus. I am excited for our future and look forward to exploring the great choral/orchestral repertoire together," says Dr. Wyant Morton. 
The chorus will be performing selected pieces from the Mozart Requiem. Guest artists performing additional works in the concert include renowned Music Academy of the West pianist Natasha Kislenko, baritone Cedric Berry, and New West Symphony principal clarinetist Joshua Ranz. Additional members of New West Symphony will be featured soloists. 
Plans are in the works for future performances of the chorus in the soon-to-be announced 2024 season. 
 —
Binging on Mozart Tickets & Information 
Starting at $30 with student tickets at $10
866.776.8400 
 —
Dates & Venues 
April 15, 2023, 7:30pm | Thousand Oaks 
Kavli Theatre, Thousand Oaks Civic Arts Center  
2100 Thousand Oaks Blvd, Thousand Oaks, CA 91362 
 —
April 16, 2023, 3:00pm | Camarillo 
Rancho Campana Performing Arts Center  
4235 Mar Vista Dr., Camarillo, CA 93010 
—
Program for Binging on Mozart 
WOLFGANG AMADEUS MOZART 
Symphony No. 35 in D Major, K. 385, "Haffner," Allegro con spirito 
The Marriage of Figaro, K. 492, Overture 
"Non piú andrai" from The Marriage of Figaro 
Piano Sonato No. 11 in A major, K. 331, "Alla Turca," Allegretto 
Piano Concerto No. 24, in c minor, K. 491, Allegro 
Serenade No. 13 in G major, K. 525 "Eine Kleine Nachtmusik," Allegro 
String Quintet No. 4 in g minor, K. 516, Allegro 
Clarinet Concerto in A major, K. 622, Rondo 
Requiem in d minor, K. 626 
Introitus: Requiem aeternam, Kyrie 
Sequenz: Dies Irae, Lacrimosa, Amen  
Communio: Lux Aeterna, Cum Sanctis 
---
About the New West Symphony  
Now in its 28th season, the New West Symphony draws its players from the rich talent pool of professional accomplished Los Angeles-area musicians.  During this season, New West Symphony will present programs ranging from GRAMMY®Award-winning composer Mason Bates' orchestra concerto with animated/live action film, to Beethoven's beloved Symphony No. 5. The season features New West Symphony performances of works by Mozart, Dave and Chris Brubeck's Ansel Adams: America, Berlioz's Symphony Fantastique, Tchaikovsky's Variations on a Rococo Theme, and guest artists such as Two-time Tony nominee Laura Osnes, Van Cliburn International Medal Winner, pianist Sean Chen, award-winning Dudamel protégé, conductor Enluis Montes Olivar, and acclaimed cellist Ifetayo Ali-Landing. 
—
About Michael Christie 
Named Artistic and Music Director of the New West Symphony in December 2018, GRAMMY® Award-winning conductor Michael Christie is a thoughtfully innovative conductor, equally  
at home in the symphonic and opera worlds, who is focused on making the audience experience at his performances entertaining, enlightening, and enriching. Deeply committed to bringing new works to life, he has championed commissions by leading and emerging composers alike. 
Christie has served as Music Director of the Phoenix Symphony (2005-2013) and Brooklyn Philharmonic (2005-2010), and as Chief Conductor of the Queensland Orchestra (2001-2004) in Australia. He has also guest conducted the Los Angeles Philharmonic, National Symphony Orchestra, Civic Orchestra of Chicago, Rochester Philharmonic Orchestra, Rhode Island Philharmonic, and the Symphonies of Dallas, St. Louis, Atlanta, Houston, Minnesota, Oregon, Indianapolis, Cincinnati, and Santa Rosa. European engagements have included leading the Rotterdam Philharmonic, DSO Berlin,  
Orchestre National de Lille, Swedish and Netherlands Radio Symphony, City of Birmingham Symphony, NDR Hannover Orchestra and the Czech Philharmonic. Christie also enjoys a strong profile in Australia, where he has conducted the Sydney Symphony, Tasmanian Symphony, Opera Queensland, and the Western Australian Symphony in Perth. 
For further information, visit michaelchristieonline.com and follow him on Facebook, Twitter, Instagram and YouTube.