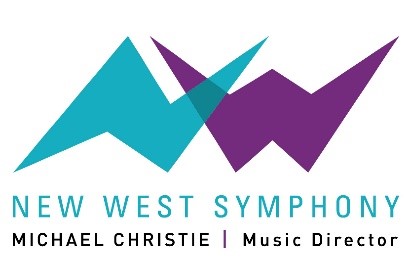 New West Symphony Announces
2022/2023 Season
Highlights Include Annual Holiday Symphonic Concert
Award Winning Vocalist and Actor Sam Harris
Van Cliburn Competition Medalist Sean Chen
Powerhouse Cellist Ifetayo Ali-Landing
FOR IMMEDIATE RELEASE: July 12, 2023
Eileen Roberts
ERoberts@NewWestSymphony.org
626-826-8253
Thousand Oaks, CA – New West Symphony GRAMMY®-winning Artistic and Music Director Michael Christie and Symphony CEO Natalia Staneva have announced the launch of the Symphony's 2022/2023 Masterpiece Series Season. Under the direction of Christie, the upcoming 2022-2023 season will feature joyous masterworks and world-renowned guest artists.  
"This season will lift your spirit and delight your eyes! Lovingly chosen vibrant works showcase genius composers and brilliantly talented performers. We wanted to present to the community concert themes such as musical variations, music that is witty, concert experiences that incorporate gorgeous video imagery, and wintertime classics. Every work is selected because they make an orchestra sound great. Every concert is conceived with the audience experience at the forefront," said Maestro Christie.  
The six-concert series will commence on December 3 and 4, 2022 in two performance venues – Bank of America Performing Arts Center (BAPAC) in Thousand Oaks, and Rancho Campana Performing Arts Center (RCPAC) in Camarillo.  
"Some of our most treasured celebrations and enduring traditions occur during the darkest month of the year, around the time of the winter solstice. Christmas, Las Posadas, Shab-e-Yalda, Saint Lucia's Day, Yule, Dongzhi, as well as a host of global indigenous celebrations. I've chosen a kaleidoscope of music from Korngold, Debussy, Tchaikovsky, Mexican Christmas Carols, Ukrainian holiday folk dance, the voices of angels, Los Robles Children's Choir, and Christmas favorites led by Broadway and film sensation Sam Harris. This is a concert for the whole family and lovers of all sorts of musical styles," continued Maestro Christie.  
The season also includes Tchaikovsky's Rococo Variations, Berlioz's Symphony Fantastique, and a complete concert dedicated to Mozart. New West Symphony will honor the memory of Founding Music Director Boris Brott who passed away unexpectedly in April 2022 with Elgar's "Nimrod" variation at the March 4th and 5th concerts.  
Maestro Christie will reunite with his GRAMMY®-winning colleague Mason Bates for a performance of an orchestra concerto with a high-definition animated film, by Academy® Award-nominated Jim Capobianco.  
"Mason and I became especially close during the production, performances, and Grammy-winning recording of his first opera, the (R)evolution of Steve Jobs. I share his vision that energy, passion and virtuosity are the core elements that draw people to performances. I knew this would be a perfect presentation for new and veteran audiences of all ages. To further delight our concert goers, I've selected the high powered Symphonie Fantastique of Berlioz to be performed on the same program. With Mason's Philharmonia Fantastique and Symphonie Fantastique you will see and hear New West Symphony in a new, even more exhilarating way!" exclaimed Maestro Christie.  
Additional season highlights will be a performance of Beethoven's Symphony No. 5 in November, along with Dave and Chris Brubeck's GRAMMY® nominated symphonic tribute saluting one of America's most treasured artists – Ansel Adams.  
The extraordinarily talented Venezuelan conductor Enluis Montes Olivar will guest conduct at the January 28th and 29th performances. His professional experience is extensive, including work with the Los Angeles Philharmonic, Paris Opera and Simon Bolivar Orchestra in Venezuela.
"We are eager to re-ignite the passion for live classical music for the entire community," said New West Symphony CEO Natalia Staneva. "Some of the season's dazzling guest artists include Van Cliburn Medalist, pianist Sean Chen, and the electric and dynamic cellist, Ifetayo Ali-Landing.  Also spotlighted will be many of New West Symphony's award-winning orchestra members as soloists in various concerts. This year for the first time, New West Symphony is offering three subscription packages to provide more choices and access for their patrons. The season will delight and inspire you." 
2022-2023 Masterpiece Series: 
Each Masterpiece Series concert will be presented twice.
Performances will take place on Saturday evenings, 7:30 pm @ Thousand Oaks Bank of America Performing Arts Center, 2100 E. Thousand Oaks Boulevard, and Sunday afternoons, 3:00 pm @ Rancho Campana Performing Arts Center, 4235 Mar Vista Drive in Camarillo. 
Winter Spectacular 
Saturday, December 3, 2022 | 7:30PM | Bank of America Performing Arts Center
Sunday, December 4, 2022   | 3:00PM | Rancho Campana Performing Arts Center 
Michael Christie, conductor
Sam Harris, guest artist
Los Robles Children's Choir, guest artist
Chervona Kalyna, guest artist 
Korngold       |    Snowman Overture
Debussy         |   The Snow is Dancing
Tchaikovsky  |    Symphony No. 1 "Winter Dreams"  Allegro tranquillo
Leontovych   |    Carol of the Bells, featuring Los Robles Children's Choir 
Rococo Variations
Saturday, January 28, 2023 |  Bank of America Performing Arts Center
Sunday, January 29, 2023   | Rancho Campana Performing Arts Center 
Enluis Montes Olivar, conductor
Ifetayo Ali-Landing, cello 
Romero          |    Fuga con Pajarillo
Tchaikovsky   |   Variations on a Rococo Theme 
Zhou Tian       |   Cello Concerto "Flowing Sleeves"
Ginastera        |    Variaciones concertantes 
Symphonie Fantastique 
Saturday, March 4, 2023 | Bank of America Performing Arts Center
Sunday, March 5, 2023   | Rancho Campana Performing Arts Center 
Elgar               |   "Nimrod" from Enigma Variations
Mason Bates   |     Philharmonia Fantastique: The Making of an Orchestra
Berlioz            |     Symphonie Fantastique 
Binging on Mozart 
Saturday, April 15, 2023 | Bank of America Performing Arts Center
Sunday, April 16, 2023   | Rancho Campana Performing Arts Center 
Michael Christie, conductor
New West Symphony orchestra members, soloists 
All works written by Wolfgang Amadeus Mozart

Symphony No. 25, Allegro con brio
"Non più andrai" from the Marriage of Figaro
Piano Sonata No. 11 "Alla Turca," Andante grazioso
Piano Concerto No. 24, Allegro
Eine Kleine Nachtmusik, Allegro
Clarinet Concerto, Rondo
Requiem: Kyrie, Dies Irae, Lacrimosa, Amen 
Sparkling Classical 
Saturday, September 9, 2023 | Bank of America Performing Arts Center
Sunday, September 10, 2023 | Rancho Campana Performing Arts Center 
Michael Christie, conductor
Sean Chen, piano 

Higdon      |   Dance Card
Strauss       |  Burleske for Piano and Orchestra
Francaix    |   Eight Exotic Dances Concertino for Piano and Orchestra
Prokofiev  |   Symphony No. 1 "Classical"  
Beethoven to Brubeck 
Saturday, November 4, 2023 | Bank of America Performing Arts Center
Sunday, November 5, 2023   | Rancho Campana Performing Arts Center 
Michael Christie, conductor
Featuring the photos of Ansel Adams 

Dave and Christ Brubeck   |   Ansel Adams: America
Beethoven                           |  Symphony No. 5 
TICKETS:  Season Subscriptions range from $112 to $750  
For more information: https://newwestsymphony.org  
About New West Symphony  
Now in its 28th season, New West Symphony is an esteemed professional orchestra offering audiences some of the finest performance concerts in Ventura and Los Angeles counties. Led by Artistic and Music Director Michael Christie, New West Symphony orchestra includes some of California's most well-known and accomplished musicians. Our tenured orchestra members have performed as soloists with the finest orchestras, are GRAMMY®-nominated artists themselves, and can be heard on an array of film soundtracks from Jurassic Park, to Star Wars, to La La Land, and many more. 
About Michael Christie 
 Named Artistic and Music Director of the New West Symphony in December 2018, GRAMMY® Award-winning conductor Michael Christie is a thoughtfully innovative conductor, equally at home in the symphonic and opera worlds, who is focused on making the audience experience at his performances entertaining, enlightening, and enriching. Deeply committed to bringing new works to life, he has championed commissions by leading and emerging composers alike. 
Christie has served as Music Director of the Phoenix Symphony (2005-2013) and Brooklyn Philharmonic (2005-2010), and as Chief Conductor of the Queensland Orchestra (2001-2004) in Australia. He has also guest conducted the Los Angeles Philharmonic, National Symphony Orchestra, Civic Orchestra of Chicago, Rochester Philharmonic Orchestra, Rhode Island Philharmonic, and the Symphonies of Dallas, St. Louis, Atlanta, Houston, Minnesota, Oregon, Indianapolis, Cincinnati, and Santa Rosa. European engagements have included leading the Rotterdam Philharmonic, DSO Berlin, Orchestre National de Lille, Swedish and Netherlands Radio Symphony, City of Birmingham Symphony, NDR Hannover Orchestra and the Czech Philharmonic. Christie also enjoys a strong profile in Australia, where he conducted the Sydney Symphony, Tasmanian Symphony, Opera Queensland, and the Western Australian Symphony in Perth.  

For further information, visit michaelchristieonline.com and follow him on Facebook, Twitter, Instagram and YouTube.