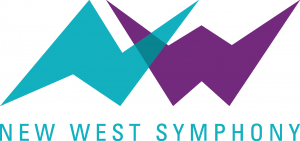 Contact:
Rebecca Roling
rroling@newwestsymphony.org
(805) 469-1496
New West Symphony Premieres "The Sacred Mountains of Ojai" by Pauline Frechette
Work Composed as Thomas Fire Approached Frechette Home
[Thousand Oaks, CA – January 21, 2019] – New West Symphony will perform the symphonic world premiere of "The Sacred Mountains of Ojai" by Ojai composer and musician Pauline Frechette. The piece was begun as the Thomas Fire threatened Frechette's home in Ojai.  Accompanying the performance is a video produced by Ojai photographer Joe Sohm and Frechette, incorporating images from the Thomas Fire created by Ojai Studio Artists. Concerts are Saturday February 9 at the Thousand Oaks Civic Arts Plaza and Sunday February 10 at the Oxnard Performing Arts Center.
"I composed this piece last year on Dec. 4th as the Ventura Fires were starting to burn just beyond the view of the mountains from our home in Ojai," said Frechette.  "We evacuated that night and I continued composing this piece for the next two days, inspired by the spiritual strength of the presence of those mountains and feeling the courage and depth of emotion that exuded from so many thousands of people in the Ventura County.  It was an emotional journey and a spiritual one that gave birth to 'The Sacred Mountains of Ojai.'  My prayers were heard, and our home and neighborhood were unharmed."
Ojai Studio Artists who contributed their work to the video accompanying the performance are Christina Altfeld, Richard Amend, Christine Beirne, Gayell Childress, Bert Collins, Patrish Kuebler and Jeff Sojka. The video was edited by Joe Sohm.
Also on the program is another composition of Ms. Frechette, 'Reflections (Song for Michael),' written after the death of her nephew. Both of her works are arranged by her husband, noted film composer David Campbell. The New West Symphony will be led by guest conductor Fawzi Haimor, performing Brahms' Symphony No. 1 and Beethoven's Piano Concerto No. 1, performed by 'Beethoven International Piano Competition winner, Rodolfo Leone.
 Saturday February 9 | 7:30pm
Thousand Oaks Civic Arts Plaza
2100 East Thousand Oaks Blvd.
Thousand Oaks, CA 91362
Sunday February 10 | 3:00pm
Oxnard Performing Arts Center
800 Hobson Way
Oxnard, CA 93030
Tickets are priced from $30-$120 and can be purchased at www.NewWestSymphony.org or by calling 866-776-8400.
About New West Symphony
The New West Symphony is an esteemed performing arts organization that attracts diverse, capacity audiences to experience and celebrate the transformative power of live symphonic music in Ventura and Los Angeles counties. Led by a visionary music director, Maestro Michael Christie, it serves as a growing hub for music appreciation and education sustained by robust financial support and community resources.
The New West Symphony orchestra includes some of the world's most famous and accomplished musicians. Our tenured orchestra members have appeared as soloists with the finest orchestras, are GRAMMY®-nominated artists themselves, and can be heard on almost any film soundtrack you can imagine, from Jurassic Park and Star Wars to La La Land. New West Symphony performs exceptional music, exceptionally close.
For more information visit http://www.newwestsymphony.org and follow them on Facebook at www.facebook.com/newwestsymphony.
Press Contact: Rebecca Roling, New West Symphony
805.469.1496 | rroling@newwestsymphony.org
#     #     #