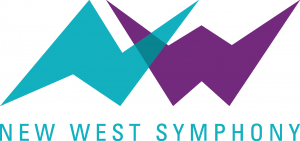 Contact:
Rebecca Madigan
rmadigan@newwestsymphony.org
(805) 469-1496
New West Symphony Honors Community Spirit With World Premiere
Commission from EMMY-Winning "House of Cards" Composer Jeff Beal
First Responders and Fire Victims Invited to Attend Free
January 26/27 Concerts also feature Beethoven's 7th Symphony
and Mozart's "Turkish" Violin Concerto with Violin Star Karen Gomyo
[Thousand Oaks, CA – January 14, 2018] – The New West Symphony has commissioned a new work by EMMY® Award winning composer Jeff Beal, entitled The Great Circle, composed to celebrate community spirit that has thrived after devastating fires and mudflows devastated local areas. "Music often says what words can't," said New West Symphony chief executive officer Natalia Staneva. "We want to not only honor the wonderful support provided by our neighbors and first responders, but we also want to give our community an opportunity to reflect upon the dramatic changes so many of us have undergone this past year." Concerts will be performed January 26th in Thousand Oaks and January 27th in Oxnard.
"The work is a piece about the complexity of our dance with our natural environment and the power of nature to both destroy and also regenerate itself," said composer Jeff Beal. "It is a mediation on the suffering and compassion the community experienced during these times. It is an invitation to reflect on the past, the forces and elements, which also allow life to return in our future." Beal was inspired by a poem by Wendell Berry, and named his composition The Great Circle after a line in the poem.
Accompanying the music will be a montage of photos taken by Ventura County Star photojournalists. "Our photojournalists have been on the front-lines of the natural disasters that have raged through in our communities," said Darrin Peschka, managing editor of Ventura County Star newspaper. "They have not only witnessed, but they each experienced the power of nature, while courageously taking the photographs that accompany the performance of The Great Circle. The beautiful works of our photojournalists, which we are proud to provide as part of this performance, represent not only the worst of these disasters, but the best of our neighbors and this beautiful community we call home."
Jeff Beal has composed soundtracks for television and film, most notably for his iconic soundtrack to the Netflix hit, "House of Cards," for which he won four primetime Emmys. He has also scored films such as "Pollack" and the documentary, "Blackfish," as well as TV hits such as "Monk" and "Carnival."
New West Symphony will perform the world premiere of "The Great Circle" in two performances: January 26, 2019 at 7:30pm at the Thousand Oaks Civic Arts Plaza; and January 27, 2019 at 3:00pm at the Oxnard Performing Arts Center. Iconic classical works will complete the concerts, including Beethoven's famous Symphony No. 7, and Mozart's "Turkish" Violin Concerto performed by violin virtuoso Karen Gomyo. Complimentary tickets will be available to first responders and victims of the Thomas, Woolsey and Hill fires and Santa Barbara mudflow.
About New West Symphony
Founded in 1995, the New West Symphony is a professional orchestra that draws its players from the rich talent pool of professional Los Angeles area musicians. The Symphony presents an annual Masterpiece Series concert season and provides many educational opportunities for local youth through its annual Symphonic Adventures concerts, its traveling Music Van, and the Laby Harmony Project of Ventura County. For more information visit https://www.newwestsymphony.org and follow them on Facebook at www.facebook.com/newwestsymphony.
#     #     #